So I need to buy a wedding band. The problem is that my engagment ring is one of those weird shape rings, which means that my band would have to be curved. Which I absolutely do not like. (Sorry to anyone who has one of these, I just personally don't like them). My engagement ring has a band that looks like it is two bands meshed into one.
So in order to solve the problem I want to get a new setting and find a wedding band. I want to keep my main stone which is a princess cut diamond. I know what I want but I can't seem to find it. The problem is that I keep trying to to the diamond district and everytime I go something happens (i.e. there was a fire last time, the streets were blocked off b/c of construction...i tried to go today but its a Jewish holiday and there were closed
)
So I was thinking of just ordering it online and saving myself some aggravation. Or I could get it from one of those main chain stores if I could find it. This is what I'm looking for: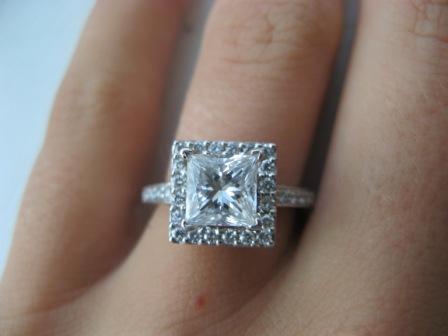 I want something similar to this with the micro pave diamond band and then the diamonds going all around the main stone. The problem is that I keep finding ones like this pic where the diamonds going around look very defined and seperated. I want one where the diamonds look almost crushed and all you see is sparkle, sparkle, sparkle. LOL. Does that make sense to anyone?