Yeah!!! So after a few snags, we're finally all booked!!!! I can't wait! Sorry this is all thrown into one post.
RESORT
After changing our resort and the date (by moving the wedding forward three weeks, our guests saved about $400 per person - or $800 per couple!), we're all booked at the Bahia Principe Tulum for our wedding on Tuesday October 28th. So far we have 22 (and a baby!) coming! HUGE thanks to TA Lindsay who is our amazing travel agent. She got us a great rate and has been so helpful. To those of you trying to book at the Bahia, I got NO replies from the WC (even though I know she read my emails as I put a read receipt on it) but Lindsay was able to get a hold of them. So if you can't get an answer, get your TA to try. Now that we're booked and we've put deposits down, the WC always replies to me right away and is great about sending info.
PHOTOGRAPHER
I just booked Del Sol!! My sister loves photography (if you want to see the cutest baby EVER, she has a photo blog of her son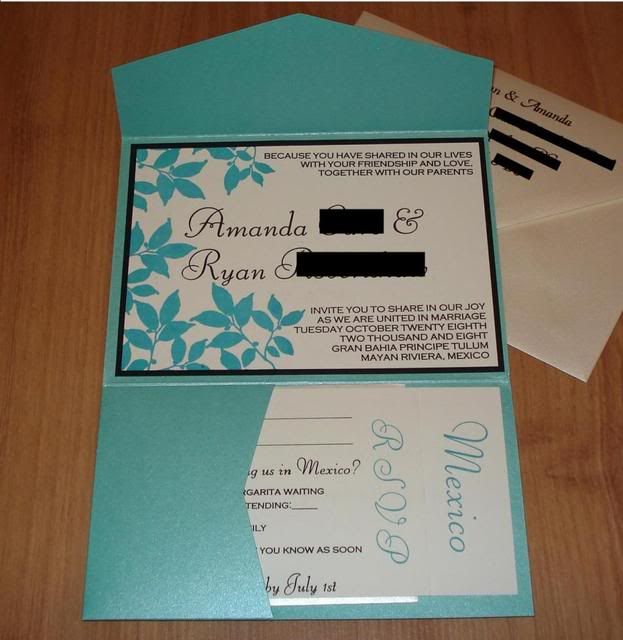 BM DRESSES
One of my BM's is a BM in another wedding the week before ours and her dress cost $275 each plus tax and alterations! On top of that she needs to pay for her own shoes, hair and make-up. As our BM's are all paying for their trips to Mexico, I wanted to keep the dresses inexpensive. Well, I bought a dress for a wedding last month and one of the girls said, why don't we use that dress as our BM. I went to the store yesterday (RW & Co.) and the salesgirl phoned every location to see about the dress. There were a total of 8 dress left! So I thought there was no way it would work as I need 5 dresses but it turns out they had every size we needed! And, since it was end of stock, the dress was marked down from $89 to $39!!! Here's a picture of me and FH at the wedding I wore it to last month - sorry about the bad picture, FH was a GM in the wedding and they ended up doing a few too many celebratory shots. The reason I'm standing funny and holding his hand is cause he kept trying to do the robot...lol.
It's too bad I didn't know I would be using it as the BM dress before the wedding so I didn't wear it that night - now everyone's going to wonder why I wore my BM's dress to someone else's wedding.
Whew...I think that's it. I'm so excited! Now I just need to wait until October