Quote:
Originally Posted by PaulaV

I had already told her I was using an outside vendor for photography and I don't want gazebo decor (maybe just some tulle going down the front two posts). I guess my option is upgraded video... maybe I can get her to trade it for flowers...

I am going to ask how much cigars are as well. We don't want to be surprised at the cost. Also, I am sure we need to tip him as well.

Here is the picture I sent he about the table set up, My napkin idea is different, laying down flat in a square (oh and I like those chairs better, but they don't have any other choices) :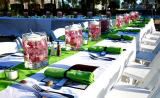 let me know if you hear about the cigar prices.
I like that picture of the table setup, very pretty. So are you doing the one long table? I had asked her if we could have our table set up in a big square, but I noticed on the terrace there are posts, I don't know how that will work.