The bride and groom have exchanged their "I do's," the officiate has pronounced them husband and wife, they turn to be received by their guests, and they are pelted with… glowsticks? Today's brides are forever looking for ways to make their wedding unique, and the post-ceremony "toss" is just another way for you to incorporate your own personal flare!
Traditionally the ceremony toss is done with rice to symbolize a fruitful marriage – in Ancient Greece it was customary to throw apples in the air for the same reason! – but today bride's are looking for ways to be creative, and some venues have restrictions on what can be "tossed" around. We've all seen rose petals, bubbles, and sparklers, but what about something a bit different? Here are some of our favorites!
Sprinkles:
Birdseed (for our particularly eco-friendly brides):
Confetti (look for biodegradable confetti, purchasable online):
Flags or stick streamers (for venues that don't allow you to leave anything on the ground):
Spring loaded streamers (think New Years Eve crackers):
Lavender seeds (smells good too!):
Mini-Marshmallows:
Pom-Poms:
Mini-pom-poms:
And our personal favourite... Mini Beach Balls!!!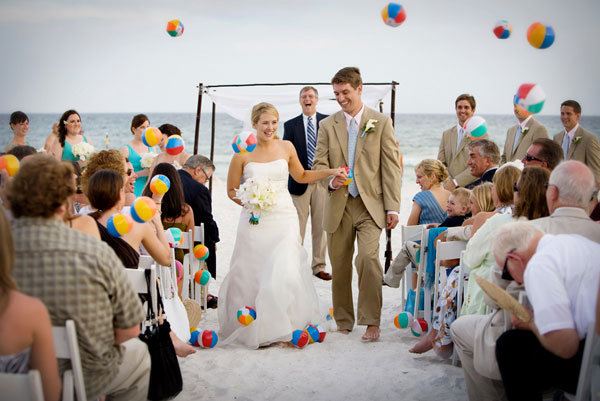 And don't forget that how you package your ceremony toss, whatever it may be, is also a great way to personalize your wedding!
For the DIY or thrifty bride:
Always remember to check with your hotel for their policies before moving forward with any of these ideas! And let us know if you have something different you've seen or done at your own wedding!! Happy Planning!
---