After much searching, and three different "try on" appointments, I've decided to take a leap of faith and order a dress. The problem is that I have to order it without trying it on! NO ONE in my are or within a two hour's driving radius has a sample of this gown in their shop, though several shops carry the designer's line and are willing to order it. Its been between this dress and a couple of others that I DID try on all along. No matter what else I tried on, this one was still in the back of my mind since the day I seen it in a catalog then found a larger pic online. I love the detail and simplicity. Two things I really wanted in a dress...beautiful but simple without being boring. And the fabric is pretty lightweight. I'm planning to have one layer of tulle removed so there is still a defined A-line, but a little less "poof" for the beach.
I had to be sneaky and use my camera phone to take pics of the last dress I tried on that I really liked since the shop doesn't allow photos...the lighting sucks, but here it is. I couldn't get the bottom of the dress in the pic since I was taking it myself, but its a full A-line with a chiffon overlay on top. Such a crappy pic, but I know you guys love visuals. The back has beautiful crystal beading down the length of it. Hard decision.: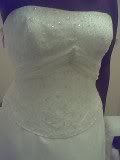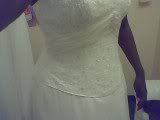 But here is the dress I fell in love with but can't try on. I guess what I'm asking for is some support in being brave enough to order this dress without having tried it on. I just don't know if it will be right for my body type and all that. I can always return it minus the restocking fee or whatever, but I guess I'm just nervous anyway. Seems like that would be a big waste of time/hassle if it didnt work out.