I know every bride-to-be on here probably ends up feeling like this, but I cannot believe it's already time for me to do this post!! Here it is! = )
I'll start with...
The Proposal
07/02/09
I've been getting a lot of calls/emails about how it all happened so here's a copy to you guys:
We almost missed our flight because I thought it left at 7 but it actually was leaving at 4! Realized that at 3:15 and made it to the airport by 3:30! We had to bypass the lines and sprint to our gate but we made it.
So Marlon and I were packing for Europe on Tuesday night and I was tired so I said I was going to just go to bed around 1:30 and finish in the morning. He said he wanted to stay up and finish. At about 4am I heard him coming into the bedroom and I woke up. Went to go to the washroom and there were 4 ring boxes spread out on the counter. I asked him what they were and he said he didn't know. So of course I open one and there's a post it note inside that says 'Remember when you were late for our first date?'. So now I realize that he's proposing and I start sweating and yelled his name. I open all the boxes and there's a post it inside and each has a different memory/inside joke of ours. I come out of the bathroom and notice that there is a trail of boxes going down the stairs and into the den. I start opening them all and they all had post-its inside. He just watched me open all of them with a smile on his face. There were some random ones in there too like a stick person picture that said 'This is me waving at you'. There were boxes all over our place!! In the fridge, all over the floors, furniture, everywhere, and they all had notes inside. The trail went down the stairs to our garage and it ended there but there was no ring in the last one...so I was like 'Am I supposed to go into the garage?'. He said, "No, let's just go back to bed." I knew that that couldn't be the end of it because he wouldn't make me open all of those boxes (100 of them) for nothing!
So we go back upstairs and there's another trail back into our bedroom that leads to the bed and up onto my pillow. They have notes in them too and the second last one says 'Will you marry me' and the very last one had the ring in it. I didn't cry I was just happy and excited and still half sleeping. My hair was a wild bird's nest and I was just wearing one of his t-shirts and I had racoon eyes cause some of my mascara didn't wash off.
He was actually planning for it to all happen in the morning and not 4am but he made too much noise coming in the bedroom and woke me up. He put the ones in the bathroom because he knows that's the first place I go when I get up.
The ring's beautiful and exactly what I wanted. Nothing's finalized yet but the wedding will be next July somewhere in the Caribbean.
So that's the story! We're both really happy and I'm still somewhat in shock and now jet lagged. Haven't slept since he proposed!
Rings
He had my ring made by a jeweller. My wedding band was made as well. He wanted his to be tungsten and we ordered it online. I have a round solitaire in platinum and the band is plain platinum. I'm not a big bling kind of girl...pretty plain and simple! It's this style he had made for me. (He knew beforehand that I loved this combination)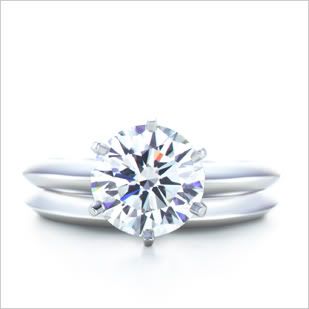 Destination Wedding Location
My family's background is largely Bajan (from Barbados) and his is Trinidadian. Neither of us has been to Jamaica so we figured it would be a good neutral island to choose. We chose RIU Ocho Rios because we went to a wedding in 2008 at one of their hotels in Punta Cana and we LOVED everything about it and heard great things about Ocho Rios. We will be getting married at the beach gazebo at 4pm. We have rented out upper level of the Plantation restaurant for our reception. We wanted to have more privacy so that seemed like the best option for us. I've heard that we will have a view of the ocean and the pool area so it should be a nice background. We have 75 people coming which is wayyy more than we were expecting. We're both pleasantly surprised at the turnout.
Invitations
We got our invitations made by a company called Stephita. We went with a simple design on the front (2 palm trees) and a turquoise colour. (It's the colour I'm going with for the wedding). We're both really happy with how they turned out.