I am so excited to do a planning thread because I love reading everyone else's. I love that it is a place where you can get a ton of information in one place. I am very thankful to the creators of this site and all of the members who have provided me with (too) many ideas for my wedding. I do not remember the names of those that I "borrowed" from and I wish I had kept track better to give credit where credit is due- so if you see your ideas feel free to take credit. Thank you again- and here goes. (it's likely to be long, so I will put THE END on the final post)
Rings:
Engagement Ring: Tension set, laboratory created diamond from DNea
Wedding Bands: Mine- Blue laboratory created diamond eternity band from DNea, His- Green Karat Binary Ring (we engraved a special saying written in binary code)
Location:
I always knew I wanted a destination wedding (I believe I told my mom around age 7 that I would be married on a beach). The process all started with trying to find a resort. We have family and friends coming from Texas and New York so we wanted somewhere that would be affordable to fly to from these places. I was dead set against getting married in Mexico (last time I was there I had a horrible case of Montezuma's Revenge and that was not what I wanted to associate with my wedding). I had to decide between getting married somewhere I thought was really cool or being able to have my friends and family around me. I chose friends and family and have since have become very excited about getting married in Mexico. We chose the Paradisus Riviera Cancun which has now changed to the NOW Sapphire Riviera Cancun Resort. First six months before our wedding the wedding coordinator left, then a month before our wedding the resort was sold and changed names, that has been fun to deal with. The planning process with the resort has not been fun. They have been very slow to respond to e-mails and difficult to get in touch with. I think everything will work out in the end, but it got frustrating at times. I've taken a more relaxed approach these last few weeks and I am not worried about how it will turn out. Here's the website.
We saved a lot of money doing them ourselves, but it was definitely time consuming. All of guests were very impressed and it felt pretty cool to get compliments when you did it yourself.
I also sent a letter with information about a month before we left.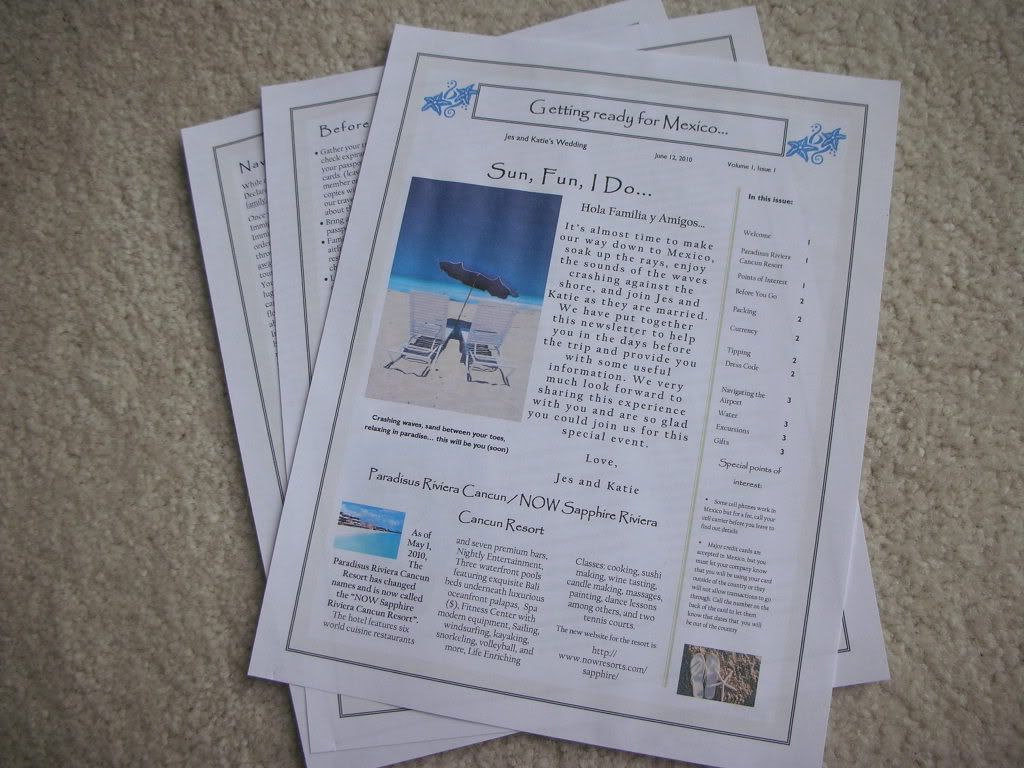 I posted the templates for all of these items in the appropriate places on the forum. If you can't find them PM me and I would be happy to send them to you.
TO BE CONTINUED...