We are having our engagement/pre-wedding party this summer and I need some help. This is the only party we will have in MN and I know a lot of our family can't make the trip so I want to make it fun. We are on a very tight budget as I am planning on quitting my job to go to school full time (yikes!) but I am pretty good at DIY stuff.
We have rented out a beautiful pavilion located by a lake ( it is MN after all)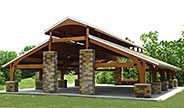 and the picture doesn't show it but there are 10 very long newer picnic tables that fill the room up. On the far end there is a table of sorts that had plug-ins for electrical outlet that we will be using to warm food.
Soooo I need help making the tables look nice with out spending too much money. I had thought about using table clothes but after seeing that the tables are nice I am going to skip that but am looking for a way to dress the tables up. My idea is to buy thick ribbon ( about 4 inches wide) and have to run the length of the table. Then placing tea light or votive down the center. The problem is that now we are looking at 5 candle holders per table plus the cost of ribbon.
I purchased paper lanterns and am planning on hanging them up and I also have a few hurricane candle holders that will be displayed on the lead table. I am making a tree that will hold fairies and butterflies and also serve a purpose in that the name tags will be clipped to it.
Maybe this is good enough but I would like to hear what else you girls can offer up .
THANKS!