OK, so many of you lovely ladies have read about my many months of torture and changes and all sorts of stuff regarding my dress. (For those of you who haven't just take my word for it!
). Well... I went to my fitting and my big "fear" happened. The dress I had tried on had been stretched out and MY dress was much snugger. Now it technically fit - I could zip it and it wasn't pulling or anything BUT it wasn't flattering... can you say "spare tire?"
Anyway I just didn't deal with it. We agreed on the hem, etc. and I left. Well the next day I suddenly realized that after all I've been through wirth this dress I better do everything to make sure I look and feel beautiful! So I called the bridal salon and the seamstress told me to come back in and we'd redo the fitting later that week and see what we could do to fix the problem.
Anyway, I went back, there was some room in the seams to let the dress out a bit and I went back this weekend and picked it up. I spent another few hours there on Saturday as the final touches were made and I think in the end it looks pretty good... I'm not sure if it was worth it all in the end - I guess I won't know until I see my FI's face on Saturday the 16th... here they are for your enjoyment:
Full Length Front w/ back in Mirror:
Front View:
Full Length Back w/ train: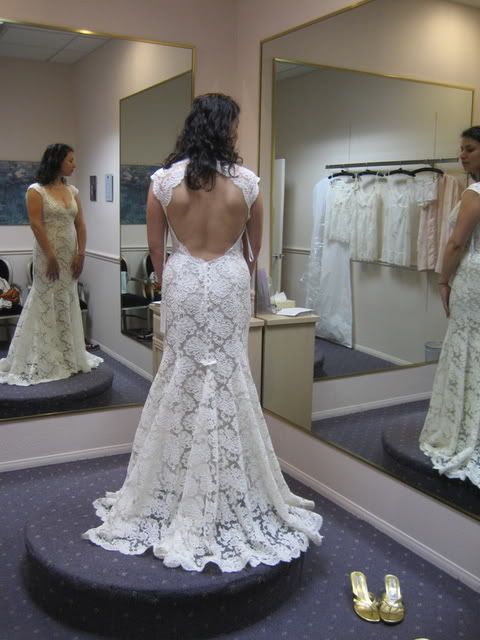 Full Back with bustled train: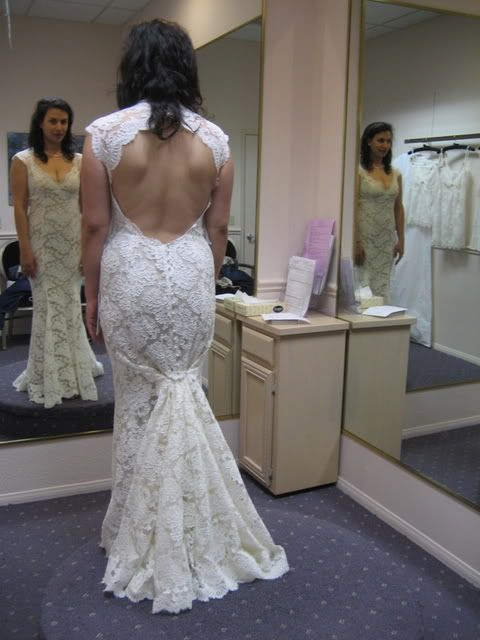 Bustle: