I finally got around to dress shopping and bought the second one I tried on! I started at Alfred Angelo because it was just down the street from me. I had two styles that I had picked out on their website. I really loved the second one I tried on, but decided I should look a little more so next we went to a bridal consignment shop. I tried on a few there, but none compared to the Alfred Angelo dress. Since I was in a hurry to get a gown (my wedding is August 31), I went back to Alfred Angelo and bought the dress.
First dress I tried on:
Model:
Me:
Second dress (that I bought):
Model: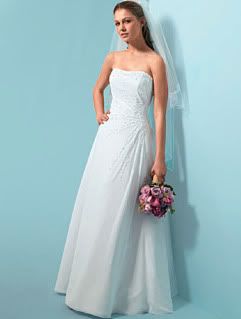 Me:
Third dress that the consultant picked out:
Model:
Me:
Dresses at the consignment shop that I tried on:
What do y'all think?