I've decided that it's time for me to finally write my review, sorry I'm so late.
First of all I'd like to say that I did very little planning and most of it was done last minute but my wedding still turned out PERFECT!!! I loved everything about it, no complaints at all it was amazing the best day of my life.
I might miss a few things so if you have any questions feel free to PM me and I'll do my best to help you out.
Location: DREAMS LOS CABOS
Rating: 9 out of 10
Everyone enjoyed themselves so much at the resort that they all want to go back for a one year reunion. I have stayed in so many different places and have travelled extensively in the Caribbean and Mexico and this was by far the best resort I have ever stayed at.
I loved the size of it, not too big and not too small just perfect for a wedding because you're not searching for people for hours. The hotel itself, the grounds the beach are so beautiful but the best part of the hotel is the people who worked their.
I can't say enough about how amazing they all where. If you need anything done or info go straight to conceirge and ask for MARIO he is AMAZING and knows everything about Cabo and vendors. The day of the wedding I woke up flipping out about flowers becuaes I told the florist the wrong time to deliver them to the hotel, I didn't have a number for them either. Mario found them for me and called them and aranged all different times for delivery, he saved my butt.
Wedding ceremony: MISSION INGLESIAS IN SAN JOSE
Rating: 10 out of 10
I was dreading getting married at a church and wanted to do the whole Gazebo thing. Well I've changed my mind completely about that. The church was so beautiful and it was so nice leaving the property to go and get married there. I felt like a real bride, waking up early to get my hair and makeup done and taking a limo to the church, it was amazing.
The priest who married us: Padre Juvencio. The sweetest man you can possibly imagine. He made us feel so comfortable the entire time, he always had such a big smile on his face. It was just a pleasure meeting him.
Transportaion: Organized through Mariana
10 out of 10
Sorry I don't know the name of the company, it was all organized 2 days before the wedding by Mariana. If you would like the contact please ask me and I'll email Mariana.
I had a white limo and the rest of my guests travelled on a luxury bus. The price for this was $430 US, the bus was really cheap it came to $110 (I think) and the limo was $300 they also put a 5% gratutity on top of that. We had the van and limo rented for 3 hours.
Flowers: Floreria Pamela (contact Jesus)
Rating: 9 out of 10
2-3 weeks before the wedding I started flipping out because I didn't have any flowers organized. So I contacted MERRYME on the forum beacuse I remebered her saying she was so happy with her flowers and she used all roses as I wanted to do aswell. She gave me her contact in Todos Santos, Happy Moreno (happymoreno1@yahoo.com). I contacted her asking if she knew of any vendors in Cabo, well she arranged all my flowers for me at no charge. She felt bad that it was so close to my wedding and I still didn't have any flowers.
Happy Moreno was abslutely amazing, I've never met or talked to her before and out of the goodness of her heart she worked on this for me and contacted me regularly to confirm about what I wanted. I asked her if I could pay her but she said no so in return I gave her the vases that I used for my centerpeices since she wanted to buy them off of me.
I had:
Bridal bouquet of 50 light pink roses
2 bouquets of 25 beige roses for my bridesmaids
4 bountainnires
1 crosage for my mom
8 vases with 25 roses in each
20 lilies for the pews in the church
2 huge arrangments for the alter
1 arrangment for the virgin Mary
Grand Total: $1050 US with delivery to Dreams and The church
This was approximately 70% cheaper than what the hotel was charging me. I loved my flowers but I didn't give them a 10 out of 10 because they didn't seem that fresh to me, I'm not sure if it was because it was so hot out and they were out of the watre for so long.
Here are a few pics: (taken by Juan Carlos Tapia)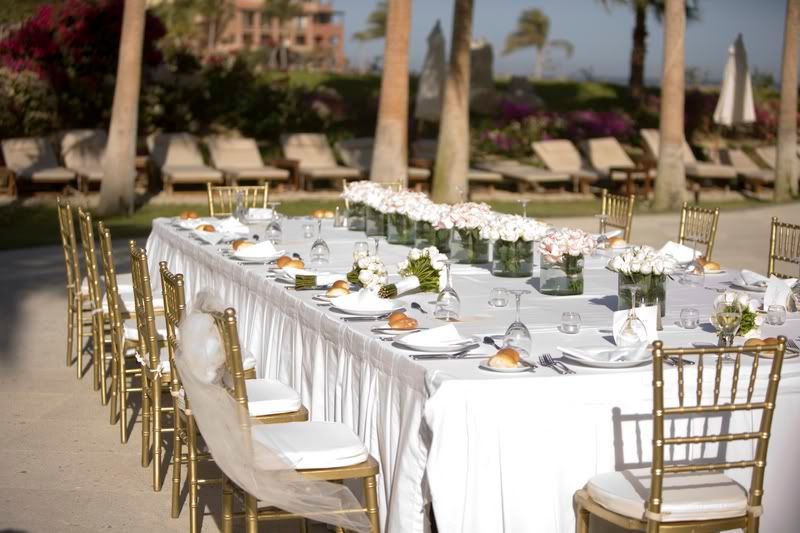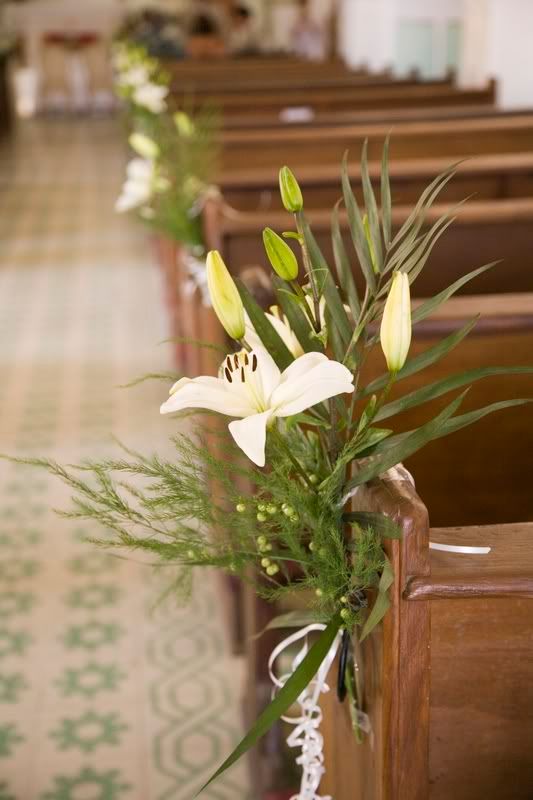 Music: Also arranged by Mariana
Rating: 10 out of 10
For the church we had a trio (a harpist, pianist, and vocalist) They were awesome, our guests were telling us that the women's voice was so beautiful that she made them cry.
For the reception we rented the IPOD system. I'm so happy I went this route it ended up saving us so much money and the music we picked was perfect.
Reception: Oceana Terrace
Rating 10 out of 10
I had rented the tiffany chairs for this...Cost $15 per chair I was so happy with the way they looked since I didn't have that much table decor I think it dressed up the table nicely and gave it a more elegant look.
Food: Was so yummy!!!
We started off with apps and cocktails followed by dinner which included:
- Salmon Salad
- Cream of Broccoli soup (best I've ever had)
- Choice of Beef Wellington and Chicken Breast
- Strawberry Tulip
- Wedding cake
Wedding Coordinator- MARIANA
Rating: 11 out 0f 10
This women is absolutely amazing!!!!! Most of you already know so I wont repeat myself but she definately deserves some award for the hard work that she does, dealing with us bridezilas is no picnic. She orgaized everything last minute for me and did an excellent job.
Photography: Juan Carlos Tapia
Rating: 10 out of 10
Terry and I absolutely love our pics, we're having such a hard time picking the best shots to use for our photobook. Juan was great to work with and we used him for 5 hours.
The horses for the photoshoot were $150 for the hour and we used them for about 30 min. This was one of the best decisions I made, the pics turned out AMAZING and it was tons of fun. The stables are 2 mins away from Dreams, here is their email:
Horseback Riding, Los Cabos, Private Trail Rides, Cabo San Lucas
Hair and Makeup: Suzanne Morel
Rating: 10 out of 10
Loved the way my hair turned out, my hair and makeup stylist was Adrianna. Total Cost of this was $375 for Hair and makeup trial and day of wedding hair and makeup.
For the trial we had to go to them which was an adventure, we could't find the place and I forgot their phone number Oops! so we were 30 mins late
Day of Adrianna came to my room, it was great but took a long time to do my hair...approx 2.5 hours
Wedding Attire
Rating: 10 out of 10
My wedding dress was Alfred Sung but I also did some custom changes on the dress (sweetheart neckline and handmade silk roses)
Grooms and groomsmen attire: Suits were Zegna shirts and ties were Hugo Boss
Bridesmaids dresses: BCBG, shoes: Victoria's Secret
I think that's it, I hope I'm not missing anything if you have any questions please contact me