We had the best wedding we could have ever possibly hoped for or imagined...below are some reviews of what made that possible.
Dreams Hotel
We had a really wonderful experience overall staying at the Dreams PV. There were hiccups, but mostly minor in nature and they didn't effect anyone's trip. For example, lots of our guests got stuck in 1st floor rooms without views in the old tower…this was more unfortunate than anything but it was frustrating because we had 60 guests booked so many months ahead and they assigned such rotten rooms. I understand they don't pre-assign but it was a bummer. Otherwise, the new tower rooms were amazing! We had a Jacuzzi suite on the 9th floor and loved it! We also found the food and service to be great (we kept lots of $1 with us for tipping which staff appreciated). Our favorite restaurant was Oceana. The staff does have rules about no tables more than 10 but we found them to be really accommodating to us, particularly in the late morning at the World Caf©, in trying to give us large tables close together so that a lot more than 10 people could at least eat close to one another
We started off working with the old wedding coordinator Diana and got nowhere!!!! She never answered emails, we couldn't get her on the phone, it was all impossible! Then Rebecca got hired and it all got so much easier. She was responsive and reachable. When we arrived at the Dreams I asked the front desk if I could meet her to reconfirm all the details of the party and she came out within a few minutes (partly because she didn't have a wedding that day). The welcome party set up was really nice and the food was good (or so I heard…I was too busy walking around greeting everyone). Let me know if you have anymore questions about the Dreams and/or Rebecca and I'll be happy to answer them!
Vista Grill
The absolute perfect location for a rehearsal dinner! The view alone was worth the price of admission (which was not cheap – dinner was $45 per person including tip but without alcohol) but the food was also delicious. I found Lily Perez, their group's coordinator, to be wonderful to work with via email. She responded really fast (usually within 8 hrs) to all my questions and followed through on every detail as promised. We had three tables on the upper balcony by the railing, impeccable service, and a really good view. As I said, it wound up being expensive once alcohol was added on…but if you have a smaller group or a bigger RD budget then it is worth it.
Las Caletas
Everything wonderful about Las Caletas has already been said in so many other posts and fabulous reviews so I won't do a full one here. I will say that the evening was absolutely perfect – pure magic! And I owe that entirely to Kelley who somehow managed to bring every detail to life. She was wonderful throughout the entire process and the day of the wedding I just kept turning around and being more amazed by everything I saw and how beautiful it all was. I consider myself so lucky to have found my way to working with her and I thank BDW for that because that's how I learned about LC in the first place.
So some details about the wedding -- we had the tropical trio for the cocktail hour and the DJ for the reception. My dad and sister had put together a slideshow of pics of me and my husband when we were children so we had a screen at the reception too. We also did a cupcake tower instead of cake (with one giant cupcake at the top), a tequila tasting table, smores, and these massive sparklers that everyone had so much fun with! We paid for an extra hour and it was the smartest move we made because even at 11:30 no one wanted to leave. We have gotten great feedback from everyone about the wedding saying it was just spectacular!
The photos I have below don't do it justice at all, but consider it a start…the photos Nathaniel Thompson took will be so much better and I'll post when I get those too (I've posted my review of how amazing Nathaniel was in the vendor section). Again, let me know if you have questions…I'm happy to answer.
Ceremony area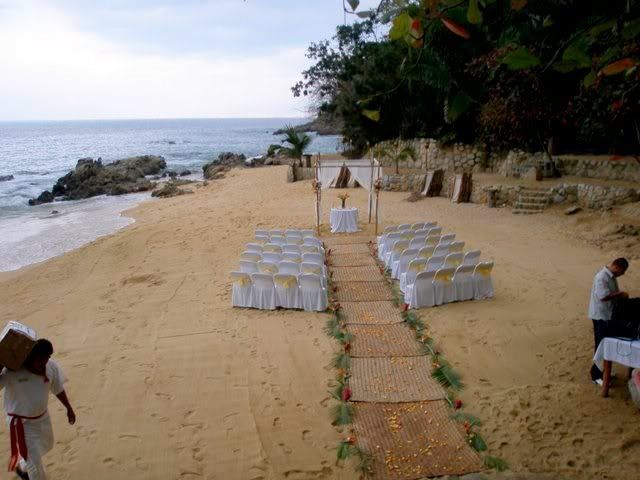 Aisle was lined with birds of paradise and heliconia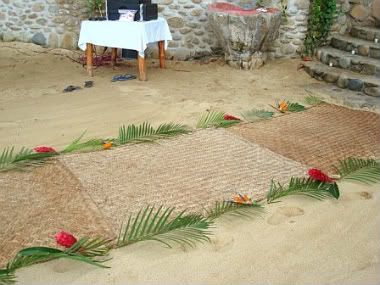 Kiss after ceremony