After tons of trials and tribulations, my pocketfold invitations are FINALLY done!!!
I will detail my experiences and hopefully that can help some of you! First off, I do want to give credit to those on this site that I have "borrowed" some of their ideas and some of the wording. I don't know everyone's name, but THANK YOU!!!!
I first thought I would make this a DIY project thinking, "How hard could this be"...HA...little did I know!
I ordered the pocketfolds-which are the Signature 5x7 (Tiffany Blue Metallic) from Cardsandpockets.com, as well as the mat (Sand Metallic) and all of the pre-cut inserts and envelopes. When they arrived, I was so excited to get started. That didn't last long, however, due to the fact that I had no clue when it came to printing what I wanted on the special sized inserts. There are sizing info on the cardsandpockets website, but I could not get it to look right...not only that, my printer is an inkjet printer and not a laserjet, therefore it didn't work with the colors and the metallic cardstock! After a few days, I decided that printing them myself was just not for me so I started looking for a printing company locally do it. Everyone I spoke with told me the exact same thing....they could not print on the pre-cut cardstock because that would jam their printers. Dang it!!!
I kept trying and I finally found a wonderful lady on the internet (Christina Watson) who was willing to work with me. She is my hero about now!!! After emailing her and telling her my dilema, she agreed to let me mail her my pocketfolds and the mat. She also agreed with all of the other printers that the pre-cut cardstock would jam her printer. She suggested I return the inserts and she if they would refund my money. They did, but charged me a restocking fee....better than nothing, I guess! I explained to Christina my "dream" invitation and she suggested I use a pearl metallic cardstock for the invite, inserts and envelopes and I agreed. I sent her the wording I wanted for each item, but told her I was having a hard time finding just the right starfish emblem to use. She did a lot of research and we finally found one that I really liked. Christina was so responsive and extremely quick, I couldn't believe how fast I got my invitations!!! If any of you are looking for someone do do your invitations, I highly reccomend her! Her email is: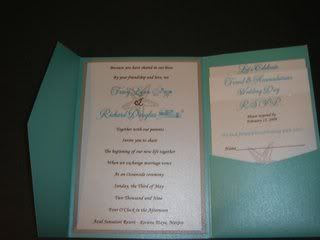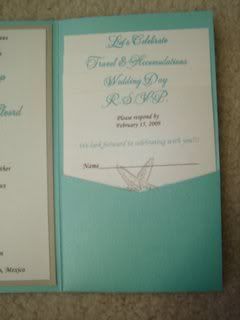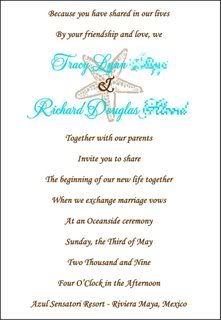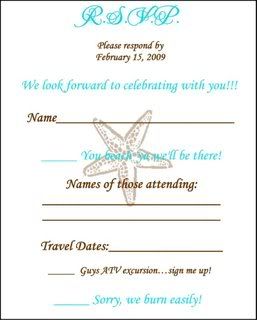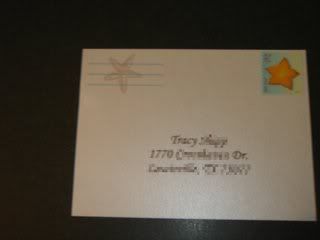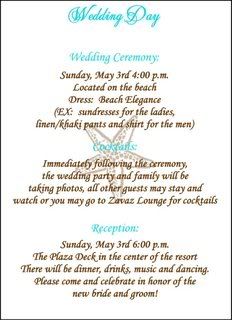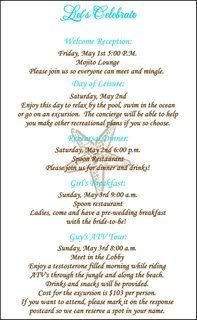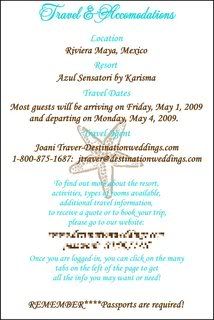 Here is the outside of the invitations. I actually did this part myself. I used plain raffia ribbon to tie around the pocketfold and the glued a real starfish (purchased from OT) using mini glue dots and glueing it to the ribbon.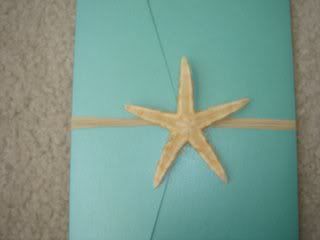 I think they turned out great and I love them! The only bad part is now I have to mail them in a padded envelope so the starfish doesn't break! Oh well, at least they are done!!! I hope this helps some of you!!!