Finally... I bought my dress today!!!PICS =)
Posted 03 January 2009 - 05:41 PM
Smokin' hot dress!

---
Posted 15 January 2009 - 02:51 PM
Quote:
Originally Posted by sunsetbride1

Hi Everyone,

Well, after a lot of searching (see all threads below) and then a lot of waiting due to my recent illness; I finally got back out there and found my dress; I ordered it today!! Yippy!! Thank you to everyone for all of your support.
[/IMG]
And, here are pics of me in the dress... (pls disregard the strange facial expression, bad hair, binder clip they used to hold the too big dress on me and additional 15 pounds of body fat that I still have left to lose!)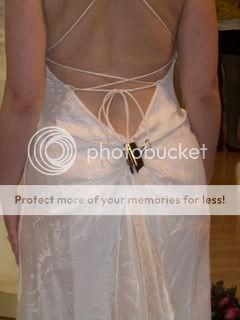 And all of my bm's shockingly found their own bm dresses while I was getting measured...
It's a Mori Lee and they are doing it in Hazelnut (which actually looks in person like a very saturated coppery color). Here is their dress; the color that we are doing is the one to the right.
What do you all think?
wow thats soo pretty... whos the designer
---
Posted 15 January 2009 - 03:46 PM
Congrats! It's elegant and sexy. Your bridesmaids dresses are very nice too!

---
Posted 15 January 2009 - 04:19 PM
Quote:
Originally Posted by cancunbride

wow thats soo pretty... whos the designer
It's a Watters Gown. =)
---
Posted 15 January 2009 - 04:29 PM
The dresses are great! I can't wait to start trying some on:)

---
Posted 15 January 2009 - 04:47 PM
Beautiful dresses. I love the back of your dress. Very very very sexy! Congrats on finding "The One" on both. the dress and the man hee hee

---
---
0 user(s) are reading this topic
0 members, 0 guests, 0 anonymous users