Alright ladies, here ya go! I've been putting this off for a couple of days because I just know it's going to take me mucho time to write this. But, I'm giving in to my laziness for all those who like me, think these reviews are important and helpful.
First off, although it's redundant I know it's so true. My wedding would NOT have been as fabulous without BDW. Tammy, thanks for this great forum and your time and commitment to us all.
For those of you who haven't booked a TA, here's your chance to book an awesome travel agent. Tammy didn't start out as my TA but when the sh*@t hit the fan at DT, she stepped up to the plate. I quickly diverted any guests who hadn't booked to her and not only did she set them up, she was on top of the resort closure and on top of putting my mind at ease!
So many others to thank but I won't bore you with a long list. Milejilo, Amy706, SandyW, Sunbride, and Amesharpe, get a special mention because they were my go to girls to vent and/or ask for help!! Thanks ladies!
Since I didn't have time to post my planning thread, I will sprinkle some of it here. Hence, be ready for a loooooong read!

DREAMS TULUM RESORT... GRADE: A
Most of you know the NIGHTMARE we DT brides recently went through. My heart goes out to the brides who actually were relocated. If my experience with the resort was spotty I can only imagine what it was like dealing with DT personnel at another resort. I went down for a site visit in February and fell in love with the resort chapel, the service, the kid friendly activities, and the fact it is isolated and away from any other resort. And frankly, I also fell in love with their prices (among the cheapest for the level of resort). The place is beautiful, not too big, not too small. And the beach was good. I read on BDW I should pack water shoes and although I encouraged all of my guests to do so as well, we didn't need them at all. The beach was not rocky. I also included a bottle of OFF in all of my OOT bags but it too was something no one used. It may be the time of year but no water shoes, no insect repellant were needed. Most all the staff was extremely friendly and ready to help. You will love this hotel! All my guests raved about it. And some are talking about going back. Even though it's a loooong drive, it's worth it. Well worth it.
CHECK-IN...GRADE: F
We did have MAJOR problems with check in. And the resort never seemed to get it right. When I checked-in, the receptionist tried to give me a lower category room. I told him he was wrong, he thought he was right, and so the arguing began. He told me we had a gardenview dreams suite when we really had an oceanview room. Then his argument was, no oceanview rooms were available. After minutes of going back and forth, he finally succumbed and told me a room suddenly became available. He said it was an "oceanview" room but when I saw it, there was no view of the ocean (6203) just palm trees. When I complained in the morning (it was late when I checked in) he told me it was actually a "partial ocean view". Oh, and remember he insisted there were no other rooms available? Well, I found out later, ALL my guests were offered an upgrade ($40 per night) upon check in. I thought there were no rooms available! Needless to say, we started our trip on a very sour, aggravating note. Unfortunately the saga continued. My DH who arrived one day after my mother and I did, had the same issues during check-in. Only this time, they told him they had no reservation for him! WTF?!!? After he finally got it squared away, he stayed in a room by himself up until the wedding day. My mother and I stayed in a room together. The plan was for me to "move" to his room on our wedding night and stay there. The front desk knew this plan but still managed to confuse the two rooms. Sooo, on our wedding night, the nice little "package" the resort leaves for couples was in my Mom's room! She was floored! We had nothing! Didn't matter in the long run but still, it would've been nice.

FOOD...GRADE: B
One thing I was not too happy with was the food. I remember it being wonderful during my site visit. It was one of the things I raved about to my guests . But once there, I wasn't as impressed. Don't get me wrong. A great majority of food was good. Not great, just good. Very few items were bad. We got around it by basically ordering almost everything on the menu and eating only what we liked. Yes, waste of food sometimes, but hey, it made my palette happy! Surprisingly, the Asian restaurant "Himitsu" was one of the better. Try the bbq spared ribs and fish! Yummy! Sushi was average. World Cafe at breakfast was yummy! Oh, and the food for our wedding is on the "bad" list. More on that later.
SPA...GRADE: F
Another major disaster. I'm not kidding. I'll try to sum it up as much as possible but here's what you should know. They are extremely disorganized. Enough so, my mother and two other guests weren't able to get their hair done the day of the wedding because they were so backed up. The resort had 8 appointments for us, each one lasting only 30 minutes. I asked the spa receptionist about this because it's never only taken me 30 minutes to get my hair done but she insisted the stylists were fast and could get every girls hair done in 30 minutes each. Yeah right. It took one of my bridesmaids alone 2 hours!!!! Anyway, I emailed the spa weeks before the wedding and thought I had everything arranged. When I arrived the spa receptionist told me there were NO appointments reserved for me and my guests. The problem (in my opinion) is the lack of communication between the spa and the spa office. If you've been there you know the spa is near the lobby but they also have a small office in the veranda bar. So the receptionist at the veranda bar confirmed my appointments but when we showed up, the receptionist at the actual spa told us we had no appointments!! Not good. I felt terrible for my mother although she didn't really care. She's great, and ended up doing her own hair and makeup in 15 minutes back at the room. Oh, and speaking of make-up, don't get it done at the spa. I don't believe they are true make-up artists, just women who know how to apply make-up (don't we all?!). It took her less than 10 minutes to do my make-up! Everytime I look at my pictures I ask myself why I didn't I just do it myself in the 1st place?!?!?!?
Because of everything that happened, I spoke with the spa manager, Carlos, a couple of days after the wedding. We told him we booked two couples massages for the day we were leaving and we hoped it wouldn't be as bad an experience as the day of the wedding. I also told him my friend Amy (Amy706) was getting married there a couple of days later and he better not f*@$ it up!. He promised he would fix it. And guess what? When we arrived for our appointments...the receptionist told us we didn't have one! really? You can't get any appointments right? We had to call Carlos and deal with it all over again. What I will say about the spa is once you're in...you will LOVE it. It's beautiful and the masseuse was wonderful! Just be prepared to deal with disorganization.
TULUM/PLAYA DEL CARMEN
We went to Tulum one afternoon (5 min ride away) and were surprised to find a nice selection of shops. I was thinking we were going to have to go to Playa to get our shopping done but we found what we needed in Tulum. Don't get me wrong. You won't find anything like Playa has to offer but it's good enough to get most of your trinket, souvenir shopping in. We did stop in Playa on our way in ( we rented an SUV) to buy stuff for our OOT bag and other reception items. We had a candy buffett at the reception and bought all of the stuff for it at Sam's. We don't even have a membership there but we asked for a one day courtesy pass and we're allowed in. For those of you who want to buy sunscreen in Mexico beware! It's much, much more expensive. About $11 for a bottle that costs $6 here in the states.
STAFF...GRADE A
The days after the wedding, my DH and I parked ourselves on the beach and stayed there ALL day. The waiters were constantly offering drinks and food. It was sooo relaxing, we never had to get up! Everyone from waiters, to bellboys, to explorers club were wonderful and eager to help. Luis, at the concierge desk, is my HERO. My DH and I went for a "quick" sail the day we came back home. Well, 15 min into our sail, the wind completely died! We were stuck! So, when we finally made it back to the resort, we only had 10 minutes to pack! We literally threw everything into 6 suitcases and broke every Mexican traffic law while driving to the airport but we made it! Except for two things. Our wedding pictures and MY DRESS! I called the resort the next day and Luis at the concierge desk took care of everything and is fedexing it back. Gracias Luis! I will say however, my sisters expensive running shoes went "missing" during our trip. I'm in no ways blaming housekeeping for it but it is what it is. And even then, the resort was great and sent over two "investigators" who took down a report and promised to interview everyone who went in and out of the room.
GYM...GRADE C-
It felt like a throwback to a 1980's gym! I'm sure at some point, all the equipment the resort has was top of the line but by today's standards it's pretty funny. I tried a couple of machines and they are so archaic! So, I just did my own routine, hopped on the treadmill and called it a day.
NIGHTLY ENTERTAINMENT...GRADE A
I'm impressed at the variety the resort offers every night. It really is amazing. Yes, it may not be your cup of tea but at least it gives you something different to do every night. Especially considering the resort is far away from clubs and restaurants. One night, after our wedding, we watched Monday Night Football on this giant screen on the beach. The resort set up a nice area with lounge chairs, popcorn and food. I couldn't believe I was watching my favorite team while lying down on a beach in Tulum! The next night they had a rock n roll band at the disco. As we've said before, the disco is cheesy but if you take your group it will be fun. Other activities, mexican fiesta night with a mechanical bull ride, mayan show with fire dancers, a rock n roll band on the beach. It really is fun!
REHEARSAL/WELCOME DINNER...A
We met at the chapel for a quick rehearsal. Landy was on time and was great. We did a quick run through, I recommend it, and then went on our way to dinner.
Dinner that night was at the buffett because 1) it was free and 2) most importantly, it was the only place we could get the traditional turkey day grub. It was Thanksgiving. Everything went smoothly. I gave Landy centerpieces and runners and she had her staff placed them without a fee. It went very smoothly.
FLORIST...GRADE F
This, and only this, is why I would re-think my wedding at DT. I get that for some people, flowers aren't that important. However, for me, and for the amount of $$$ we spent, flowers are extremely important. I requested a telephone interview with Landy a week before my wedding ( I highly recommend ). She told me I needed to tell her what flowers I wanted before I arrived because most flowers weren't readily available and needed to be ordered from places like Holland. She even gave me the resort's florists email and phone #. I called the woman, Magda, sent her pics of what I wanted for my centerpieces, chapel flowers etc etc. After a long telephone conversation we agreed on flowers, she promised she could do what I asked for and so I thought we were done. Wrong. I'm so glad I asked Landy I wanted the florist on site during our first meeting because if not I would've gone haywire! So during our 1st meeting, Magda the florist proceeds to tell me she can't do the centerpieces I asked for because the wind might knock them down. I had requested a beautiful, tall arrangement with pomanders and votive candles hanging from the top. Okay, so I understood they were risky and we needed to pick something else. Since she had previously told me she could do the arrangements I didn't bring any other pictures of other centerpieces I liked. I asked Magda, if she had pictures of other arrangements. Perhaps, work she had performed for other weddings. Her answer was no. No pictures of centerpieces, flowers, anything. I didn't know what to do. Landy brought out the resort catalog with pics of centerpieces but I didn't like those. So she went back and got her laptop and we started searching for new ideas, new inspirations. Magda kept telling me she could do this arrangement with such and such flower. That arrangement with such and such flower. They were flowers I've never heard of! And when I asked for pics to see if I liked those flowers she didn't have any!!!! Talk about unprepared! And she's a vendor!
All she would say is "don't worry, they're pretty". Basically, I chose my centerpieces blindly having no idea what flowers she would be using and if I would like them. At that point, I asked for the cost and of course she didn't have it. Magda told me she would send over an estimate later that afternoon which of course she didn't. When Landy and I met the following day to pay for the wedding I flipped! The florist wanted to charge me close to $2000 for 7 centerpieces. That's nuts! I immediately told Landy I wasn't going to pay that much to which she replied she didn't know if we could cancel because Magda had probably already bought the bases for the centerpieces. She had to track Magda down and tell her we weren't going to do it. I won't bore you with more details. I will sum up by saying I didn't care for the florist or for her work. I didn't like the final centerpieces and despite emailing her pictures of the flowers I wanted for the chapel, she got it wrong. Flowers were probably my biggest expense in the wedding and they weren't what I thought they would be. They were okay, but not what I imagined.
LANDY...GRADE: B+
Landy is so sweet and willing to do almost anything for you...once you're there. My biggest hangup with her is the lack of communication. I considered myself to be a patient bride. I rarely emailed her to ask questions because I knew there were a gazillion brides before me and figured it was only fair to wait my turn. Well, because of the resort closure, I never got my turn. It was announced the resort would re-open about 20 days before I was to leave. I thought I would start hearing from Landy more but I didn't. I had to track her down. And because of the lack of communication...I never knew just how much my wedding would cost. She didn't get back to me with some prices until we met in person. That's a little too late for my taste and I basically either had to agree to the high price or forget about what I wanted. In the end, we spent more $$ for the wedding then expected (by thousands) but it was worth it. I think she's extremely overworked and needs more help. Oh, and make sure you bring a detailed copy of your wedding package. When I was going over the final estimate, I noticed Landy was charging me for two things that were supposed to be included in the ultimate wedding package. I don't think she did it on purpose, she probably gets confused about who's paying the old prices vs. the new prices. Still, the fact I checked my guide and showed her what I was supposed to get for free, saved me a couple hundred $$$.
If I had to do it all over again, I would hire an of-site wedding coordinator in a heartbeat. It's not worth the anguish and waiting and waiting for a response. And then when you finally arrive, you learn you may not get what you want exactly how you want it. I will only get married once, and I wanted it to go perfectly and beautifully. I now know I should've had local, outside help to make it happen.
WEDDING...GRADE A-
I had soooo much fun at my wedding! So much fun, it made up for everything that didn't go right.
The ceremony went great. It was planned for 4:30 pm but once in Tulum we realized 4:30 was too late. The sun sets at 5 pm during Nov/Dec. So we bumped up the ceremony for 4pm and despite an earlier start, we had to rush to get in all the pictures at the beach before it was too late. The minister spoke great English and seemed truly geniune. We also hired a violinist who according to guests was great! I had 55 people at my wedding,11 were forced to cancel one week before departure
. So with 55 guests, I asked Landy to place extra chairs in the chapel and it all worked out great. It wasn't hot at all and everyone had a seat (my wedding party of 6 stood the entire time). I asked Landy to close the chapel doors right before I was to walk in. A funny thing happened in that as soon as the wedding march began and the doors were opened a bird flew in as I started walking into the chapel. Some guests thought the bird was planned but it wasn't! It was an awesome way to make an entrance!
Although we didn't make it, I was told the cocktail hour was really fun. We hired a mariachi band, had appetizers and champagne for toasting. The only negative thing here is I chose the Veranda Bar for the cocktail hour and it was a little warm inside. I picked it because no one is ever in there so I loved the privacy. Plus the decor is very authentic Mexican. However because of the heat, I would pick another place.
My reception was at the Seaside Grill. I bought close to $500 in fabric to have it draped on the ceiling and around the columns. Although I asked for chiffon, Landy purchased something else. It wasn't my first choice (you'll see in the pics the fabric shines and thus looks a little tacky) but it worked. Not like the picture I gave Landy but still good enough to really give the Seaside grill a different feel. I also had a candy buffett, a station for "dancing shoes" aka flip flops, guest book table, and cake table. I rented "tiffany chairs" and thought they gave the reception a great touch! The only thing different I would do, aside from flowers,is buy larger chinese lanterns. I bought 24, 12" LED battery operated lights. They were nice but I think it would have looked 10 times better if they were larger. Our menu for the wedding night was surf and turf. I had read great reviews about this dish but honestly was really disappointed. Even my little brother who eats anything and lives at Taco Bell, KFC and McD's, told me he didn't like it. The salad was good, the tortilla soup was good but the actual meat and steak were very bland. Had almost no taste and were a little cold. As for our wedding cake, we chose tres leches with strawberry filling. Here again, we didn't like it! And I think most of my guests must have agreed because about 95% of my cake was left over. I thought they would leave it in our room for the next day but I never saw it again. Wonder what they did with it?!?!?
We hired fire dancers and although they were more $$$ than expected they were well worth it! We were supposed to get 3 firedancers but ended up getting 7!!! The group was apparently on their way to another event so all of them stopped at our wedding and gave us their show. They did an amazing job.
After being told yes, then no, then yes again, we finally were able to have a bonfire on the beach after the reception! So glad we did because my guests weren't ready to call it a night after the reception ended at 10:30pm. My DH and I left the bonfire around 1 am but I was told the last guests left the bonfire after 2 am! Good sign, huh?!
RESORT PHOTOGRAPER...GRADE C
I knew going into this I didn't care too much for the wedding day pictures. What I really wanted were great TTD pictures. I figure my sisters, cousins, family all have the traditional wedding pictures on display in their homes. Since our wedding was on a beautiful beach, I know the pictures I'm going to display in my living room and around the house will be the artistic ones on the beach. I also figured, I was bound to get at least a couple of great pictures from the resort photog the day of the wedding. Sure enough, I was right. The resort photog that's part of their wedding packages isn't good. Of about 300 pictures he took that day, only about 7-10 are good. If you want great pictures the day of your wedding, hire a professional.
RESORT VIDEOGRAPHER...GRADE C
I actually considered extending his time with us so he could capture our reception. So glad I didn't waste my $$$$. He's a very nice guy but it's not the quality I was after.
I spent some time with the videographer explaining what I wanted and didn't want as part of our video. I had seen samples and thought some were pretty cheesy. Still, I couldn't even bear to watch it once we got it. It was delivered to our room the day before we left. My DH and I quickly popped it into the dvd player and just couldn't believe how bad it was. It's shaky, the audio is bad and just simply poorly put together. If you want a great DVD of your ceremony, hire a professional.
DJ MANNIA...GRADE: A+++++
Of all the vendors, this one was the easiest to deal with and not only did they not disappoint, they surpassed my expectations. I requested a meeting for two days before the wedding because I wanted additional lighting for the reception. The DJ was running late and called me that morning to tell me so. I thought it was a nice touch. Weeks before, I emailed him a long list of songs for our wedding and he brought it to the meeting. There, we agreed on the lighting of the columns of Seaside grill, set up, etc etc. I also told him I was going to give him bags of accessories (silly hats, whistles, sunglasses, necklaces) so that he could hand them out at different times during the reception to get the crowd going. And the day of the wedding everything was delivered as promised!!! My guests are still talking about how great the music was. For my part, I danced all night long! Thank you DJ Mannia. They are great to work with and reasonable in price!!!
TTD PHOTOGRAPHER CECILIA DUMAS...GRADE A
Ceci is a doll to work with. She showed up on time and ready to work. We lucked out because it turned out to be a cloudy day so the pictures are amazing. I have yet to see all of them but I'm really impresed with the teaser pics she's sent. She's not only nice, but helped me with my hair, carrying clothes, helped with poses. My DH and I had previously scouted the area and found some palapas, palm trees and hammocks at an abandoned home a good, long walk from the resort. I told her about it and she quickly agreed to go there with us. She's just really terrific and soooooo talented. Plus, she's quick which I highly appreciated since my dress got to be very heavy once it got wet! I highly recommend her!!!!!
COBA RUINS....GRADE: A
Totally worth the trip. Especially considering it's only about 45 minutes from the resort. Be prepared to walk once there if you don't rent a "mayan taxi" for 10 bucks or bikes. I would also recommend wearing tennis shoes to go up the ruins. Give yourself about 2 hours to tour the ruins...extra time to tour the shops.
CENOTES...GRADE A
I must say most of my guests weren't looking forward to doing this. After the ruins, they just wanted to go back to the hotel to drink and eat! But I knew if I took them they would love it. And sure enough, they did! The water was cold but once in, it felt amazing!! No one in my group had ever swam in a cenote before and they were all glad they did. We went to a kid friendly one about 5 min from Coba.
TRANSPORTATION...GRADE B+
We hired Mayan Landscape as our transport company. They were extremely great to work with and reasonable in price. The owner even called several time before our trip to make sure if we were doing okay. And our driver Miguel was so friendly and fun. The only thing with them is to be specific about what excursions they will take you. The zipline they took us was not what we thought it was. It was all of one zipline. You go down once and then it's over. It also didn't seem so secure. There was only one other person on site, the guy who helps pull the zipline, and he wasn't friendly and didn't help any of us strap on the harness. Make sure you are aware of exactly where they're taking you to avoid surprises.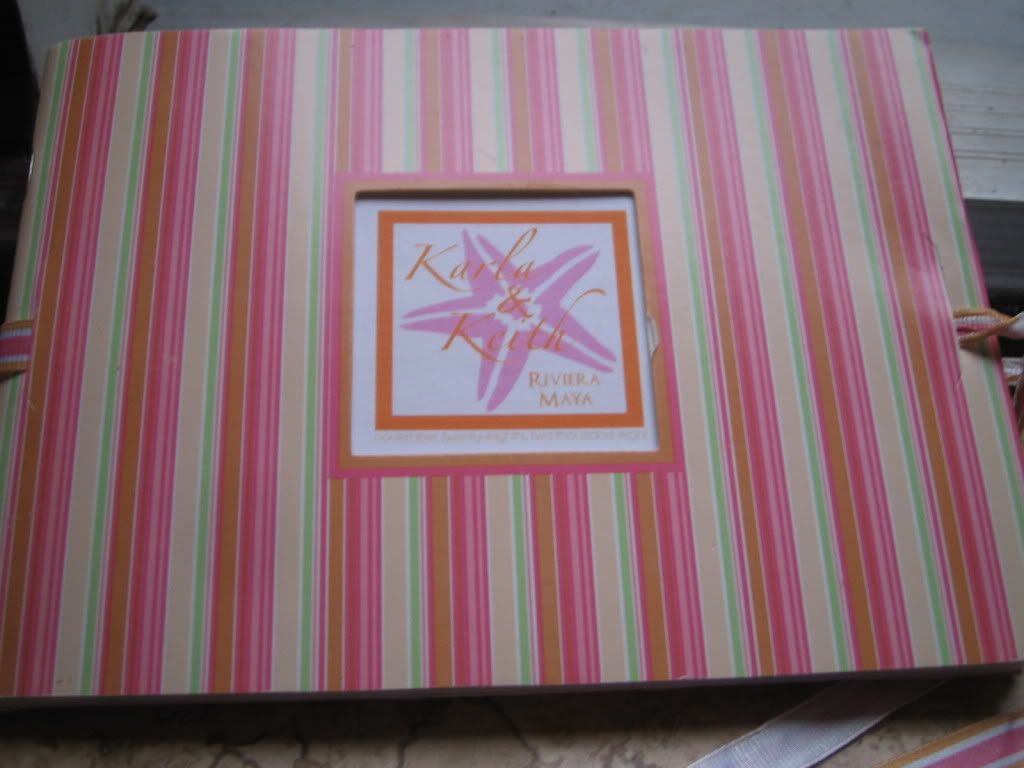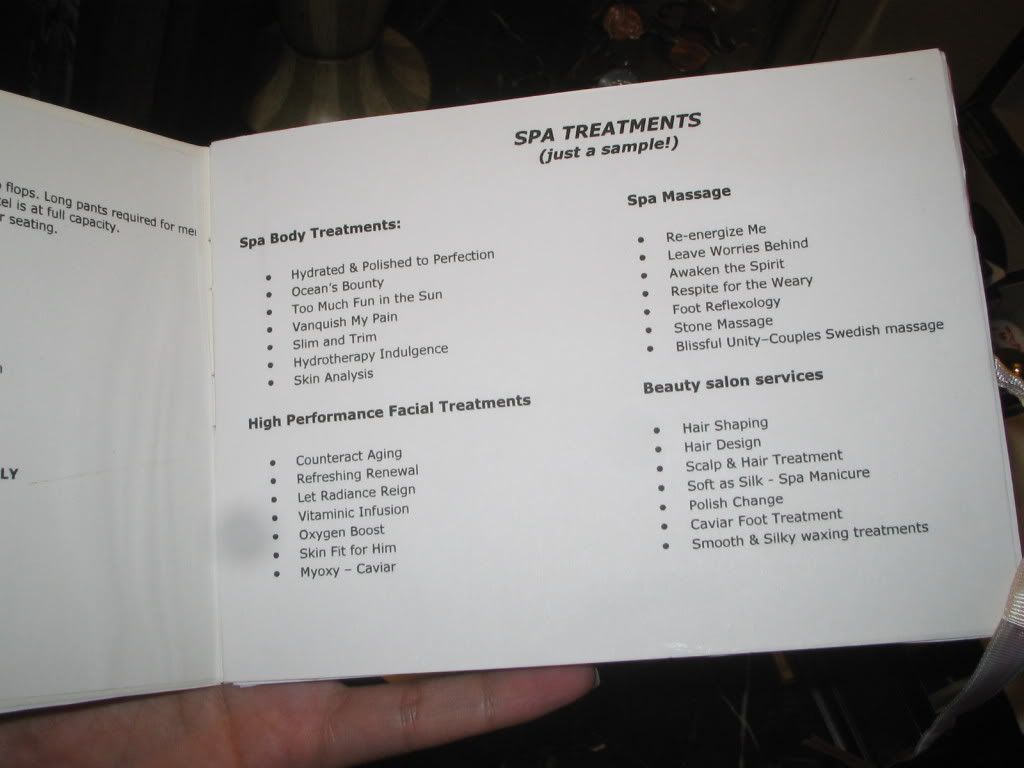 CEREMONY PROGRAMS
MENUS (same style as our invitations MIB's) CAME ROLLED UP AND PLACED ON EACH PLATE