So I went about a month ago with my girls to pick out BM dresses. We actually found 4 dresses in all the right sizes that they liked. The dresses were around $40 a piece, which was a steal...here they are...
So then a couple of weeks ago, I finally faced the fact that when I pictured my wedding...these dresses were not what I pictured. So I returned the dresses - no problem - and started looking around again.
I found a great find at Forever 21!! And the dresses are only $16.50!!! So here is what I just ordered for my girls...except in the Magenta color, which in real life is closer to Fuschia than what you see on their site. I absolutely love them and could try one on in the store to make sure it will be a good buy. Hopefully I won't change my mind again!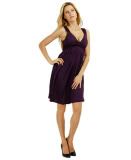 And if anyone is interested in getting this dress, or any other from Forever 21...here is the site...
http://www.forever21....4124540&Page=1