Well I'm back and still recovering. The wedding was absolutely amazing. Our travel agent got us first class airfare for the way there. We were also supposed to get a room upgrade (as palladium advertizes free room upgrades for honeymooners, and we were legally married a week prior at home). That never ended up happening for whatever reason but i wasn't about to complain.
The day that we arrived we got a letter asking us to meet with Erika the next day. When we met with her she asked us about all our preferences. She asked if we had a chance to see the ceremony sites, which we already knew we were going to have the ceremony at the beach gazebo. We got to pick out colors for the ribbons on the columns of the gazebo i think the choices were pink, red, yellow white and some sort of blue. I opted for yellow, as that was the color of my BM's dresses. I saw a wedding later with white ribbons, and just a heads up, the white ribbons make the gazebo look yellow in comparison. We opted not to have the red carpet either. For flowers I went through the book and didn't really find anything I loved so I asked her for a tropical bouquet with lots of yellows and purples and go easy on the roses. Here is what I got: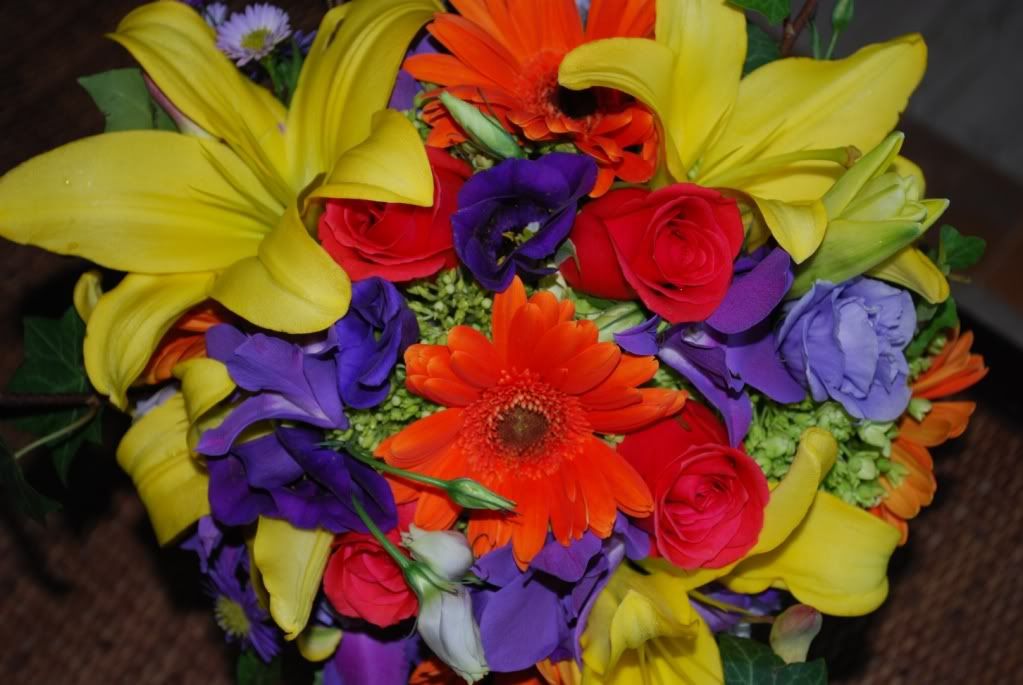 I loved it!!! It was absolutely perfect. Erika also said that the rest of the flowers at the wedding will match my bouquet. She also asked about the cake. There were three choices, vanilla, chocolate and tres leches. I chose the latter because I heard it was the best. It was quite yummy.
I had a bunch of stuff i needed to give Erika; programs, wedding favors, cake topper, sand ceremony stuff, etc so we had to go back to our room to pick all of it up. Save yourselves the trip and bring it the first time. We also had to bring my dress and Dave's suit for steaming and money to pay the minister, which i thought was included in the price but apparently not. She also asked which photographer we were using and arranged for her to meet us in my room and her assistant at the gazebo.
My dress got back to my room the day before the wedding. The day of the wedding the flowers were waiting in the room. I kicked Dave out and started getting ready about 2 hours before the wedding with my bridesmaids. I was able to see the gazebo from my room and we spied on the boys from time to time. I also skyped my grandparents who couldn't make it to the wedding. I did my own hair and makeup with i was really worried about but i am so glad i did because it turned out great, held all night and didn't cost me a small fortune. The photographer showed up at the right time and i put on my dress after she got there. Then we went downstairs. Erika offered a cart to come pick us up, but since we were literally 20 feet from the start of the walkways to the gazebo, i told her that i would walk.
Erika came driving up right before the ceremony and said that on the CD that I gave her all the pre-ceremony music worked fine, but my walking down the aisle song and recessional weren't working. So she asked me what they were, and since they were so common, it turned out that she had them on her ipod so there really wasn't a problem. She stood half way down the aisle off to the side and told my bridesmaids when to walk – they walked together because i didn't have a MOH and it looked so great, very casual and beachy. Then she gave the cue for dad and I to walk.
After that the ceremony was a bit of a blur. The speaker was great. He made us laugh so much that it made me much less nervous. Also, the sand ceremony was amazing. All the guests loved it. We signed so documents, and went to do a champagne toast. Afterwards we took photos with the guests and then all the guests went to do their own thing and Dave and I went to do more photos. I cant comment much on the professional photos because it'll be another month or so until i get to see them.
Close to 7 pm people started gathering at La Laguna where we were having our reception. It was decorated very nicely. They had cloth things going from each pillar up to the middle near the roof. The tables were really well set. Dinner was so beautifully presented and was much better than any of the a la carte restaurants we went to – and the a la cartes were damn good.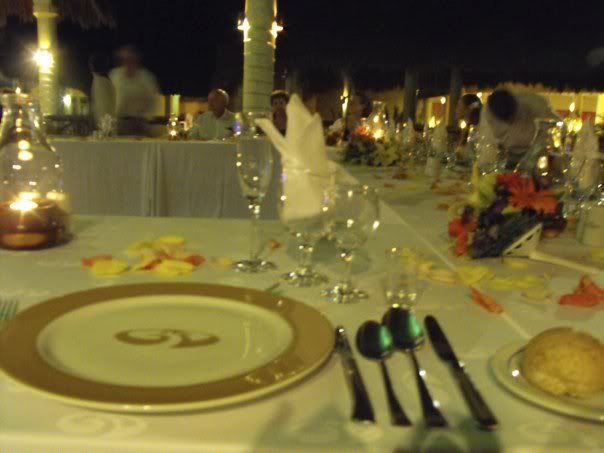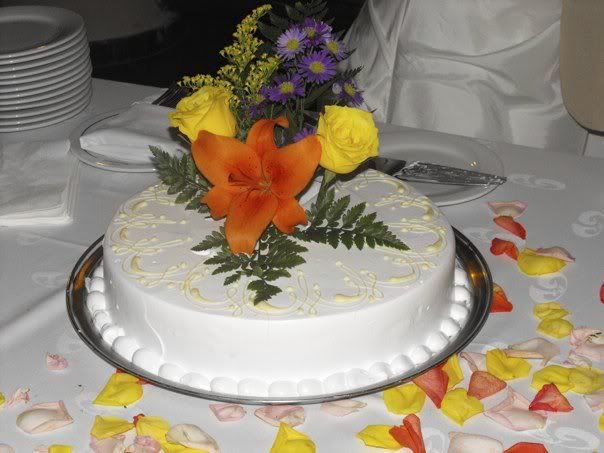 My friend MC'd the reception. We spent a very long time going through the order in which we were going to do everything. Our photographer thought we should get photos of our first dance, dance with parents and cake cutting, so we had to re-arrange the whole thing. It still turned out great. There were a few little hiccups at the reception. First, when we were called to our first dance, for some reason the wrong song started playing – instead of a nice slow song we got the bouquet toss song – Madonna's Like a Virgin. It was hilarious and we eventually got our original song on. Also, for the cake cutting my cake topper was not on the cake. I didn't really mind too much. But we got our stuff back in a box the next day and I assumed it would be in there, and on the last day when we were packing i noticed it wasn't in our things. It was a holiday and Erika wasn't working so we never did get it back. Also, I figured since the reception was 4 hours, i thought dinner would be 1.5 hours, which would leave about 2.5 for dancing. I made my playlist about 2.5 hours long. Well the dinner took waaaaay longer. So in the end we had to skip a huge chunk of our playlist, but that was ok because we only played the good songs and skipped the "filler".
After the reception was over, we wanted to go to the disco, but we were all totally content sitting at the bar. Before I went to the bar i changedout of my dress. The room was turned down with swans and red rose petals all over the bed and we champagne and chocolate covered strawberries. It was such a great time and all the guests said it was the most beautiful wedding they'd ever seen. We even had a bunch of people crying at the ceremony