SO I only have two BM's, my 12yr old sister and 26 yr old best friend. I really wanted to buy off the rack and not get an expensive dress that needs alterations that they will never wear again. I also need to find a style that would work for them both (my sister has no chest). I picked up two styles at the Macys one day sale yesterday, and I would like to get some opinions. My sister is out of state so I need to pick one and send it. My friend likes both options. My colors will be deternined by which dresses I find. Here are the choices so far....what do you think? Sorry the pics aren't so good, I took them of myself (excuse the mess, it was laundry day).
First, here is my dress...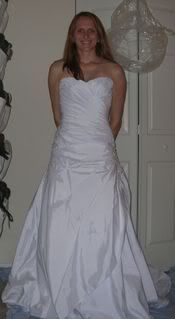 Style #1 (a little darker wine/sangria color with bubble hem)
Style #2 (brighter magenta/pink)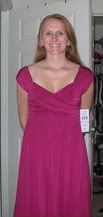 I would use a bright lime/grassy green for my accent color with both (I think).