Quote:
Originally Posted by beachbride08

It is taking forever to upload my pics and resize them, but here are two of the wedding set up to tide you over. When we got to the Lindo we walked around to check out the resort and where the gazebos were. We thought our only option was the pyramid and then we found another gazebo in one of the courtyards, but it seemed to be too small for our wedding size. The pyramid was awful! There is green paint on the ceiling was chipping off in big chunks on all four sides and was very noticeable. When we walked down to the beach we saw the set up there. The lounge chairs are very close to the wedding location, much closer in person than what I had seen in pictures and the beach is very busy so there was usually people in the water. We had gone down there to take pictures of the bridal party before our ceremony and it was very difficult to take pictures without people in the background. Anyhow, they did get new decorations for the beach ceremony and got rid of those ugly pillars. They now have these tiki style pillars that you could place flowers on top of, and the "arch" is one of those bamboo style canopys with tulle wrapped around it. I was not a fan of the old beach set up, but liked the new one so Mike and I had decided if the pyramid was our only option we would just move the ceremony to the beach (I do have a couple pictures so I will attach those once they are uploaded). However, when we met with Araceli she showed us pictures of another gazebo that we could use that is apparently shared by te Lindo and Del Mar coordinators, but luckily it wasn't requested already for our date so we were able to get it. The gazebo is in the center of the shopping plaza across the street from the Lindo. It is much more private there as there is barely anyone ever walking around the shopping plaza. So here is how it was set up.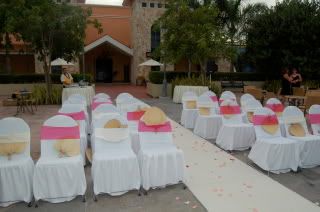 Hey beachbride! Did you bring the sashes for the chairs, or did the hotel provide them?