Hey everyone. Well my wedding is not for three weeks, but I have such bridal brain that I cannot concentrate at work and only want to think about last minute wedding planning; therefore, I have decided to post my planning pics now! I still don't have pictures of our wedding bands, which I will pick up on Saturday, and of my veil, which my friend is making for me.
Also, let me tell you that I do not have one ounce of Martha Stewart in me, so I tried to keep everything really simple. My friend Abby is an artist and photographer and designed and printed the invitations, luggage tags, coozies, and hang tags. I am so happy she will be in Mexico to do our wedding pictures and our TTD session.
I'm not really that active on the forum but am on all of the time. I cannot even begin to tell you how much the forum meant to me while I was planning. Most of my friends are already married and starting to have kids now. They don't get very excited about this kind of stuff anymore, so it has been great to share this time with so many amazing people who are in the same place. Thank you!
Okay, so here it goes….
Picture of Micah and me the night we got engaged.
He proposed to me on the River Walk in the New Orleans French Quarter on 11/16/07.
Engagement Ring
Wedding Dress
(I had the cathedral train removed. The veil is very simple -one tier, cut edge, waist length.)
Forgive my face - I was sucking in LOL!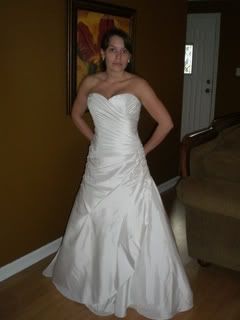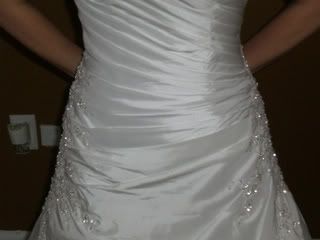 Ceremony Shoes
(Victoria Secret – I'm not crazy over them because they actually have pink glitter on them but I do not want to do anymore shopping, so I am sticking with them.)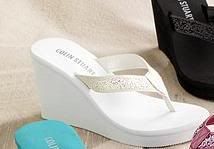 Reception Shoes
(Steve Madden from Shoes.com – love them!)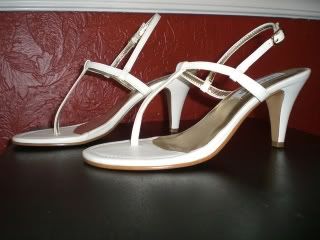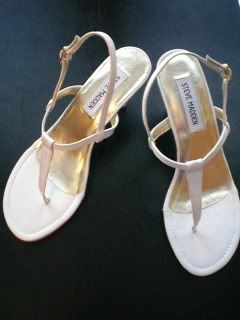 Jewelry
(from Amy's Bridal Accessories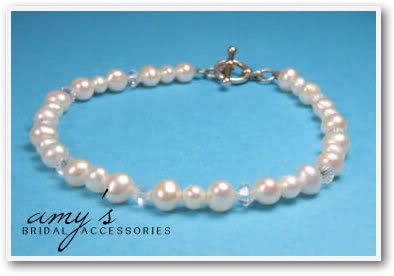 Okay will post more in a just a sec.!