FLIGHT:
Check-in was easy – but we had to pay an extra $400 for our extra and oversized luggage (we knew this would be the case, so it was no surprise). We upgraded to First Class for $150/each, which allowed us to board early and hang my dress. No issues whatsoever. The return flight was just as easy. No complaints. We flew in and out of Charlotte, NC into Punta Cana on US Airways.
PUNTA CANA AIRPORT:
Upon arrival, you get off the plane and enter the thatched-roof, open-air airport … which was exceptionally nice and gives you a great first impression of Punta Cana. There are ladies with fruit hats on who you must stop to have your picture taken with before entering the baggage area (you can purchase these photos upon departure, but we did not). Next, you are filtered through an area where you pay the $10/pp for your Tourist Card. Cash only for this. Easy process as well. Then, as we waited for our luggage, I went to the restroom. The line was long and there are only a few stalls, so expect to be in line for at least 15 minutes (at least for the ladies!). They have restroom attendants who are working for tips.
We did have one person come up and offer to help with our bags as we were waiting for the luggage carousel to start … and I said yes b/c we had ssoo much stuff (6 pieces of checked luggage including and oversized/over weight Tough-Box and then 2 carry-ons each, including my dress). I think we tipped him $20, but it was well worth it. I pointed out what was ours, he retrieved it and started taking us towards customs.
Customs was also no biggie. They did open most of our luggage. I simply explained it was all gifts and decorations for our wedding … and we were able to continue out.
Next, we had to locate our Tour Operator (Travel Impressions). Our rep gave us information packets and then pointed us towards our bus for the transfer. It can be very confusing at this point b/c there are people everywhere … but having the guy help with our luggage was a lifesaver b/c we just followed him and he knew where our transfer bus was located (in the meantime, I knew that just outside the airport and to the right was a beer stand, so I sent Tom to buy us Presidente's for the ride to the resort and then he met us at the transfer bus. $5 each for the beers, and worth every penny – everyone else on the bus was jealous of us, lol).
AIRPORT TO RESORT TRANSFER:
At the bus, they try to herd you on and then load the luggage. I refused and said I would get on the bus once all of our luggage was loaded. I recommend standing firm on this. They almost couldn't fit everyone's luggage on the bus and had to put some in the aisles … and they did leave someone's golf clubs behind (luckily they spotted them as we were driving off … otherwise they likely would have never been seen again).
We had a guide on our bus (although none of our other guests did) … so we had a fabulous trip to the resort. His name was Utsey and he explained about Dominican culture, etc and pointed things out along the way. He was very fun and engaging. We were the last stop, so once it was just us on the bus, I asked him to stop on the side of the road so we could refill our beers and he happily did so … buying us all the 40 oz. President's b/c he says they are $5 as opposed to the regular size for $4 at the place we stopped. We tipped him $10, I believe.
CHECK-IN/CHECK-OUT:
This is where I highly recommend Royal Service. We are the only ones in our group with RS (we were upgraded for free based on the # of rooms we had booked). So, we were taken to a totally different area, greeted with cool, lavender scented towels and cocktails and given a private tour of the resort as we were checked-in and taken to our room.
Others say the check-in process for them (non RS) was lloonngg and laborious – taking up to 2 hours. I witnessed some of this and it did seem pretty unorganized. I was very grateful for the RS option!
ROOM:
Building 30, Room 1303. This was the absolutely most PERFECT room if you are getting married in the gazebo. My Travel Agent suggested that I request Building 30, even though it's considered an Imperial Romance Ocean View room, which was a step up from the RS Garden View we were supposed to have … but we got it with no problem. It was perfect b/c the girls all got ready there and we could see the gazebo from the room and just walk down the sidewalk as part of the "aisle" to the gazebo. Perfect!
Anyway, the room was nice. No complaints. Marble floors, step-down living area, wrap-around patio/balcony. We were very pleased. It was nothing fancy … but it was still perfect. I think too many people are simply too picky.
Everyone else's rooms were actually similar to ours, and spread throughout the resort (which is HUGE by the way). No one had any complaints about their rooms (they all had the Junior Suite/Garden View – least expensive … so no need to upgrade unless you want RS).
RESORT:
The resort itself is absolutely beautiful. It is a huge eco-preserve with lush tropical vegetation everywhere, beautiful gardens, etc. You can walk the resort, but it's definitely much easier to hop on one of the trams that come around regularly. The lobby is a good distance from the beach area, most restaurants, and the rooms.
They are constantly up-keeping their grounds, and it's so beautiful. They have a guy who climbs up the coconut trees daily to chop off the good coconuts. And they manually use hatchets to trim the shrubbery. Amazing.
There is a rock-climbing wall, zoo, tropical garden, archery area … I can't even name it all. But it's all nicely laid out and all fits into the eco-preserve theme so nicely.
WEDDING COORDINATOR:
Viviana was great, although on our actual wedding day, we had another WC. but she also did a great job. We met with Viviana they day after we arrived to go over the locations, menus, alternatives in case of rain, and set-up the payment for everything. The invoice she gave us was almost $9,000!!!!!!! We were nickel and dimed for every little thing … and I literally almost had a heart attack and I think Tom was about to kill me, thinking I didn't do a good job planning/budgeting. However, I held firm about things … like the extra $3,000 listed for the open bar at the reception. I had been told numerous times that the 3-hour beach reception w/ buffet dinner was $2,500 TOTAL (including the bar). She argued with me and I told her no way – that we would cancel it all before paying that and that she needed to show me in writing where this had been discussed (I had copies of every email sent/received over the past year and a half of planning). She eventually gave in … but did not budge much on the cost of the CD Player/Speakers … which is listed in the pricing books as $100 (not $100 per hour). She even checked and it does NOT says "per hour" but we met in the middle and paid $200 instead of the $400 that the invoice stated). In all, our final invoice was $3820 (as opposed to the almost $9000 they tried to get out of us) – and we were comfortable with that price. My advice is to bring copies of every single correspondence and stand firm. Threaten to cancel it all if you have to. They will come down on price if it's not what you have agreed upon.
REHEARSAL DINNER:
We had our rehearsal dinner at Marino (the seafood restaurant). They didn't have enough place setting ready for us, but were very accommodating. We had to have a set menu b/c it was about 40 people, and we chose the Shrimp and Pepper Casserole, Grilled Lobster and Ice Cream. It was all exceptional! There were a few non-seafood eaters, and they were all accommodated with steak, pasta, etc.
WEDDING CEREMONY:
Our wedding was at 3pm. It was hot for Tom b/c he was wearing his military dress blues … but there was a nice breeze and I had fans for the guests, which they all used. Tom changed into khaki's and his reception shirt seconds after the ceremony.
We did not do any decorations at the gazebo. It seemed a waste of money and the gazebo was just so beautiful in it's own right. They set-up chairs around the gazebo for guests and a table outside the gazebo area that had all the champagne and for after the ceremony (don't buy extra – they include plenty!!).
I was very explicit with directions for the music, but they screwed it up (insist on having a friend push the Play button – I wish I had been adamant about that). Really it was no big deal, I just had to have a friend run out and tell them which song to put on for the BM's to walk down the aisle.
The ceremony itself was short and sweet – and very nice. The MC read it in Spanish and one of the WC's translated. It was no more than 10 minutes, and would have been only about 5 minutes except that we added a Hand Ceremony, which my Uncle read for us. Afterwards, we all gathered near the gazebo for champagne and some pictures.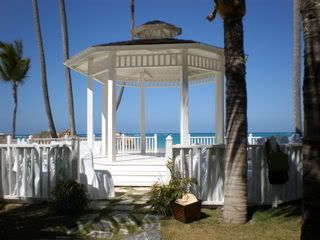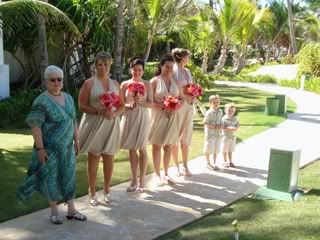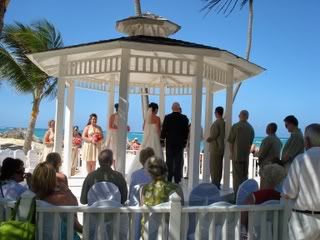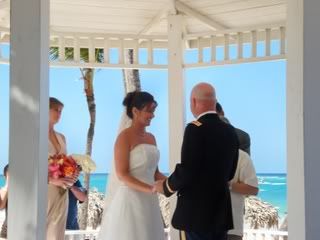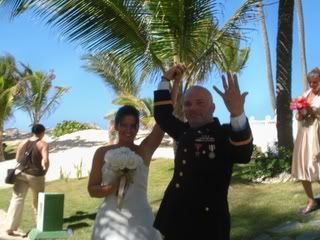 RECEPTION:
The reception was set for 5:30, but Viviana suggested we push it back until 6:30 b/c it was still going to be pretty hot at 5:30 (I'm not sure if that was true, or if they were just behind in getting it set-up … but 6:30 worked out perfectly). We all went to the Gabi Beach Bar and had drinks and mingled until it was time to take some sunset pics and then head to the reception.
Our beach reception location was in front of where the Scuba Building is during the day (that deck was our dance floor and it was perfect). I had them put up palm fronds all around, which I highly recommend (we saw other beach receptions that did not have this and it just didn't make for a very private reception area) because it gave us a sort of private oasis on the beach.They also strung lights that added a fabulous effect once the sun went down.
The buffet was expansive and truly phenomenal. We did the Caribbean Menu … which included chicken, beef, lobster, pork, veggies, salads, fruits, desserts. It really was wonderful! And the set-up was great too. I didn't do any additional colors, just white – and brought my own centerpieces, which they set up beautifully.
After dinner we started dancing and then cut the cake and the cake tasted absolutely phenomenal!!! We probably danced about 30 minutes later than we were supposed to … and then packed up the centerpieces and headed to the lobby bar for more dancing! It truly was a picture-perfect wedding day!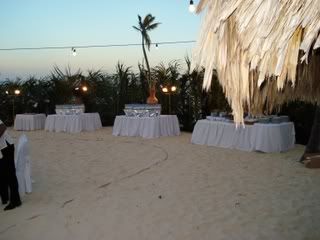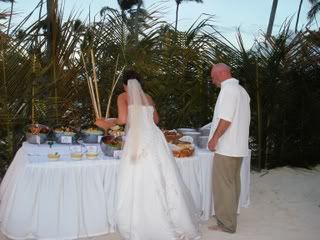 RESORT FOOD:
We had only a few people who had any stomach issues. I had no issues and ate a LOT of EVERYTHING!!! The lunch buffets were great. Very expansive. I think I ate at the make-your-own pasta station every single day. But there is so much to choose from and I really did love everything.
We ate at Vento one night as a group and everyone's food was fabulous. Vento is in The Reserve area and you MUST check out this area! It's not near the beach at all, so you'll need a tram, but don't miss the Gabi Bar at The Reserve … it's very Miami-esque.
Others in our group at El Romantico and said it was the best steak they have ever had – ever. Tom and I didn't get to enjoy much in the way of the a la carte's b/c we had so much going on in the days leading up to the wedding – but others in our group were very pleased with all the a la carta restaurants. We had Room Service a few times and it was okay. Nothing special, though. Oh, and if you get a burger at the Grill area at lunch time – MAKE SURE IT'S COOKED! I couldn't eat mine b/c it was still raw inside. No biggie, they were just busy and didn't keep it on the grill long enough.
We had lunch in the RS restaurant one day (and snuck in my Dad and another guest with us) and it was TREMENDOUS! I definitely recommend eating at the RS area if you can (they are only open for lunch and dinner).
POOL:
The regular pool is where the party is! The pool bar was rockin' all day long and the pool is so large that you can get lost in it. This is where we spent our time (we didn't do the beach at all until our honeymoon, lol). It can be tough to find a lounge chair for your towels and such, but it's not a big deal b/c we stayed in the water or at the pool bar all day long. This is where we met so many people … watched the (HILARIOUS!) water aerobics and traded time between sunny and shaded areas in the pool.
We only used the RS pool one day and it was really nice. Lounge chairs in the pool with little stands for your drinks. The RS pool was awesome, but quiet.
BEACH:
The beach was bustling – and there is no question that you need to claim your palapa's early if you want to do a day on the beach. My brother tried daily, but wasn't up early enough and so it was late afternoon before they could snag one. The beach is beautiful, the ocean waves are a little rough, which makes for fun times! They do a nice job of clearing the seaweed every morning … and if you walk along the beach, there is no question that PPC has a nicer beach than many other nearby resorts.
INCLUDED EXCURSIONS:
Do the snorkeling!!! It's the only one we had time to do and everyone loved it. It's included at the resort and was really a lot of fun. We saw so many different kinds of fish and sea-life. The coral reefs were amazing. For a seasoned diver this would not be so cool, but it was our first time and everyone was thoroughly impressed.
NIGHTLIFE:
We arrived on Wednesday night and stumbled upon the Fire Dancers at the Gabi Beach Bar around 10pm. It was AWESOME! And talk about partying – this was definitely the place to be!
Otherwise the Lobby Bar had us rockin' 'til 3am most nights! The employees will grab you to meringue and it's just ssoo much fun! I stuck with Presidente's most of the time but did probably a minimum of 5 shots of Mamajuana per day and also loved the blue kamikaze-like shots. YUM!
OVERALL:
This was the perfect resort for our guests. We never even got to see everything it was so expansive. Our guests were age 4-80 and everyone said it's a "do-over" location. We are planning another trip in 2-years for anyone who wants to come back and I believe we've already got a dozen commited to the trip.
This truly was a 100% perfect resort with a 100% perfect wedding day for us and for our guests. Tom and I could not be happier!
The honeymoon resort was awesome too – but I'll do a separate thread for that one!