I am doing several DIY projects for our wedding. Somethings I have done, some I am working on, and some that I still have to do. If anyone would like info on what I have done, feel free to ask. If anyone has any suggestions, tips or ideas regarding the things I still have to do, feel free to share them.
DIY I have finished:
-
STD
(the picture we used on the front is actually from the same beach that we are going back to for our wedding. Then my toes are sticking up from the bottom of the pic, and there is a shadowed figure playing in the sand in the palm tree shadow who is my sister. I felt that this photo was fun, personal, and fitting for the STD cards)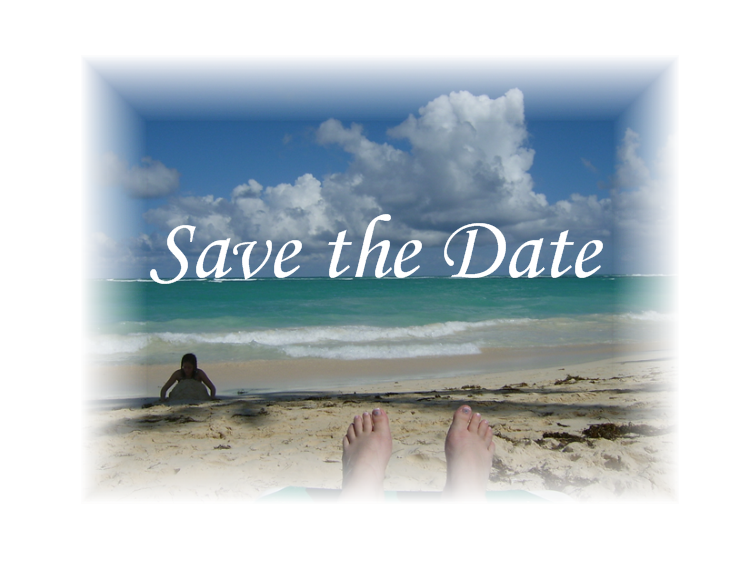 -
Invitations
(I made the folders from 12x12 card stock, the picture behind the writing was drawn by my FI little cousin based of a pic I gave her of the beach we are getting married on, inserts contain information about wedding, booking & a resort map)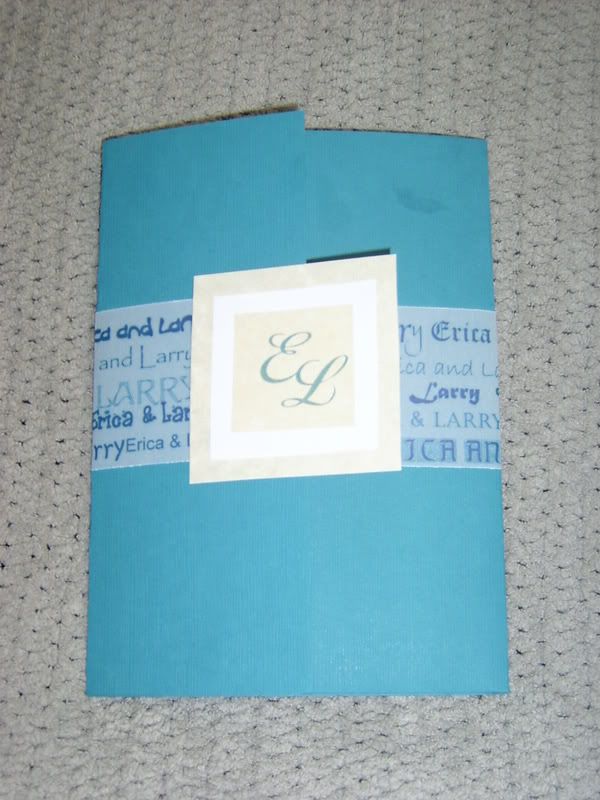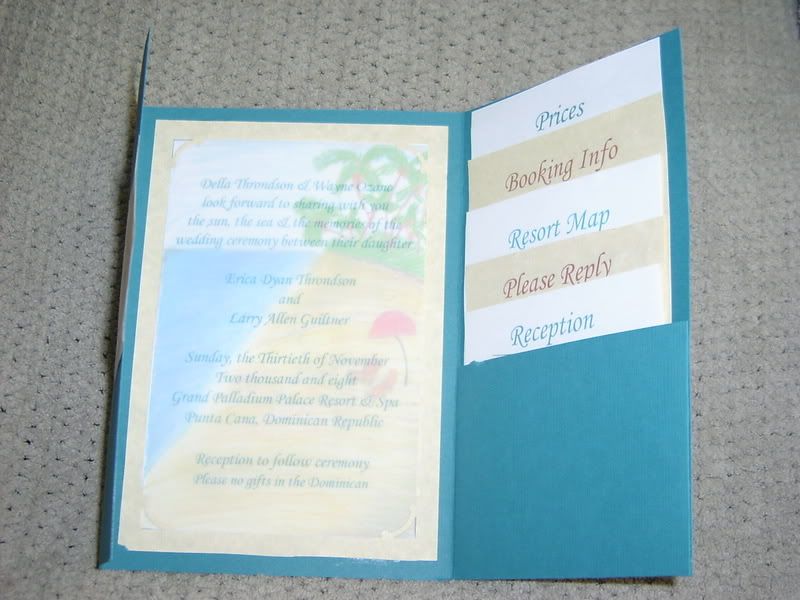 -
DW favors
(DIY glass heart shaped christmas ornaments that I filled with sand & shells. Then I added a banner around the top that says 'Erica & Larry' & 'Punta Cana 08". I then used raffia as the hanger string)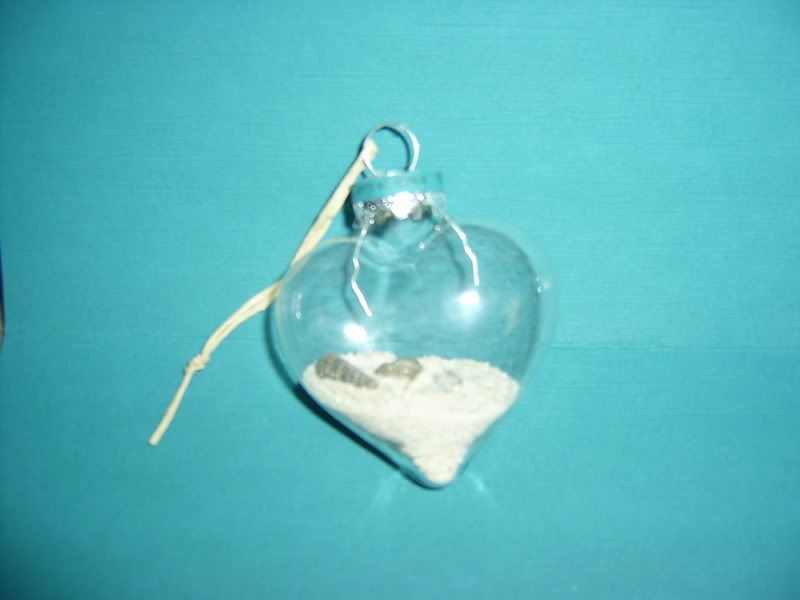 -
Guestbook
(I am using a scrapbook that I have had for awhile and waiting to use it for something special. The cover has a spot for a pic as well as a name which I put 'guestbook'. Each page has teal & tan coloured paper which the guests names are stamped on. There are 4 photo corners with a teal border where the 4x6 photo of them on the beach at our wedding will go. Then I also added a little wedding quote on each page.)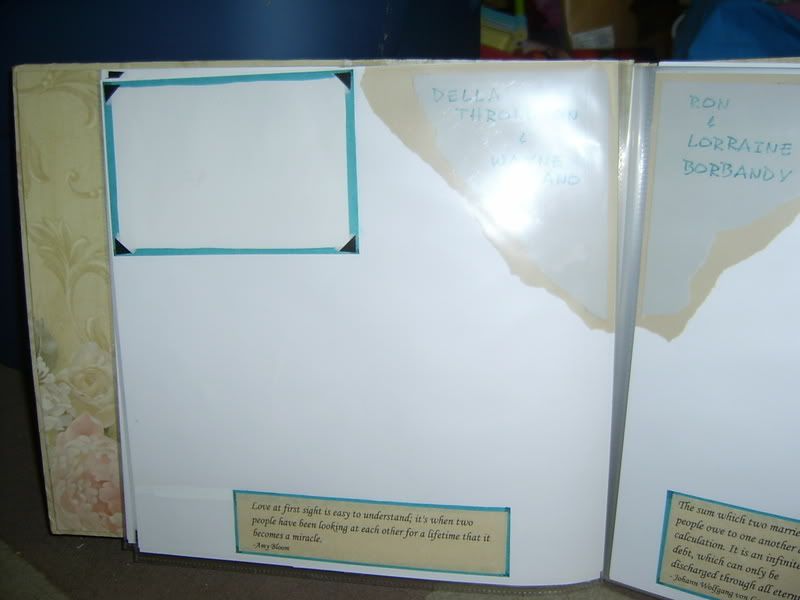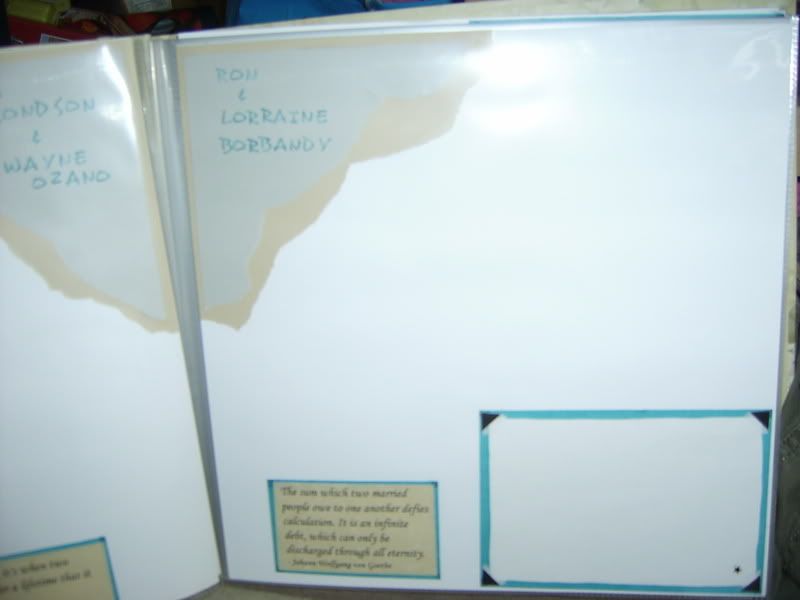 -
RB shell
(These are not our actual rings in there, but we will put our wedding bands in there for the wedding. My Mom will be walking our kids down the aisle, so she will make sure that he is holding up and the rings won't come untied and fall off. We won't be tying them on until right before the wedding ceremony. I hot glue gunned the ribbon around the back leaving a gap underneath that his hand should fit into to help him carry it. The starfish and the ends of the ribbon are glued onto the shell. Then I glued some Dominican sand that I have from our last trip there, around the bottom of the starfish and over the ends of the ribbons so that if he dumps the sand out of the shell down there, there will still be a bit there to cover the glue job!)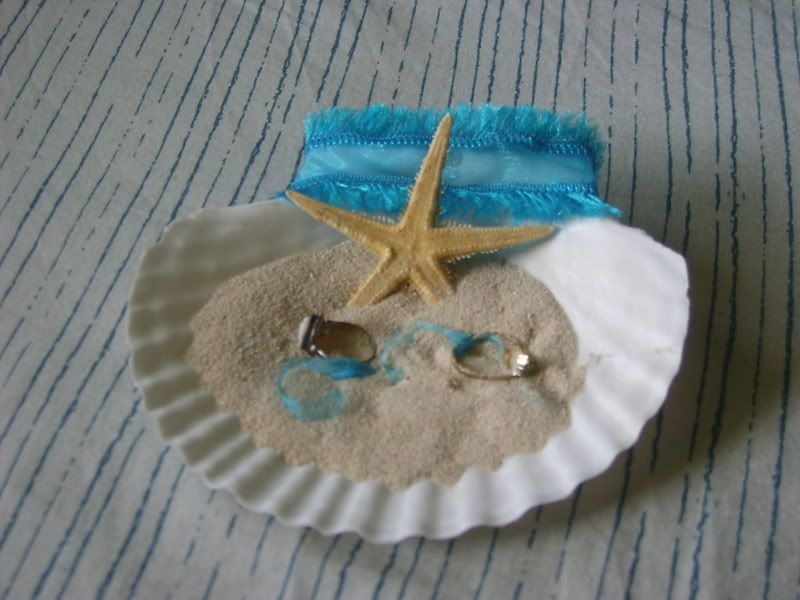 -
Tags
(These are made from the DIY luggage tags from OTC. They will be attached to the bubba kegs that we are getting for all the guests. Sorry the pics aren't that great. Side A - The wedding guests name is written in White across the pic. Side B - Says our names, wedding location and date. Then going around this it says "To have & to hold and to keep your drink cold")
Side A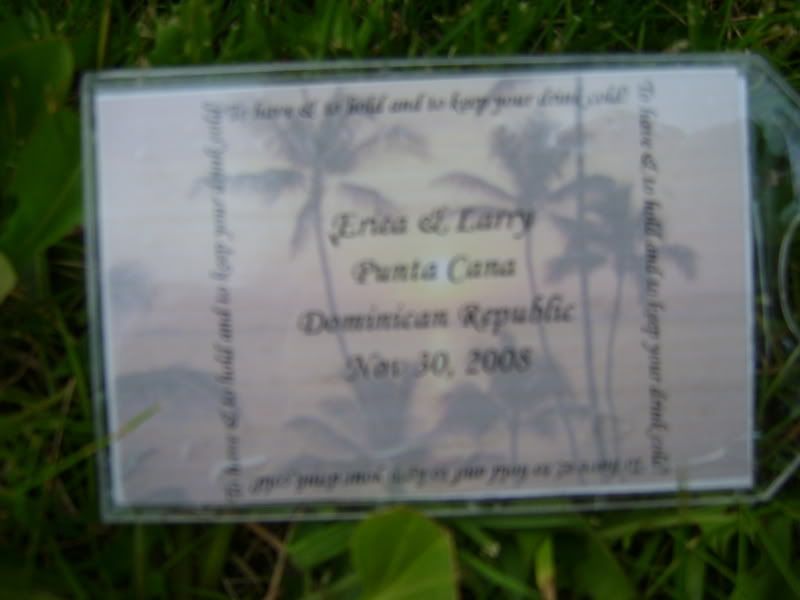 Side B
DIY in progress:
-
Bath bombs
(we are making different tropical coloured bath bombs and using sea shell forms for them. These will be in the OOT bags, as each room has a jacuzzi tub)
-
Gel candles
(these are for the AHR, but I decided I could start putting them together so I don't have to do it later. We got vases from Dollarama, I put sand in the bottom, then added some sea shells and each one will have a little starfish or sand dollar in them. I then tinted the gel to be a little blue to symbolize the ocean.)
DIY still to be done:
-
Wedding cake for AHR
(I have picked out the cake that I want and really want to do this myself with help from my Mom. My Mom has made several wedding cakes and usually does them for family as a wedding gift)
This is the cake that I want to make, except that instead of brown, it will be teal. I also think that I will flip the colouring, so the white layer will be on the bottom and the solid teal on will be at the top. What do you think?
-
FG Basket
(We are going to make the FG basket so the colours match our wedding colours)
-
BM dresses, TTD dress & garter
(My Mom who is multi-talented also sews, so she will be making these.)
I think that is it. I will take pics of the things I have done and post a link to them.