The resort (NOT including food): A+
The Riu Ocho Rios is a sight to be held. It is huge, clean and gorgeous! (Sandals next door seriously can't even compare - looks wise anyway). Only thing I didn't like was the amount of times we were offered weed, and how often we smelled it – I'm not cool with that! But we'd just say no thank you and move away from the people who used it.
We checked in and were greeted with HUGE smiles and rum punches. The view in the lobby is breathtaking! You're going to LOVE it!!!!! Opens right out onto the beach and turquoise water. Upon check in, we were informed that we had been upgraded to a full suite! HOW FREAKING EXCITING?! They knew we were there for our wedding and were excited and happy for us. Our room wasn't ready, so they took our bags for us and told us to come back in a few hours. We changed into our suits, grabbed lunch and went to the beach.
There are 3 buildings: Building 1 is the Jr suites (near the beach gazebo and infinity pool). Building 2 (where we were) is over the St Ann's & Picollo restaurants and half the building is beach front, the other faces the party pool. Building 3 looks out at the pond gazebo and the party pool.
The Full Suite (room 2205): A+++++++++++++++++
OMG! Did we really stay there?!?! We had THREE doors to our gigantic balcony that overlooked both the ocean and the bigger (party) pool. Absolutely phenomenal. ONLY not perfect thing about it - the very welcoming stand-alone whirlpool bath tub next to the bed took an hour to fill up. We called for maintenance about it and they told us that's the way they all are. No problem! We turned the hot water on full blast and an hour later, the tub was half-way full! We tipped the maid $3 a day and were greeted by a different towel creation each day on the bed, the bath tub AND the table in the sitting area. Our wedding day towel creations were exceptionally great!
King sized bed: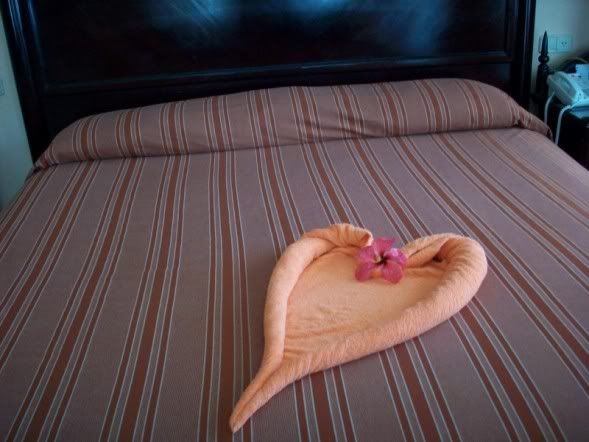 Shower: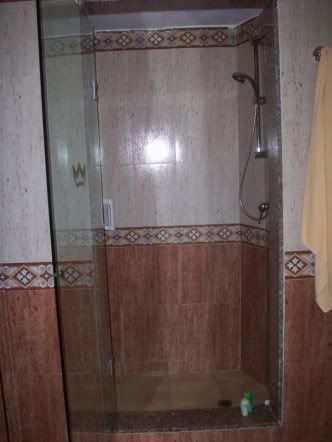 Tub into bathroom: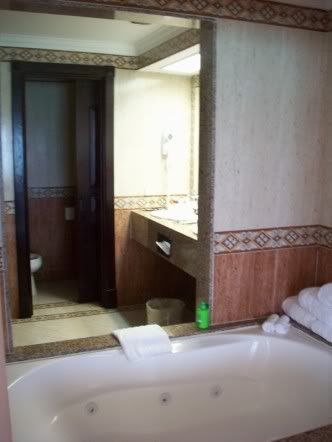 Balcony view, right side:
Balcony view, left side: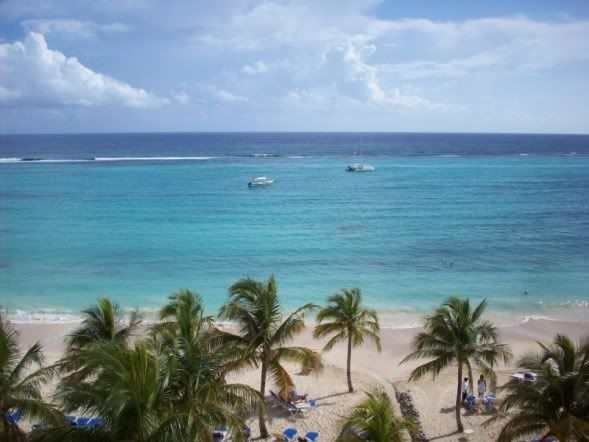 Food: Overall - D.
Please note that this is coming from a vegetarian who had nearly NO PROTEIN for a whole week! I think most others would give it a B. ONLY vegetarian protein source: cheese. And eggs in the morning. In the specialty restaurants, my 'vegetarian option' was grilled vegetables. My body was CRAVING protein!!! There weren't even beans there! It's the Caribbean - I thought there'd be a ton of bean dishes. As soon as I got home, I cooked up a HUGE pot of vegetarian chili with FIVE different types of beans!
ONE great night - Mexican night at St Ann's - Fantastic! Made to order tostadas and nachos - fabulous!!
Restaurants:
We made reservations 2 nights, and it wasn't as bad as people had written about on trip advisor. Busy signal first few times trying to call, but we got through and got the earlier (7pm) seating both times.
St. Ann's Buffet: B+ for lunch and dinner (A on Mexican night!) / A during breakfast! My favorite place to eat, as I could get a variety and CHEESE. Any specialty restaurant was just a plate full of veggies. Hands down, breakfast here was a grand slam. I had a made-to-order omlette every morning. YUM!! Always fresh fruits and juices there too. Reggie always had a big pile of bacon! Other things they had - awesome pastries, pancakes, french toast, hash browns, eggs, and all other typical breakfast foods! I rate this one so highly because I had options here, unlike everywhere else. We stopped going to reservation dinners because we could both get things we wanted here.
Piccolo Italian: C - open noon to midnight: OK. Had some variety for me. They always had a salad bar (that was just OK), pizza, fries, a meat something, fish and veggies.
Plantation: C - had dinner here with 17 people on our 3rd night; only place for us to get a reservation with that sized party. Everyone raved about the seafood mix combo! I'm sure everyone else would give this restaurant one of the highest ratings - EVERYONE enjoyed their meals here. Buffet style soup & salad, meals were served to us on covered silver platters - very nice! Also had lunch here a few times - very good variety. All buffet style during lunch. Location RIGHT next to pool and Jerk Chicken Hut - so my carnivore hubby could get his jerk chicken & I could get my salad and both eat at Plantation.
Tushima: C from me / B from Reggie - we got reservations here the night after the wedding. Sushi combo was good - 1 veggie roll, 1 shrimp roll & 1 beef roll. Then we chose from a menu our appetizer, main course & dessert. I had miso soup (pretty good), the famous grilled veggie dinner platter and green tea ice cream with lychees. Reggie had shrimp tempura, some fish meal and tempura ice cream (DELICIOUS!!!). Overall, not impressed, except for dessert & sushi beginning!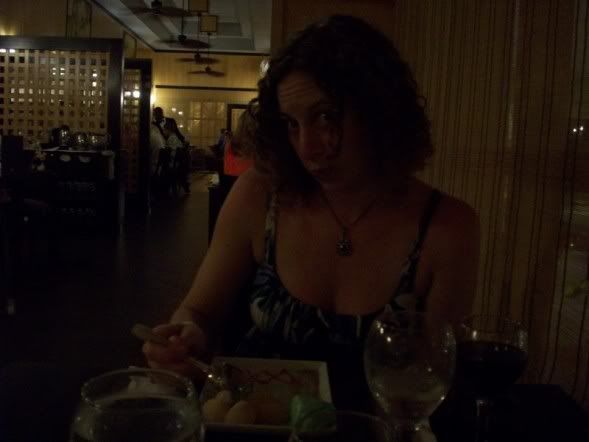 Mammee Bay: C - The soup was a vegetarian onion and surprisingly GOOD. Salad bar was better here. Had grilled veggies, but since I was the bride they threw a baked potato on there with sour cream which was great! Everyone else loved their dinners. They'd go with A- or B+ here. Dinner came out with covered silver platters. Our server was Newton and was FABULOUS! Made it really special! Soup & salad are buffet and main course is served here during dinner (all buffet for lunch) - Newton served Reggie & I our salad & soup!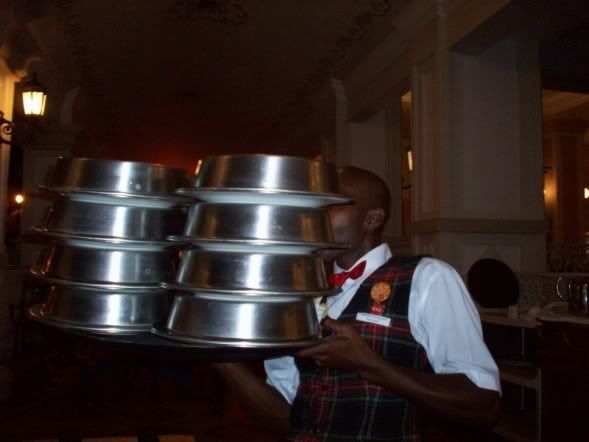 Mandalay Chinese Buffet: Reggie & I didn't eat here - BUT 4 of our guests did and got food poisoning there... so eat at your own risk! Stinks because I really wanted to check it out! Only offering dinner.
Sports Bar: B for when you're REALLY hungry and no where else is open!
A lot of people got the half sandwiches there (no vegetarian varieties). I LOVED the nachos there! Nachos alone give this place a B! haha! Reggie loved the ham & cheese sandwiches.
Jerk Hut – review from REGGIE: A+. Was f-ing amazing! But it's the hottest spices I've ever had! Make sure you have a cool beverage on hand when you visit the hut! Long lines during peak lunchtime, so try to stop by as soon as it opens or later in the afternoon.
-----------------------------------------
THE WEDDING!
Location: Beach Gazebo - A
Shaded from the sun, so no squinting is an added plus. Funny though, looking at pictures, I was SURE that I'd choose the bamboo chuppah. In person, it was severely disappointing.
Minister Sheldon: A+
He's charismatic, has fantastic vocal projection and read our additions PERFECTLY! We gave Chandlyn our vows, 2 readings we wanted guests to read & a sand ceremony and he incorporated them perfectly. He even had us repeat our vows which was SO MUCH EASIER than if we were just to read them ourselves!
Steel Drum Band: A
They don't get an A+ only because they didn't plan Canon D like I requested while I walked down the aisle. Not a problem though - they were GREAT! I'd hire them again in a heartbeat. Added so much! When we left to do pics, everyone else danced on the beach with them!
Chandlyn: B
She's short, sweet and to the point. Very professional. Nothing over the top to say about her other than she did a good job and was pleasant.
Renova Salon – Wedding Hair: Customer Service: C / Actual Hair A-I decided to get my hair professionally done. Once we stepped off the plane, my hair shrunk a good 4 inches and went POOF! Went for my hair trial ($40) on Tuesday. No pictures – just trusting the hair stylist and having no idea what to do! I LOVED how it turned out; it was fabulous! Scheduled my wedding day hair. Showed up Friday at 1 for my appointment and they had me down for a trial. The woman who did my hair wasn't working that day. Luckily, I'm a laid back person (because I seriously could've had a bridezilla panic moment) and trusted this woman. The hair style I ended up with was much more 'straight hair' that the first, but once all was said and done, I really liked it. She did a great job and only charged me $70 – I was prepared to pay $100 + tip, so I tipped her $20.
Robin DePaula (Photographer): A
I'll do a full review once I get pictures, but at least for now I can say that Robin was a pleasure to work with! A good balance of completely candid shots, posed and slightly posed pictures with great direction from Robin. By the end of the week, it was like she was part of our friends & family!
-----------------------------------------
EXCURSIONS:
Shopping in Ochi: B. We went to the craft market (BARTER!!!!), got some neat things. Some people we went with were overwhelmed by the locals and got really nervous. I had fun with it! They all really just wanted you to visit their 'shop' – we'd go in people's, compliment their merchandise and tell them we wanted to walk around and see what everyone had first, and they'd be satisfied! We even got two free gifts from some fabulous people there for our wedding! (A rasta man on a pencil – funny – and a flip flop key chain) Very nice gestures! We went across the street to an outdoor mall-ish shopping center. I personally preferred the locals at the craft market, but that's just me! One note though…WAIT to buy rum until you're in the airport to come home – it's only $10 at the duty free shop!! MUCH cheaper than anywhere else!
Dunns River Falls Party Boat: A-. We booked through Scuba Caribe (on the beach of the resort). Negotiated price from $64 per person to $52 per person. We had 22 of our guests (our of 27!) sign up for this. Originally, we planned just to do the falls and take a taxi. That would've been $25pp + $40 per cab. The party boat was a catamaran to the reef, where we snorkeled for an hour, then back on the catamaran to the falls, and the catamaran on the way back with rum punch and music. Very fun! The falls are harder to climb than I expected. It is REQUIRED to wear water shoes to climb Dunns River Falls. We bought ours at Target at home for $5.99. They're $5 to rent through Scuba Caribe. It STORMED while climbed the falls – I mean lightning and thunder right on top of us – and torrential rain! Make it more exciting, haha!
View of resort from Party Boat: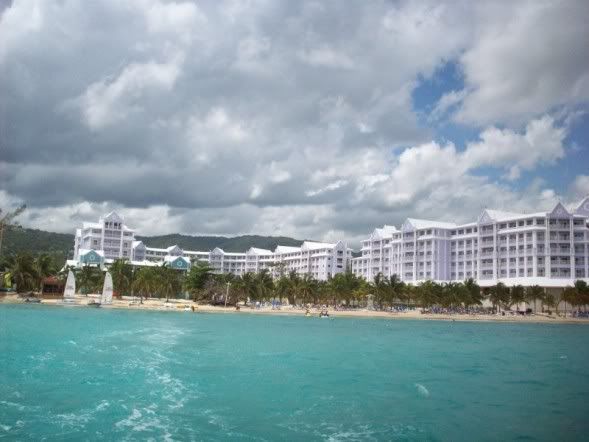 Coyaba River Gardens: B. This is where we came for our TTD – which was FUN! The garden itself was small and not what I expected…a little disappointed. BUT the waterfall completely made up for it. It was GORGEOUS and reason enough to go! It cost us $10 entrance fee per person and $30 for a cab with 3 of us. If you go, bring your bathing suit and climb the falls! Unlike Dunns River Falls though, you climb DOWN this one! (Safe stairs also available!)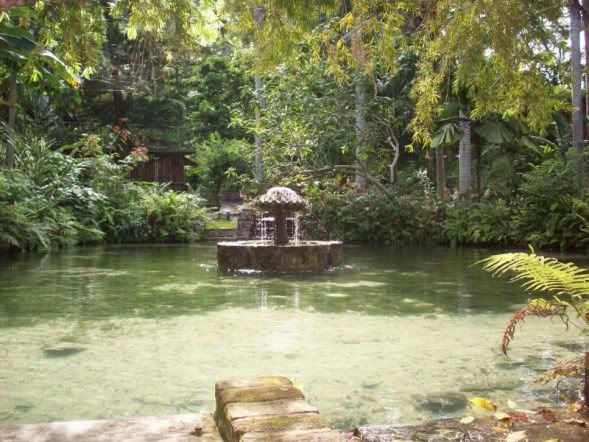 Chukka Cove Canopy Tour: A+!!! WOW! This was exhilarating! Fabulous! TERRIFYING!!!!! My gosh, it was fun! And did I mention utterly scary? I think I crapped myself a couple times, haha! I don't want to go into detail because I don't want to ruin some of the traverse surprises, but I HIGHLY recommend this for anyone who is adventurous. There's also quite a bit of hiking you'll do, so make sure you wear sneakers.