(Part 1)
Hello Ladies:
We got back on Monday night after spending the weekend at the Paradisus RM. Had a wonderful time and loved the resort. Elisa and Perla (WCs) are WONDERFUL.
So, some notes and some picks.
Arrived in Cancun around 11:30, grabbed a cab to the hotel - CUN airport has a sole-sourced taxi service which way overcharges. If you go, have Perla or Elisa book you a car - its about 1/2 price.
Arrived at the resort - went to check in, but our room wasn't ready until about 3:30. However, the desk rang Elisa and she immediately came and spent nearly two hours with us, just showing us around and sharing anecdotes. (We had an appointment to discuss specifics with Perla on Sunday morning.) She did this despite the fact that they had a wedding that night for about 90 people. She also made sure we had reservations for dinner at the restaurants we wanted.
Spent the afternoon by the main pool - it's big and lovely - but we didn't see much in the way of waiter service - we got up to get our own drinks at the bar. Not my idea of fun, but totally manageable.
At 5:00 went over to the "Tequila Terrace" to see the wedding (we hid discretely in the corner). The set up is beautiful, and about as private as you could hope for - it's off to the side of the resort, beyond where sunbathers and beach chairs are. The Gazebo is stick construction, with white fabric (or in this case, white and blue, per the bride's request).
There is quite a bit of sea grass that washes up from the reef offshore (you can see the dark line in the background, but a tractor comes along and rakes it up. Actually, that night the tractor didn't show, so the hotel staff raked it up so it wouldn't interfere with photos.
They put a white runner down the center aisle, but guests walked on it to get to their chairs, so by the time the bride made her entrance, it was all sandy. I plan to go without.
The reception is held on the terrace just above the beach: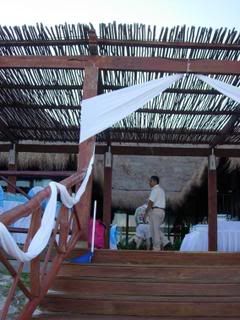 The table settings were all done by the hotel - including the really adorable shell centerpiece vases. The hotel has all of the decorations, linens, etc. on site, so if you like this, you don't have to bring a thing!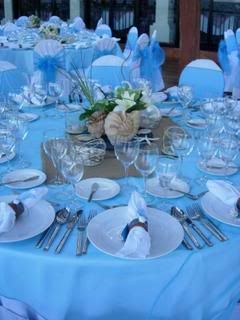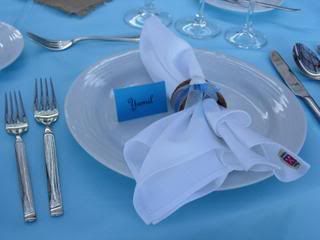 The dinner tables used up most of the space on the terrace, so they did cocktails on the dance floor and on the beach. They had an open bar, as well: