I never thought I'd buy another dress, but it looks like I may be doing just that. I bought my dress last June (of course after my mom told me I was buying way too early) and love it, but lately have been having second thoughts. It's beautiful, and I wanted tea-length, but now the more I think about it, I feel like a little girl in it and not as "bridal" as I want. The BIG thing that was holding me back is that my mom bought me the dress as her wedding gift to me; so I knew she'd be really upset if I wanted a new one.
Well, I saw one on ebay in my size the other day from DB that I love. I got a Second Chance Offer to Buy It Now for $90! Well, I couldn't pass that up, so I called my mom to tell her that we needed to go to the store and try it on just to make sure it fit and I loved it on me before I paid for it on ebay. We went last night and...I didn't love it on me! But, then the sales guy brought out another one "just to try on"...my mom and I both LOVED it. It just makes me feel more like a bride and more grown-up I guess is the best way to say it.
So now I'm waiting to hear back from David's Bridal to find out if I can exchange my first dress for the new one. I didn't even know I was allowed to exchange a wedding dress, but they said since they still carry it and the tags are still on, it's a definite possibility. If they won't allow it, then I will keep my original dress because I do still like it and I know it means a lot to my mom. She can't afford to buy me another dress, so I want to wear the one she pays for.
Keep your fingers crossed that they will let me exchange it. I should hear by tomorrow night.
Pics (sorry, none of me in the dresses, my mom was clueless with my camera last night!). I promise to take better ones if I go back to the store:
My original dress: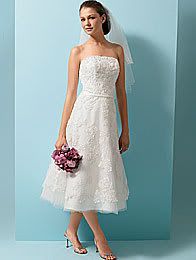 The dress that I loved on ebay, but not on me:
The one that I really hope I get: