Hello Ladies (and gents)!
So I went to try on dress #2 again last night. And I still really like it. But on a whim, I tried on this dress, and fell in love: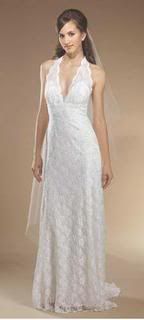 It's perfect - Very beachy, so pretty, and I love the halter. Its got little sparkly beads here and there so it shimmers when I walk. I'll have it shortened a bit, but not too much. Again, no photos of me in the dress (shop policy, strictly enforced), but I'm thinking I'm going to make a purchase this week...
(and - totally off topic, I'm SO going to start a thread about the awful models they use in the ad photos!)
What do you think? Be honest, please.