Cancun
Our dream wedding at Now Sapphire!
This is a review of: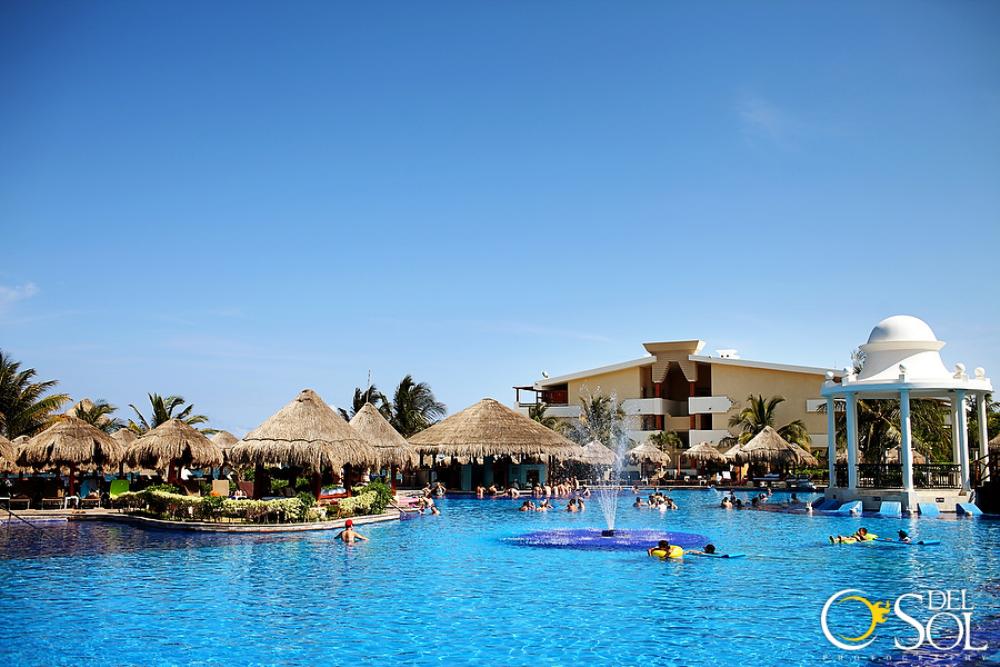 Detailed Ratings
By
cmoreno
, · 2,657 Views · 13 Comments
Pros:
Wedding coordinators, Food, Organized Staff
Cons:
Loud music at the main pool, time share salespeople, the road to the hotel
First of all, let me tell you – you know those cynical women who hate weddings and would never want to have their own? I was one of those! But my now husband really wanted want, and I needed to compromise a little – I guess that's just one of the ingredients for a happy marriage J. Long story short, our wedding is the most fun I have ever had in my life, the best day of my life! And Ramon and his team had a lot to do with this – they are completely trustworthy. I promise you will not regret choosing this place to have your wedding.

PLANNING AND PRE-WEDDING COMMUNICATIONS:
My initial emails and phonecalls were with Anel, but then my communications shifted to Ramon. Please keep in mind the Resort is basically a Wedding Factory! During our wedding week, there were at least 2 – 3 weddings every day! Ramon is a true expert with an outstanding attention to detail. I am a control freak, and I always feel uncomfortable delegating responsibilities and having someone else manage my stuff. However, with Ramon, I realized I could let go of my control freakiness and he would take care of everything without letting anything fall through the cracks – and I was RIGHT! He was outstanding; every single detail he got it right! From coordinating 65 guests, to the decorations, to seating arrangements, to other appointments of events included in my Divine Package. I love him! And you will too J I guarantee it!

If you haven't heard from them and you are getting anxious, just grab the phone and call him instead of emailing him. Avoid calling at 12pm and 4pm Central Time, which is when most wedding ceremonies are taking place.

RESORT:

Don't let the horrible road to the resort fool you! Once your pass the awful bumpy road, you will arrive to paradise.

Now... the Now Sapphire... Simply Amazing! All our guests loved it! The service is excellent, everybody is so nice and willing to help you make your stay more pleasant. We had a combination of people with the Preferred rooms, and the regular rooms. Main difference is that the preferred members get access to the preferred lounge, and they check in/check out there, instead of at the front desk; another perk is the access to the Adults Only pool; which is quiet, unlike the main pool where the environments feels more Spring-break like, with music blasting and entertainers dancing.

One thing we found really obnoxious was the resort people trying to sell you time-shares. They basically lure you into a 1.5 – 4 hours presentation (yes! One of our guests spent 4 hours with these people hearing about time share options) in exchange for some gift cards with a value of $150 - $250 to use at the resort. I know it's their job, and I applaud them for being so persistent, but they were a little over the top. They would chase you down unless you say NO from day one.

BEACH:
Water is warm and clear, sand is soft and smooth, but there is a lot of sea weed, so don't expect pristine beaches in this resort.

FOOD:
DELICIOUS! The variety of restaurants is a plus. The only place we didn't like much was Paramour, the French one. The food was "meh" and the service almost as rude as if you were in the middle of Paris. My advice: Try Fresco, and all the Mexican dishes at Market Place Buffet… unbelievably good!

DIVINE PACKAGE:

We had 65 people coming from Mexico, the US, and Europe. Keep in mind the cost per additional person DOES add up! Basically we had to pay for 40 extra people (4 kids included). It was totally worth it. I have the budget sheet just in case anyone wants to see it. The entire event ended up costing us approx. $11,600. Not bad at all, especially if you take into account we live in Manhattan and we would have paid 5 or 6x more if we have had the wedding here.

ROMANTIC DINNER AT THE BEACH:
Sigh! I am still day dreaming about it! Staged romance never felt this good before! Just imagine yourself with your fiancé, dining by the beach with candlelight, with your toes in the sand, and just the two of you… sigh!

CEREMONY AT THE TEQUILA BEACH:
BEAUTIFUL! I am still reminiscing about the whole thing! Ramon did an amazing job with the decorations, just what I requested him! We kept it very simple and with little decorations. Why would you need more if you have the natural beauty of the sun setting on a Mexican beach? We rented the white tiffany chairs (worth every penny, albeit expensive!). They made the place look much more elegant – but that's matter of perspective. I just didn't like the covered chairs included in the package.
We brought some blue pompons for the chairs on the side of the aisle, and some white and blue-painted petals; we decided not to use the fabric corridor (you might want to get it if you don't want sand in your dress).
We also placed some blue and yellow maracas on the chairs, which gave some contrast to the all white ceremony setting.
One of our friends was our officiant in our symbolic ceremony and we wrote our own vows (I am still having chills!)
We got the guitarist included in the Divine Package for the ceremony - we sent him our songs requests in advance, and he was incredible.

COCKTAIL HOUR AT THE TEQUILA TERRACE
Right after the ceremony, we gather at the Tequila Terrace for a quick toast with champagne and then my husband and I went with the photographers (Del Sol Photography) to take our wedding photos.
We ordered the following hour d'oeuvres:
A. Marinated ceviche
B. Shredded beef mini tostada
C. Tamales
D. Fried shrimp wrapped in bacon
All of these simply delicious!

We brought our music in our iPhone, and just created different playlists. This was more than enough for the cocktail hour and also for part of the receptions (dinner time).

RECEPTION AT THE TEQUILA TERRACE
The location is ideal! It is by the beach, yet way more private than the Beach Terrace, which is right next to the main pool and it can feel intrusive.

· Decorations: Again, we kept it simple. We got the white tiffany chairs, and we brought the following:
- Memory frame and wreath representing our loved ones who have left us…
- Message in the bottle (alternative to guest book)
- Jarritos for tequila shots
- Center pieces (crepe paper roses wreath and lantern with candle)
- I also printed out menus to place on each plate
- Navy blue fabric napkins to add some color to the white setting
- Papel picado banner (Mexican folk art cut paper banner) in white, with our names on it.
- Some Chinese lanters strings.

· Seating arrangements: Smooth as it gets! I offered two entrée options, and I created placecards of different colors: Blue for Fish, and Ivory for Beef. I gave Ramon a sitting chart and everything was just perfect!

· Dinner: We ordered the following dishes:
- Spinach Salad with Goat Cheese.
- Mexican Tortilla Soup.
- Entrée: 1) Beef bordailesa with potato and sparragus.
- Entrée 2: Grilled Salmon
- Desert: Creamy White Chocolate aux mint
- For the kids, we ordered spaghetti and chicken fingers. The kids menu is $25. However, we know some kids didn't eat this, and instead, some of the waiters very nicely brought them some other options from the buffet at the Market Place.
- Everybody loved each one of these! Including my husband and I!
Ramon and his team did a fantastic job with all this! They charged us $100 for hanging the banner and the Chinese lanters, which is way better than $1000 for renting the chinese lanterns.

· First Dance: Again, we used our iPhone with a playlist featuring only our first dance. It was perfect!

· DJ: We hired the in-house DJ for a couple of hours, he played all kind of music, from salsa,
merengue, to the typical American wedding music – he kept everybody dancing!

· Mariachi: We decided to extend the reception time to 4.5 hours, instead of only 3 hours. I am Mexican and my husband is American, and I really wanted a Mariachi. He was so excited about it and it was a huge hit! It was one of the favorite parts of most of our guests! FYI – Mariachis are a very long standing tradition in Mexico – very romantic too! They are still used in courtship between a man and a woman in all parts of Mexico, where the man hires a Mariachi band to bring serenade to a woman he is trying to pursue. Google some info about this, I assure you your perspective of mariachi will change… and you might end up including them in your wedding. I LOVE THEM!

· Photographer and Videographer included: We have no clue about the videographer yet, as we haven't seen the video. However, and sadly, I can actually say something about the photographer that was included in the package. After reading all the awful reviews about their services and the quality of their work, we realized it would be a hit or a miss. And we didn't want to risk it with our wedding photos, and we hired Melissa and Martina from Del Sol Photography as our official wedding photographers - I know our photos wlll be beautiful and have nothing to worry about. So, we decided to use the included photographer for the Mariachi portion of the wedding. --- The day after the wedding, we were asked to go to the desk of the photographer, where they showed us around 200 photos, and to only choose 24. Well… we had a hard time choosing even just 5! My 3 year old nephew could have easily taken the same photos. I am not kidding. Do yourself a favor and do not get frugal on such an important part of your wedding. Photos are forever!

· Make up and Hair Stylist: My package included the hair and make up. The ladies at the Spa are really sweet and attentive, but I regret having gotten my make up done with them. I had to re-do my eyeliner because it was 1/8 in thick and the make up wasn't very subtle!

OTHER EVENTS:
Rehersal dinner:
- We had a small (17 people) rehersal dinner at Las Lloronas the night before the wedding. We had to choose from a fixed menu in advance (I chose chicken for everybody and it was very tasty!).
- The dinner lasted 2 hours and the service was outstanding. Ramon decorated the table with Mexican sarapes, it was so cute and looked so traditional!
- The cost per person is $25, plus services and tax and it was totally worth it! We had originally considered just renting some area in one of the restaurants, but it was only $3 dollars less, and having our own space, in our more private area was totally worth it!

Tulum Tour:
This was arranged with an outside vendor – Not the resort. I hired a tour bus to take up to 40 of my guests to the Tulum Ruins (beautiful Mayan ruins by one of the most beautiful beaches in the area). We got the entire bus for ourselves, the driver was so kind – he even stopped at a convenience store so we could buy beer, sodas and snacks for the trip. We got the bus for 10 -12 hours and we started our trip at 8am, and were back at the hotel at 2pm. Our guests loved that we did this for them – it was a nice gesture, especially when the resort is so isolated and this tour allowed them to see more of the Riviera Maya, not just the resort. We paid around $800 for renting the entire bus (with A/C!). I have the name of the company and the contact info, if you are interested.

In few words, if I had to, i would choose this resort all over again for my wedding! I had an incredible time and many guests told me this has been the best wedding they've ever been part of!

I think this is it for now! I can't think of anything else! I have many photos if you would like to see them – these are photos taken by friends or family, since we haven't seen our official photos. But these will give you a good idea of what to expect.

I also have the budget sheet if you'd like to see it!

One advice: ENJOY YOUR PLANNING AND EVEN MORE SO, YOUR WEDDING DAY! It goes by so fast!

Good luck, brides!
[sharedmedia=gallery:images:72615]
[sharedmedia=gallery:images:72610]
[sharedmedia=gallery:images:72612]
[sharedmedia=gallery:images:72611]
[sharedmedia=gallery:images:72613]
[sharedmedia=gallery:images:72614]
[sharedmedia=gallery:images:72615]