I'm actually answering the question in my topic instead of asking it!
My FI (still calling him that!) and I got legally married during a small ceremony at the chapel of my Catholic church (so it was a small room and not really a church) on Saturday, a week before we leave for our DW. There were 15 people there - parents, siblings, his nephew, my aunt and uncle, his cousin, and two close family friends of mine. I wore my bridal shower dress, he wore a vest and tie. We just did a ceremony without the mass (so basically a song, few readings, the priest spoke about us a little, vows and exchanging of rings). We processed in together behind our siblings, who were our maid of honor and best man. The whole thing lasted about half an hour and was very lovely, even more so than I expected.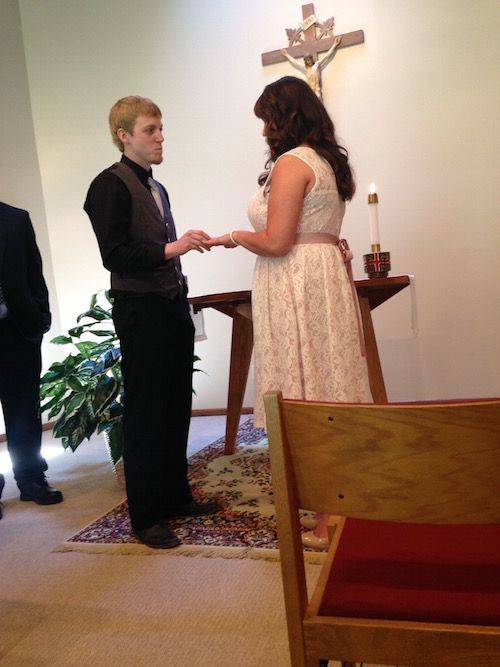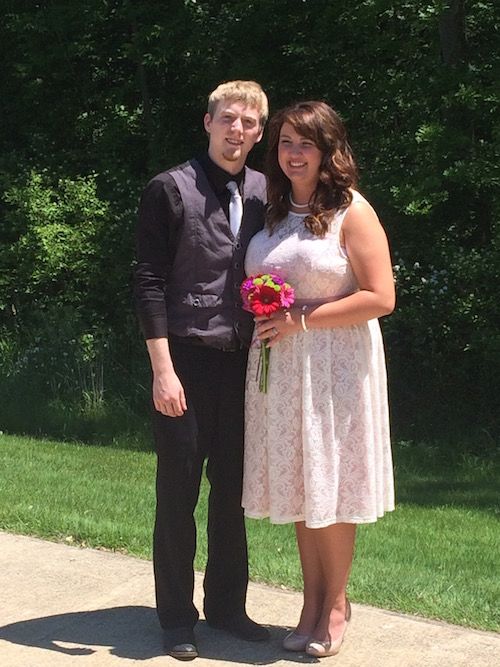 I'm spelling all this out because the big question I had before all this was....does having a legal ceremony before the DW take away from the DW?
My honest answer - eh, maybe a little bit, but not really.
The whole thing felt a little more wedding-y than I wanted it to, but it was honestly because the ceremony was so lovely that it made everyone so emotional and happy for us, which isn't exactly something I can complain about! My FI was insanely nervous, and even teared up while saying his vows, which is something I didn't even expect him to do even during our Mexico wedding!
My FI feels like we are very much married and has been wearing his ring around. I, on the other hand, went into it with the attitude that this wasn't my "wedding day," so I don't feel married. I haven't been wearing my ring, we haven't moved in together yet, no one is calling me by my new last name, my dad didn't walk me down the aisle, I wasn't wearing my dream dress, the priest even forgot to say "You may kiss the bride"....all in all, life hasn't really changed for me, and many of the major 'wedding day' elements were missing, so I'm still very excited for what I consider to be my REAL wedding day. I think having a 'practice round' might even take some of the pressure off on the day of. I actually kind of appreciated the fact that these two things were separate - at our church ceremony, I wasn't worried about a thing and not nervous at all (it was just the people who are the very closest, to us, so I didn't feel like I had to impress anyone) and I was able to really focus on the true meaning our marriage and our vows in a very spiritual way without worrying how my hair looked or if the photographer was getting a good shot or if it was going to rain or not - it was truly all about my and my guy and our commitment to each other, not about the party.
All in all, I think the way you feel after your legal ceremony before your DW is all about your attitude towards it. Having a 'wedding before the wedding' only takes away from your DW as much as you let it. Even though it was a very meaningful ceremony that I greatly enjoyed, in a way it's just another item finished on my pre-wedding to-do list. Get married - check!
Edited by rachelia160, 09 June 2015 - 07:34 AM.