We did it! It was quite the undertaking, and I'd be lying if I said it was stress-free. But, in the end I can say that it was 100% worth it.
I think I can speak for all 90 of us that made the trip, when I say that the memories we made will last a lifetime! To the best of my knowledge, it was the first DW that any of our guests had ever attended. I think everyone agreed, it's the way to go. We had 4+ days of fun in the sun, sand, and sea, and most of all real quality time to catch up and reconnect.
Location: Dreams Cancun Spa & Resort

We picked Dreams Cancun for our DW after falling in love with the place a year ago on a 4-day getaway. We weren't even engaged at the time, but by the time we left we both had our hearts set on coming back when the time came. The gazebo location is breath-taking, and IMHO, the best gazebo setting around. The staff is superb. The facilities are very well maintained. The activities are entertaining without being overbearing. The size of the resort is ideal (enough space for everyone to be together without being so large to never find each other). The location was perfect, not only for its physical beauty (it's the only resort in Cancun located on the point known as "Punta Cancun" and surrounded on three-sides by crystal-blue water), but also for ease of accessibility. Most of our guests were coming from the Chicago area. United has daily, direct flights to and from Cancun. Once at the new and improved Cancun airport, it's a short shuttle ride to the resort. Our plane left at 9am form Chicago O'Hare and we were literally in our suite by 1:30pm. With several guests only able to get away for a long weekend (Thursday-Sunday), this couldn't be better for maximizing vacation time and minimizing travel time. Finally, with most of our guests being in their mid-20s, there is plently of late-night entertainment nearby. The best club in Cancun, Coco Bongo, is just a 5-minute walk away, but feels like a world away from the relaxing beaches (yes, there's two!) of Dreams. (More on Coco Bongo to come).
Cancun gets a bad rap for being overly-Americanized and less-than-authentic Mexican, and rightfully so, but that was fine by us. We chose to stay in an all-inclusive, so we wouldn't even have to leave the resort (which we didn't except for one outing to the above mentioned Coco Bongo). Again, we wanted to maxamize our "togetherness" time. The purpose of this trip was not for a cultural experience, but rather for a beach-getaway. That was exactly what we wanted, so for those of you looking more for the former, I wouldn't suggest Cancun. Although, with that being said, there are plently of do-able day trips from Cancun that can give you the culture you're craving. We did have one couple rent a car and drive along the coast towards Tulum, stopping at Chitza-nitza along the way. The rest of us, spent our time at the pool, ocean, beach, or bars. Call us shallow, but that's our idea of a vacation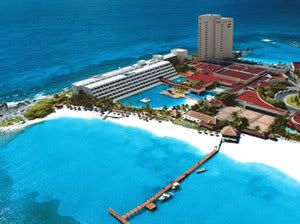 Arrival and Check-in:
I contacted Daniela (the WC) a few days prior to our Tuesday arrival to let her know that we would be there around 1:30pm (check-in time is @
3:00pm). She arranged an early check-in for us. Our honeymoon suite was ready and waiting for us when we arrived. We also provided our guest-list to Daniela, and with the exception of just a few rooms, all were ready for our guests that arrived prior to 3:00pm check-in on Wednesday and Thursday. Everyone was greeted with cool towels and a champagne. and the wonderfully friendly bell-men whisk your luggage away to your room or if you prefer, escort you so you know just where to go. Most of our guests booked "super-saver" or "garden-view" rooms, but everyone ended up with "ocean-view" or "ocean-front" rooms. Several guests had great "dolphin-view" rooms and about 6 couples were up-graded to the "Tower Club" building. We didn't spend a lot of time in our rooms, but I think everyone was pleased with the accommodations. The rooms look just as they are pictured on the website; very clean and well-appointed with mini-bars stocked daily for beer, soda, and bottled water (and a Fanta too!) all included!