Hi Everyone,
If anyone is like me, you've all done tons of research on dresses.
I originally wanted the Victoria Secret convertible dress in grape jelly but I was too late and it was sold out
I love the deep purple colour. I found this pic on the web (somewhere but can't remember). It's sort of the style I'm looking for -- short, light weight, wearable again!
If anyone has ideas of where to find something like this,
?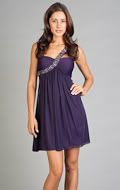 Cheers,