Hi everyone,
My wedding was a couple of weeks ago but i didn't have a chance to write a review until now... i'm still on cloud 9... LOL! It was the best day/week of my life and I wish i can do it over and over again.... LOL!
Sorry, it's a long one...
Airline/flights (A)
Our wedding group flew from Toronto to Turks and Caicos on Air Canada. There were 22 of us, 2 others were coming on a different flight on a different day. We carried my dress and DH's suit on the plane and the flight attendants were very friendly and even offered me a small closet space to put my dress. I ended up just folding it in half putting it on the overhead bin as most of my guests were sitting around us so I knew that the space above me would be empty! Overall, AC flight was good and quick!
Shuttle Service to Beaches ©
After we picked up our bags, we went outside of the airport and there was a gentleman in a Beaches shirt with a list. Because we were traveling with two wedding groups on our flight, it became chaotic. The Beaches guy couldn't find our names and told me that I wasn't on the "list". How could I be not on the list? This is my wedding! LOL! He ended up handing me the list and I went through the 20 something pages and found out that Beaches had listed my middle name as my last name! My last name wasn't even on this list! I was becoming frazzled because I was holding up the line and the other wedding group. We were one of the last ones being shuttled to Beaches. Thankfully, the ride was short, only 15 minutes from the airport.
Check-in (
They dropped us off and we were welcomed with drinks and cold towels. I needed a drink bad because of what had just happened at the airport.
Our wedding group coordinator in Miami had informed us beforehand that we would get a group check-in but by the time all of us gave the Beaches guy at the airport our names, we were all being shuttled to the different areas: Caribbean lobby and French Village lobby. This was a drag because I had planned to hand out my welcome bags to my guests during check-in but couldn't because half of my group were staying at the French Village. We ended up walking around the resort that night looking for people and handing out our welcome bags.
While I was handing out the welcome bags at the Caribbean Village lobby, DH told me they needed the hotel voucher. Luckily I had printed it out and had told everyone to do so! The lady then tells us that we have VIP check-in (Concierge Service because of the size of our wedding group). They escorted us to a private area where we got to sit down and they explained everything to us. They ask for your credit card for incidentals and purchases on property. It is cash free resort! Beaches provided a plastic card for your use to shop on the property.
Our Room (A)
Our room was the Luxury Honeymoon Suite. It was huge! And very close to the lobby and wedding lounge which was good because there were many times where we had to run back to the room to change, pick up wedding things, etc.
The room was equipped with a huge four pillar King bed, lots of pillows, and blankets, a tv, tile floors, a balcony with tables and chairs, a daybed sofa, and a large bathroom.
We had turn down service everyday, water/juice and free open bar refilled everyday in our fridge, maid service, and cute towel and flower arrangements on our honeymoon nights. We also had honeymoon breakfast the morning after our wedding and it was great, they delivered everything and it was really nice!
The Resort (A+)
The resort was GORGEOUS, AMAZING!! It is a very big resort which is big enough to get away from people if you need to but small enough to find people if you have to.
The Pools:
Caribbean Village and Iguana Pools (A)
This is where none of the kids wants to hang out…. LOL! We spent some time here as it was close to the beach, a bar and the Bella Napoli Pizza place.
French Village Pool (
The pool is nice if you want a night swim because it is heated! It was set in the back of the resort and seemed to have quite a few kids during the day but was nice for the most part.
Italian Village Pool ©
Was huge!! But full of kids, so we did not spend any time here.
Food (A)
I've been to many all-inclusive resorts and I must say that the food at Beaches was very good for an all-inclusive resort.
Sapodilla's (A+)
We had a group dinner here and the food was amazing. It is something I would pay for here in Toronto. DH tried the ostrich steak and I had the lamb. Our wedding and rehearsal dinner were both catered by Sapodilla's. Definitely worth the money!
Le Petit Chateau (A+)
Another one of my favourite restaurants, we had another group dinner here and the food was very good! The chef makes everything from scratch so be prepare to wait 20 minutes for your food.
Barefoot By the Sea (A)
We ate here three times, twice for lunch and once for breakfast. We would jog in the morning on the beach and then have breakfast here.
Schooners (A)
We ate here twice, one dinner and one breakfast. I love the breakfast here! For dinner, make sure you bring or wear mosquito repellant as there are lots of mosquitos.
Marios (A)
Breakfast was good, lots of selection and also had lunch here. Probably one of the best buffets around…
Giuseppe's (
Ate here the first night of arrival for dinner but they were closing so didn't have too much left.
Kimonos (?)
We didn't bother trying. I've been to other resorts where they had teppanyaki before and it is not always good. Our guests tried it and everyone said it was ok, nothing to rave about. You have to make reservations.
The Sushi Bar (A)
Surprisingly, very good sushi! We expected the worst and in the end, it was really good. On our last night there, all of us practically took up the whole place and ate there. Some even had a 6pm AND 9pm seating…. It was that GOOD! LOL
Arizona's (
We ate lunch here and it was pretty good, buffet style for lunch and their jerk chicken and pork was yummy. The French fries and onion rings were tasty and they have a create your own smoothie station.
Bella Napoli Pizza (A)
Good. Tons of pizzas to choose from and made right on the spot so it took about 20 minutes.
Cricketer's (A)
This is where we hung out most nights after dinner. We would play snooker or pool and grab some drinks. Each night there was something going on at Cricketer's. It could be poker night, black jack night, karaoke etc.
Reflections (
We ate breakfast here once. The food was ok.
Bobby Dee's (A)
Our wedding group middle-of-the-night hang out. It was nice because it was open 11am-6am. We would grab a bite (they have veggie burger and a really good grilled chicken burger) in the middle of the night. Other selections are corn on the cob, self serve frozen yogurt/soft ice cream, cookies, popcorn, sundae station, soda drinks.
Caf© De Paris (A)
We would come here and grab a caf© latte or coffee in the afternoon or after dinner. They have tons of pastries such as cupcakes, croissants, cheese cakes, etc. Lots of choices and a nice place to relax and get your coffee fix.
Drinks (A+)
Our wedding group guests are drinkers and I must say that they got their money's worth! LOL! Beaches has everything! Top shelf booze, imported beers, a great island beer called Turks Head. They have tons of frozen drinks and will make anything you would like. And they are very generous on the booze, almost double shot on everything!
The Beach (A+)
We hung out at the beach everyday! One of the best beaches I've ever been to and I've been to many beaches… so gorgeous! Activities included are kayaking, snorkeling, water bikes, sailing, and windsurfing. The water was turquoise blue and sand was powder sugar soft!
THE WEDDING:
Wedding planner in Miami, Monica (A-)
Monica was very nice but slow to response at times. At the beginning she does not get back to you immediately. As your date gets closer she will contact you more. Email was the best as everything was documented and she would reply to every email.
Wedding Manager @ Beaches Stacey Ann (A+)
Stacy Ann was one of the two wedding managers at Beaches and she was AMAZING! They leave a binder in your room when you first arrive. We arrived Saturday night and our meeting with Stacy Ann was on Sunday at 9:30am. She meets you in the Italian Village lobby and escorts you to the Wedding Lounge.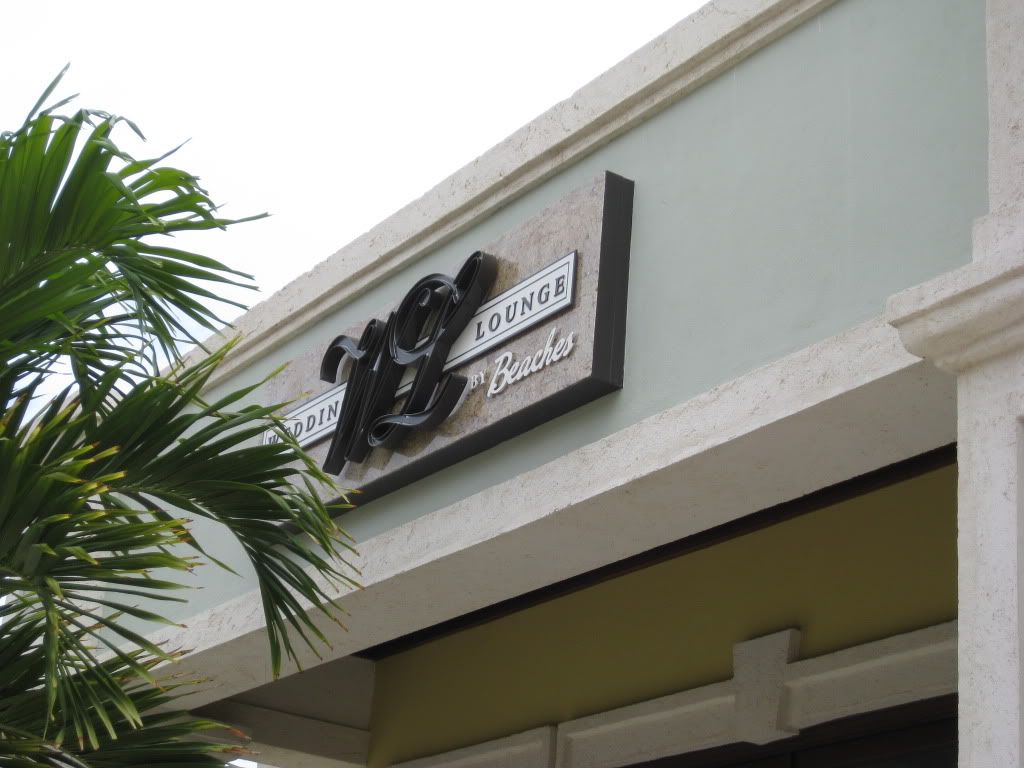 We went through everything, we were able to add the set-up of my program fans I had made and favours, bags of flower petals for tossing, menu and placecards.
We tasted the flavours of wedding cakes available and chose our flavours, gave her our music for the ceremony. She was amazing and funny!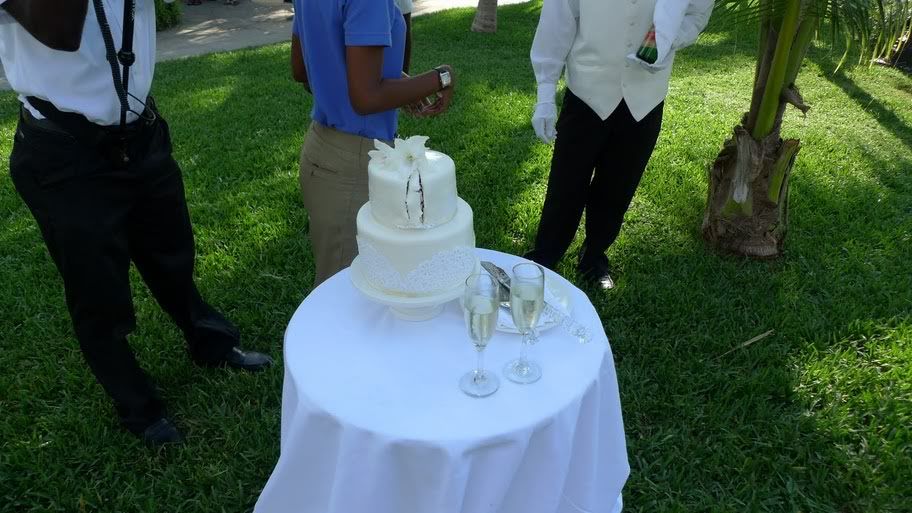 Then we went to see the ceremony, reception and rehearsal dinner locations. We chose the beach for our ceremony because that was what we wanted from day one. Not the most private area because everyone is looking at you but so what. We chose the Adult Jacuzzi deck for our reception dinner and the Iguana pool for our rehearsal dinner.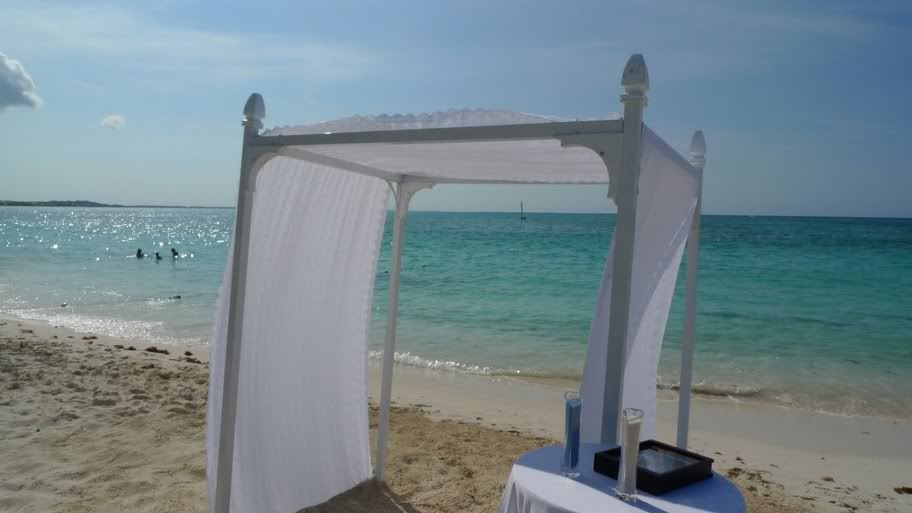 Rehearsal dinner at the Iguana pool was amazing. They kicked everyone out of the pool area before our dinner and we had the entire area to ourselves. We brought an ipod dock and thankfully our ipod dock speakers were powerful enough to even play over the sounds of the pool's waterfall. Everything was perfect! We had three wait staff serving us all night. Food was from Sapodilla's and it was really good. A lot of us are foodies so I was a little worried at first but everyone raved about the dinner!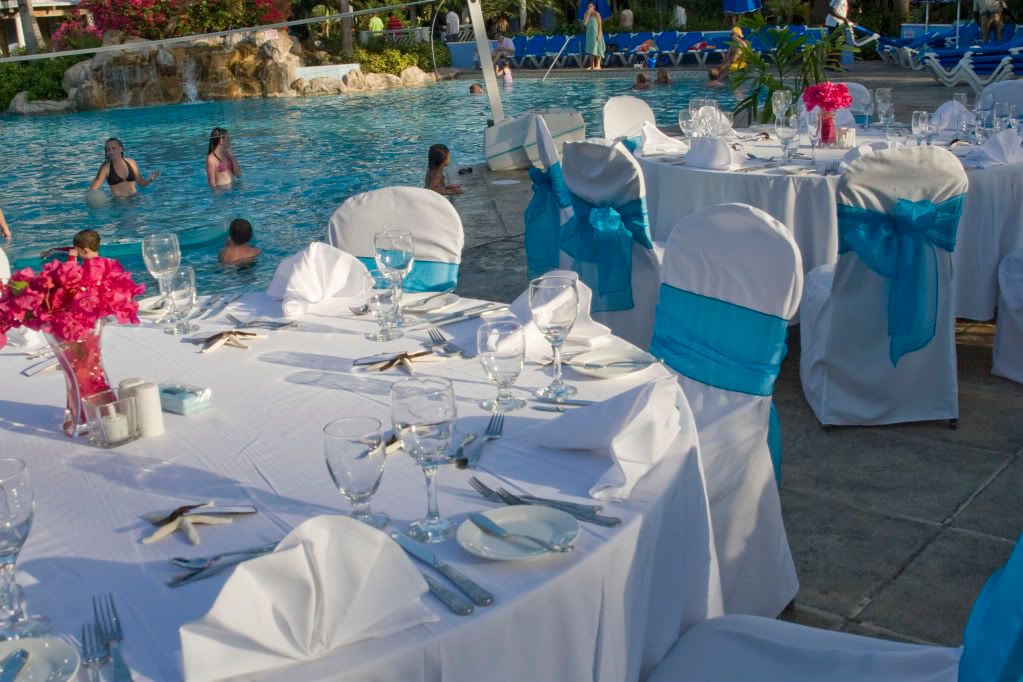 Wedding dinner was at the Jacuzzi deck. They set up a bar, hors d'oeuvres buffet station along with our tables. Everything was perfect. This time, we had four wait staff with one person manning the bar. It was the best $60/person we've ever spent for the amount of food and quality we got! Again, the food was catered by Sapodilla's.
Food from cocktail hour:
Vision in White Package (A)
We went with the Vision in White package. It was absolutely beautiful. The arch with the white fabric on the beach literally saved us from melting in the sun even though our ceremony was at 4pm! It also gave us a little privacy as many people on the beach were looking at us. I expected a bigger bouquet but when Stacey Ann handed me the bouquet, it was quite small…. LOL! We had three tables (3 tables of
and only the head table was decorated with the Vision in White theme. We opted to keep the other two tables with plain white linen and it was fine. Everything blended in nicely.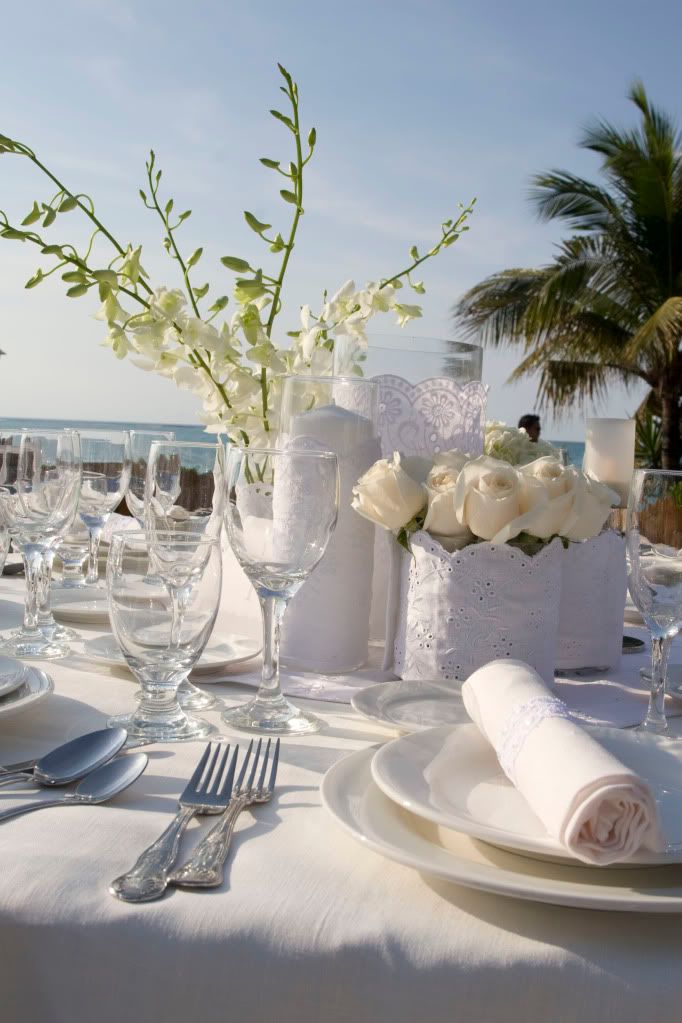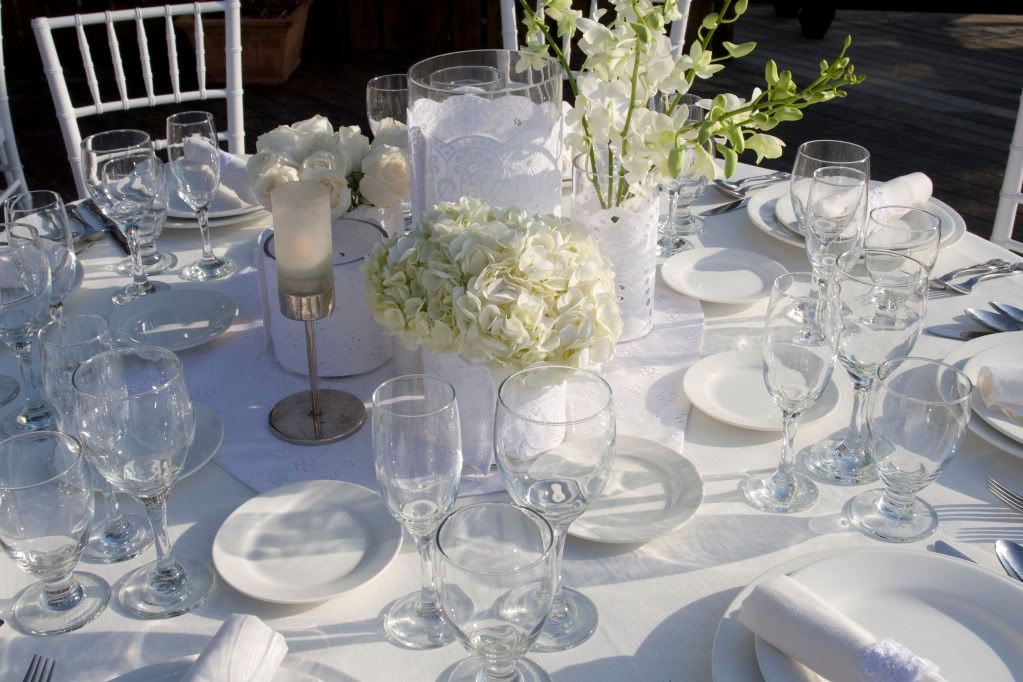 The WEDDING CEREMONY (A+)
Went by too quick but was amazing! Everything went smoothly and perfect! Stacey Ann picked up my MOH, father and me in my room 15 minutes before the ceremony and had a buggy drive us down to Schooners and kept us hidden from everyone. The ceremony was really quick about half hour with our sand ceremony and signing of the papers. It was so perfect and I had a permanent grin on my face that I couldn't take off…. LOL! The pastor was really funny and nice. He made us feel so comfortable and made everyone feel laid back and stress free! We did our sand ceremony and after we signed our papers on the beach we headed over to the shaded lawn/gazebo area for the cutting of the cake and group shot. Then we left to meet with Tropical Imaging.
Beaches Photographers (A-)
Pictures are very important for us. We received 13 free pics (12 included in our package and 1 free from Sandals) and purchased an additional 10 pictures for $200 ($20 each for digital copy). And they were surprisingly very nice.
Tropical Imaging (A+)
We hired a third party vendor to take our pictures. Beaches policy prohibits outside vendors from entering the Beaches premises. We met with Tropical Imaging offsite right after our ceremony for our group and wedding pictures. We spent three straight days with them and I feel like I've known them for years! Ileana was our photographer and she was amazing! I also did a boudoir shoot and engagement session. Her technical skills are just so immaculate.
Hair and Makeup (A+)
I got my hair and make-up done from an outside vendor as well. Her name is Shenique Higgs from Sheque Perfection and she is AMAZING. She is so easy going and is from the island and will travel. I didn't even need to tell her what I wanted, I trusted her and all three days (engagement, boudoir and wedding day) my hair and make-up looked great! To this day, I still get compliments about my hair and make-up from everyone!
Red Lane Spa (B+)
I received a complimentary manicure and pedicure because of our group booking and it was ok. I ended up giving the pedicure to my mom. DH went for a massage and he seems to have liked it.
Excursions, Froggie's Ultimate ATV Tour (A+)
Froggie came to pick up a group of us on Friday afternoon, and he drove us to Blue Hills. Blue Hills is beautiful and gorgeous! We did a one hour tour on the ATV's and it was great. We got to see a good part of the island along with flamingos, local residential areas, etc. After the tour, there was a guy who showed us how to take a conch out of the shell. Very cool!