Sorry this took so long to post!! But it was all worth it! What an amazing and perfect wedding!!
Travel Agent: - Maureen Servis, Travel Impressions, BDW TA: A+
I gave Maureen an A+ because she was super helpful throughout the planning process and even helped me get in touch with the WC at BRB. She alerted us of last minute flight changes (which we had 2 and had to change airlines) and went out of her way to make our planning for the wedding and our stay there as un-stressful as possible! My cousin called her on their way down there because of travel issues…Maureen was able to get her gate change info before any other passengers knew about it. Maureen also sent me an email when I got back making sure everything went smoothly and we had a gorgeous wedding. Let me tell you, I am very picky and detail oriented…if she was able to deal with me this well she is a great TA for everyone else! 
US Airways: B
I gave US Airways a B because of a few reasons, one is I had to shove my wedding dress in the overhead compartments on the way down…two different planes!! The flight attendants on the way down were not very accommodating. BTW, the second plane was a 767 (pretty big plane), we got on the plane and the flight attendant told me I was the third bride on the plane ride. She then told me to put it in the overhead compartment and they have services at hotels to steam them out. Ok, I was ticked, but not that much since there were two other brides going through the same thing on this flight. Or so I thought…as we were getting off the plane I noticed the two brides getting their dresses our of 2 different closets…and then their FH's getting their suits out of closets!! I was not a happy camper when I saw that!!
So our way back was much better…the flight attendants were awesome with my flowers and my sand ceremony!! I had my dresses packed away in a suitcase and checked…didn't care by that time! Ha ha! They gave us marriage advice…well my DH got the advice! If it does not cost over $1K do not argue with her…let her get it cuz she will win anyways! Ha ha!! Loved it!
Breezes Runaway Bay: Overall: A
From the time we made it through customs we were greeted in the SuperClubs Lounge and given water and snacks. Within 5 mins we were put on a nice bus and on our merry way. Our first stop made me very very concerned on what our hotel would look like because this Breezes looked very old and shabby to say the least! The second Breezes stop was much nicer looking from the outside, and then we got to ours. The people were super friendly during our check in process and told us our room was not ready but to grab some food and cocktails and the room would be ready within a half hour. So we walked around and on first impression I did not really like it because it was older and just different than I thought…the beach was washed away from a storm. We got up to our room (stayed in the newer ones…oceanfront) it was beautiful!!! By the next day we completely changed our minds about the resort and absolutely loved it…we walked around and found the 3 different pools, the hidden hot tubs, and of course all of the bars! The food was ok, the Japenese was the best. But the thing that put it in the A category would be the people who worked there. They were always so positive and went out of their way to make us happy!!! They always had games going on during the day (Rum mixiology…let's just say we do not remember that one but have the recipes for 9 drinks that we think were great). They always had live entertainment at night. I will say the teenagers were bored at certain times, but kept themselves occupied in the game room. I cannot say enough good things about BRB, we would go back there in a heartbeat!!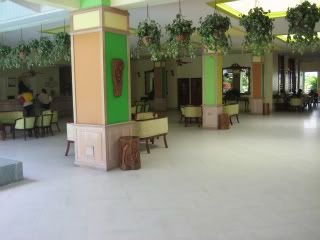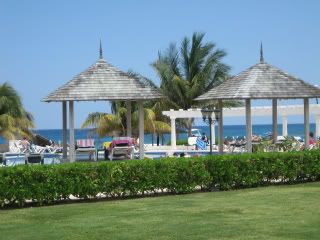 The weddingA++
But how could it not be?! The WC (Victoria and Patricia) were absolutely amazing!! They went out of their way to make our time there absolutely perfect and it was above and beyond our expectations. They set up a bonfire on the beach with bar and music the night before for $150….and let me tell you it was worth more than that!! We had 22 people in our group, some knew each other and some did not, this gave them all a chance to get to know one another and have a blast at the same time. We even had other guests from the resort come down and check it out! Victoria stayed with us until we had all left, she was hilarious and super sweet!! I cannot say enough good things about her and Patricia!
Now on to the wedding day, we had it on the beach and it was gorgeous. Even though the beach was partially washed away, it made it even more private because the little bit that was left was only enough room for us and our guests! The weather could not have been more perfect! All week it would get cloudy and windy by mid afternoon…that was with the exception of our wedding day! There was not a cloud in the sky and the wind was just a slight breeze. The officiant was able to ready through the ceremony I had written for him without many problems at all.
Awesome Bonfire!
My mom walking me down the aisle.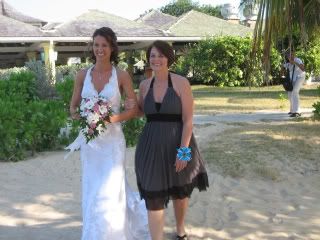 You may now kiss the bride...
It's official!