Let me start out by saying this is the best forum with the best members! I couldn't have made my wedding what it was without all of you, and I hope I've helped some of the rest of you along the way. It is quite an affair; I'm not sure what I am going to do with all of my new found spare time! I could get another job =) But really, thank you, and thank you Tammy for starting this!
We had our wedding on November 28, 2009 at Dreams Tulum in Tulum, Mexico. A DW was the best decision we made! We stayed one week (we got there on a Wednesday) – we decided to stay at DT the entire week (we were going to have a separate honeymoon elsewhere) because we never get to see and spend time with our families. Don't worry, we're going on a "real" honeymoon in March =). We had 25 guests including us (and 2 kids), and 2 photogs fly in as well.
Wright Travel Agency/Vacations for Less – 10/10
I started out using Tammy/Wright Travel Agency – but of course right when we were getting things started for the wedding Tammy was about to have her baby! So… we ended up working with Teresa Stauring from Vacations for Less. Everything went very smoothly for the most part, and we didn't personally have any issues with transfer or hotel check-in. There was some confusion on the room release dates (so make sure you pay close attention to the policy) but Teresa was able to negotiate with DT so we would not have a penalty – thank you Teresa and DT!!! =)
Tammy really became a lifesaver when we got closer to our wedding and I was trying to "negotiate" some trade-offs in our package. She got a hold of Landy and they were very accommodating – I think it really matters on who you talk to at DT.
Arrival in Cancun
The airport is as crazy as everyone says, and 2 of the 6 of us got our bags searched at Customs – but they didn't ask for receipts for all our wedding stuff (but I would definitely bring them in case). My guests said they really appreciated my pre-travel brochure (it's in my planning thread – check my siggy) and that it helped them a lot understanding the airport and the transfer situation.
Luckily, on our transfer there our van was full with all our guests (and therefore didn't have to stop anywhere on the way) – some of our other guests did though, prolonging the already 90 minute drive to DT. On our way to the airport we did pick up another couple in Playacar (Playa del Carmen) and it added on about 30 minutes to our commute. Some guests weren't happy with the long way out there, but they also didn't stop at the nearest gas station and buy 6-packs for the ride—which is the best advice ever! Our trip went by in no time!
Dreams Tulum – 9.5/10
Of course it was my wedding, so it's hard for me not to have rose-tinted glasses when it came to that week! We were greeted with champagne and cold towels right when we stepped out of the van. All of our luggage was taken to our room for us and we went to check-in. We had no issues with our check-in, but one thing that was kind of annoying was that some people were given two doubles who requested a king (including our friends who just got married!) – and others were given a king who requested two doubles (like my brother and sister who were sharing a room – which was actually pretty funny they got a king). DT said they were at full occupancy and had no other rooms. We suggested a switch but everyone was already unpacked and didn't want to move (so my brother slept on the couch).
We got a wedding arrival letting from the Wedding Dept. as well as a BEAUTIFUL flower arrangement in our room (and champagne and fruit). We stayed in a Dreams Jr. Suite Oceanview next to the Dolphin pool on the 2nd floor (room # 6203). We were originally in the room next door but the A/C was broken and on at all times – making it frigid! We didn't get our room switched until the WC Anabel got involved – in fact it didn't seem like much got done unless we utilized Anabel… so use your WC! There was kind of a funky smell one of the days… but we were hardly in there so it was fine. Some people complain about these rooms b/c they are so close to the pool and activities, but we didn't really notice- we thought it was a great location, especially since the beach set-up and our reception were right outside our door. The room itself was very nice, and very spacious. I was glad we didn't spend the extra money on the Honeymoon suite because it didn't really seem it offers that much more in terms of "niceness".
Our flowers from the Wedding Dept. (they accidentally gave us two—don't worry, they took one back, haha)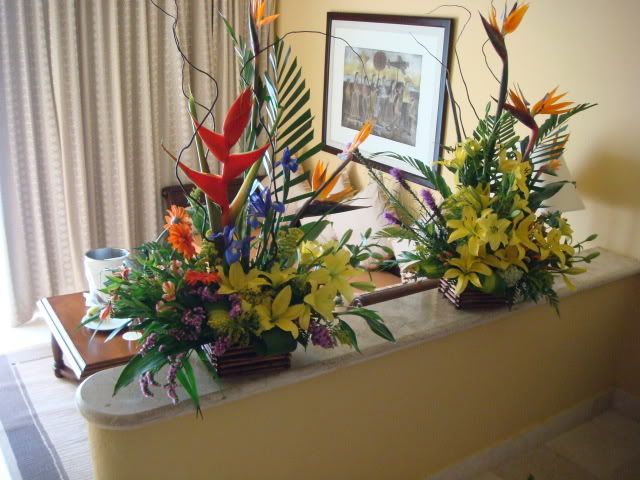 The staff at DT is truly amazing – they are the hardest working, most pleasant people at any resort or hotel I have every stayed at. The hotel is exceptionally clean as well – they take pride in their work and in their resort, that is obvious! All of our guests were very good about tipping, even though it is not required, we all wanted to because of the service!
Wedding Coordinator (Anabel) – 10++++/10
Anabel was absolutely amazing! I cannot say enough about her and how hard she works. I was a little scared at first, because before we actually arrived Natalia had been the WC I traded emails back and forth with, but Anabel had all the emails I had sent to Natalia and had already gone over them. We met with her the day after we got to DT in the AM to go over everything we wanted in terms of setup, menus, etc. We decided to go from the free package to the "Dreams of Love" package once we got there, only due to how many guests we ended up having and the fact we wanted a sit-down reception dinner.
I will say that the "Wedding Planning Form Update" they send you to fill out about a month before your wedding helped her a lot – I would suggest you make sure it is super detailed! I even included pictures on it (of bouquets, cake, etc.). We did all the planning that day and then went through a walk through of where everything was going to be located.
What we paid extra for: $150 for the sound system/mic at the ceremony
$150 for setup at the ceremony (tulle and chair sashes) and the reception (30 lanterns/LED throwies, centerpieces, guest book table, name card table)
Extra meals/Apps/cocktails (if you have over 20 people)
Extra boutonnieres/corsages
Some trade-offs: (with the help of Tammy W.)
Videographer for ceremony instead of resort photography (we had our own)
Be sure that you check over your totals when you pay your bill! My parents paid ours, but I was there because I had a good idea of what it should come out to. There were simple mistakes (like we were charged for the Gold menu instead of Silver menu) – but those mistakes added up to a couple hundred dollars! I brought Anabel a Bath & Body Works gift as well as a tip at our first meeting – and my parents ended up tipping her additionally after the wedding… she really was wonderful!!
Rehearsal Dinner – 10/10
We were originally going to do the free option and do our Rehearsal Dinner at the World Caf© – but my husband's parents thought it would be more intimate and a better way for some people to meet each other if it were more private. A few months before the wedding I contacted Natalia about reserving the Wine Cellar at Portofino for the dinner. At first she said she couldn't give us permission, but after a while she said she talked to the manager and they gave us the okay.
The dinner came out to $25 a person (with tax and everything) and we got to pick out the menu ahead of time. People have said for their weddings and rehearsal dinners the WC's have only let them choose one entr©e, and others get 2 – I just chose two entrees, gave my guests their choice and then emailed Natalia with the totals. I had no problem having two entr©e choices for the rehearsal dinner nor the reception- just don't give them the option to say no!
My husband's parents also wanted to do a groom's cake in lieu of the desserts they had offered – they got in contact with Natalia to see if that was possible and she said it would be $4 a person for the cake! I had Tammy W. address the issue with Landy and it turned out we got the cake for no extra charge instead of their dessert on the menu, so it worked out well!
Cake topper for Groom's cake:
The food was wonderful and so was the atmosphere. It was a little cramped b/c all of us were at one long table and it's not that big of a room! I wanted to make sure I got some good pics of the Wine Cellar because I searched everywhere before we went and couldn't find any. We did a cocktail hour before the meal – where my sister showed an embarrassing slideshow and the groom's parents gave Crocs to everyone (they are from Boulder, CO where Crocs are from). This also gave a more intimate forum for toasts, well wishes, etc. that really weren't that possible at the reception.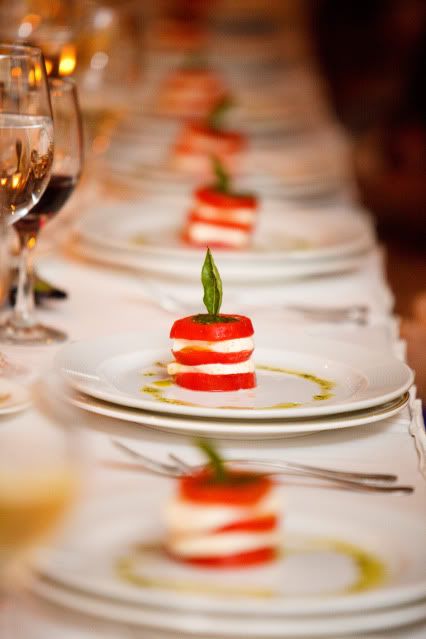 The Menu for Portofino is attached!
We picked one thing from each course and then had guests choose between 2 entrees we selected. We also had 1 vegetarian (who got a choice of pastas b/c we didn't want her to have to have veggie lasagna two nights in a row!) and 2 kids meals (which were buttered noodles or spaghetti I think).
Spa – 9/10
I was very pleased with my hair, and I think for the most part my 2 bridesmaids were. We encountered some serious translation issues however when my one bridesmaid tried to explain what she wanted done. I would definitely suggest anyone who wants their hair done to bring pictures- this would have alleviated a lot of the issue. I did not get my makeup done at the spa, I was kind of put off by some other bride's reviews and didn't want to have to worry about it. I did a makeup lesson with someone in my hometown just for the wedding/taking pictures and that worked out well!