This post is so overdue, I got home late Sunday night but it has been such a pain getting back into the swing of reality after spending two wonderful weeks in paradise! But I'm back and everything was better than I could have ever imagined – it was a little crazy leading up to the welcome dinner and wedding but both events were incredibly wonderful
I know for sure I could not have had such a perfect wedding without this forum! Thank you all for your support, ideas and inspiration!! If I could bottle up my wedding experience, I'd share it with all you brides and grooms to be because it was truly the happiest days of my life
I am going to try and post a full review sometime this week and then more in-depth reviews on different aspects of my wedding, including my uber late planning thread that I just didn't have time to complete before I left. But I did take pics of everything so I promise to follow through on that gals!
Until I get more time to post the full thread here are some of the highlights with pics of course
:
1) Akumal is the most beautiful, best kept secret in the Quintana Roo –if you haven't picked a wedding location yet GOOD GOD consider Akumal
– it is a piece of paradise that you will instantly fall in love with!!! It's a small town with no big hotels, just a bunch of amazing villas, condos and smaller hotels. We stayed at the Casa Romero property (
Our Welcome Dinner in the courtyard: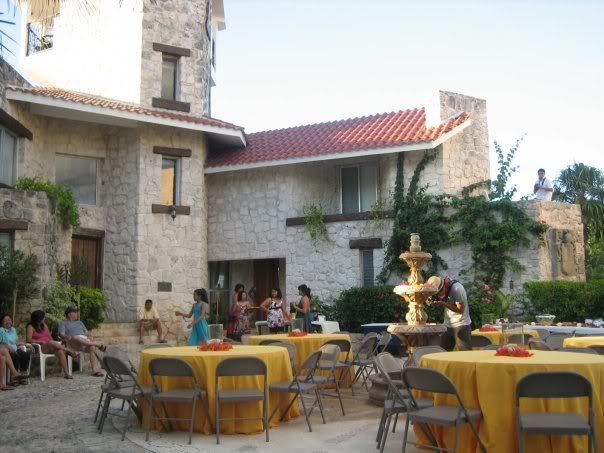 The amazing beach I got married on:
2) Our friends Ismael and Silvia of Sauce Vacations (best transportation/tour company in Cancun/Riviera Maya) – are saints
!! In a nutshell – they gave us a 14-passenger van to use for free throughout our stay, they picked us up from the airport (a party of 30) in a bus and drove us to Akumal, they provided tours and transportation for all our guests, they provided a taco man for our welcome dinner and a fantastic all-female mariachi band that was the bomb!!! We love this family, if you use them let em know MarieSam sent you and they will take extra special care of you – Here's their website:
*****more to come with pics!!!!