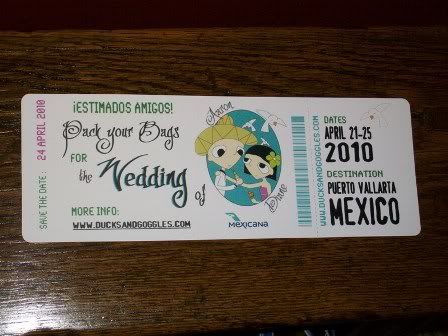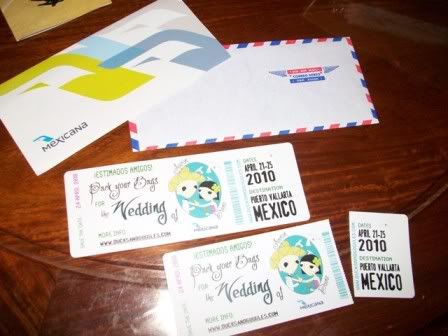 yay!! i'm sooo excited! our boarding pass STD's came in today...we lucked out with the man's printer friend who printed/cut them for FREE on recycled cardstock. my MOH is awesome and made the amazing design, found the fonts at dafont...had commissioned the monogram from an artist friend and i am psyched at how it all turned out! all about collaboration.
mexicana airlines has been incredible and sent me some tix jackets and emailed me their logo so i could put it on our STDs. will be sticking a magnet on the stub so ppl can tear them off and stick 'em on the fridge. the envelopes will be used to send the STDs and also be used to send back RSVPs when the invites go out. super cheap website for airmail envelopes:
#10 Regular Envelopes (4 1/8 x 9 1/2) - Airmail Envelopes - ActionEnvelope.com
kinda flimsy, but what do you expect at that price?? $11/50envelopes. Once everything is inside it's totally fine.
pictures are kinda *blah* but will get some good ones when em (MOH) and i assemble everything over memorial day weekend. wooohoooo!! i can't wait to start putting it all together. now i just need to find disposable masks to throw in the envelopes.