We're back, we're married, we're oh so happy we chose to go the destination wedding route!! I hope you enjoy and/or find this review helpful in some way!! We booked and were married at the Bahia Principe Tulum...
This is a photo of our OOT bag, with logo drawn by my talented husband. I think one of my favourite parts of the planning was coming up with different things to include in them. People really appreciated them!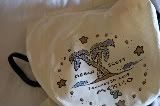 Resort: Beautiful resort, excellent service for the mostpart. We decided to take an upgrade to Coba (jr. suite with jacuzzi tub). The room was pretty standard, just a little bigger than the Tulum ones. The jacuzzi tub was nice, but we really didn't use it. In hindsight, it would have been way better had we stayed at the same resort as our guests. We thought it might be nice to have a little privacy, but we spent a LOT of time commuting between the two resorts, at least twice a day (after breakfast for the day, then back to change for dinner, then back after evening activities - whew!). We found that although we would have liked to have had a little more time with just the two of us, our guests appreciated that we made an effort spend time with them!!
Wedding:
Jazmin: She did a great job. Very direct and organized and I appreciated the fact that she gives you her opinion when asked! I came to the resort still needing to make decisions on what I wanted (flowers, cake etc) and she really helped me decide. She is a very no-nonsense lady, and this helped me keep together emotionally on the big day. Also, when the clouds started rolling in, she was right on top of things, convincing us to move our private dinner inside. Which I didn't want, but we would have been rained out had we stayed with having the dinner outside.
Hair and Make-Up: Based on other people's reviews of the hair and make-up done at this resort, I made the decision to go it alone! My BMs helped me with both my hair and make-up, and I think they did a wonderful job. Plus it was FREE!!!
Photographer: We had Citlalli of Claudia Rodriguez. She was super nice and very professional. She came to my room while me, my bridesmaids and my Mom were getting ready and was completely non-intrusive. We only hired her for 3 hours, so she also got shots of the ceremony and we did about an hour's worth of photos after the ceremony. We've received the photos and I am so happy beyond words with them. Part of the reason I chose her is because she has a way of capturing emotions in her shots. I think I've thumbed through the album she made for us at least once a day since we got it!! I'm so so glad we paid the extra money for her. She is a very talented lady!!!
Flowers: As I said, I arrived without a clear picture of what I wanted. I described colours (bright, no white) to Jazmin and I ended up with the prettiest bouquet ever! I love it!! My bms had the same as me, but smaller. My man and his groomsman had pink (really more purple) orchids. I ordered white orchids for my hair (I ordered one branch, but got two, so lots of flowers to work with). For our parents we had boutennieres and corsages made of gerberas. All were absolutely beautiful!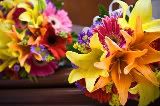 Ceremony: I couldn't have asked for better weather!! It was sunny and so so beautiful. At the last minute they decided to change bride/groom sides, so things were opposite to what we'd rehearsed, but it wasn't really a big deal. I found out later that this was to facilitate better photos - because of the way the wind was blowing. I am so thankful for this because it was a little windy and it was nice to not have had to be pulling my hair out of my face. The ceremony length was perfect, we each got to say the vows we'd written to each other, the documents were signed and that was it!! It was over so fast. I 'm thankful I was able to stay in the moment for the ceremony, because I can see how easy it would be to miss it! We chose 4 songs. We played You've Got a Beautiful Nature by Finlay Quaye while the guests were being seated (the golf cart that picked me up was a little late, so I guess the guests were treated to that song over and over and over!!). We walked down the aisle to Sea of Love by Israel Kamakawiwo'ole (I walked to the same song as everyone else), which was a perfect song for the setting. We played Somewhere Over the Rainbow, also by Israel Kamakawiwo'ole while we signed the documents. And for the recessional, we chose I'm Yours by Jason Mraz. Really, the ceremony was absolutely perfect in every way!! (We did the legal wedding, which entailed a lot of signing and some thumbprints. A couple of days before the wedding we had to go to the Hacienda to the Doctor where he took blood from each of us. The cost was $90 US and it was quick and easy and very sterile. Easy!)