YAY, I finally found some cute linen-blend shirts for my junior groomsmen and my not so little ring bearer/soon to be called a junior groomsmen because he's too damn tall!!!
I became frustrated with the idea of potentially spending at least $40+ on boys who are still growing. But Old Navy saved the day!!!!
These shirts come in light blue, white, and brown. They are currently priced at $14.50 each and if you use one of these ~ even cheaper!!!! I used the "new30" code (expires 2/26/09) and got em for 30% off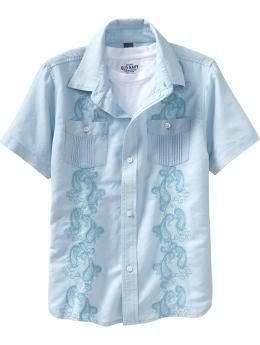 Happy shopping gals
.......... will next post on some great men's linen shirts at Old Navy too!!!