Travel Agent: A+
We used Sue Allen of destinationweddings.com. i was very hesitant to use a travel agent, i'm from the belief that you can get better deals on the internet. however, she was very helpful and economical. We booked about 10months before our wedding. therefore the pricing was very high. She reassured us that prices would drop and that she would re-book us with each better deal that came along. We gave her a hard time at first, the pricing was crazy. But she stayed true to her word, the prices dropped and she got everyone a great deal. She was also very patient with us through all our panics! i highly recommend her. She also sent each person a travel packet with all vouchers and travel info in a nice travel pouch, very organized.
Transfers: A+
We used american express. We chose to have a private transfer to the resort since we were so anxious to get there. it was very easy. A gentleman waited outside the airport with a sign, we hopped on within 5min and were on our way. it took about 1hr and 50min. there was some traffic in playa del carmen, some road work. looked like it was almost finished. our guests that had a shared ride said it took about 2hrs 15min. There is a rep at the resort that will help you book excursions and your ride back to the airport. Very easy and comfortable.
hotel; A
We did not do a planning trip so our first time at the resort was during our wedding trip! We were pretty anxious but there was no need to be. i was afraid that someone else's nice was my version of cheesy. No issue here! Even my mother in law, who likes to complain, was impressed. Upon check in, we were greeted with champagne. Check in was quick. They upgraded us from an ocean view to an ocean front behind the seaside grill. The dreams suites are very clean and spacious. i did not see the hacienda rooms but didn't hear of any complaints. no sulfur smell complaints either. i will say that the dreams suites are loud. you hear a lot of hallway noise, everything echoes off the tiles. so bring earplugs if you are a light sleeper. Also, please warn everyone how slick the tiles around the resort are!!!! Four people fell from our group. one person required stitches and an x-ray and was not able to attend the reception. Another brides grandmother broke her hip and required surgery in cancun, how scary!!!! So please escort all elderly guests back to their rooms and be careful!
Beach A/Pool B+ (wish they were heated)
The pools are nice but I didn't actually swim in them, they were too cold for low 80's. But i know people that did and had fun. We did use the hot tub multiple times, even in the middle of the night. They kinda just watch you to make sure you're not acting like idiots late night, it was fun.
I loved the beach, absolutely beautiful. Of course some of the sand is ruff because there is the 2nd largest coral reef located right in front of it! if you go by the seaside grill there is an area of smooth sand right past a shallow area of slightly ruff stuff. Just watch out for a few large rocks. We went swimming multiple times, it was beautiful. We traveled north for our honeymoon and the beach sucked in comparison. It truly is beautiful, just one small building in the horizon. The beach alone is worth the drive.
Food: A
For an all inclusive, it was great! No one got sick that I'm aware of. Seaside grill and El Patio for lunch are OK, they do take awhile. There is a side cafe with coffee and sandwiches which we loved. Nice and quick to get back to the beach! Dinner wise, the food was great! We liked the Italian food the best. We also ate at the french, it was alright but paled in comparison to the Italian. Surprisingly, the Asian food was good. not what you'd expect in Mexico. We ate dinner at the Seaside Grill one night, it works the best for large groups. it was pretty good, nothing amazing but good enough to enjoy with a group of friends. In regards to eating with large groups, be open to waiting or eating late or early for the nicer restaurants. The seaside grill and el patio are easier to get into while the other fancier restaurants take awhile. We ate with 12 people at he french restaurant and were finally able to get in around 9:00 which was fine with us, we had a blast.
Rehearsal dinner: A+
We had our rehearsal dinner at the seaside grill. We chose the mexican buffet, we had tons of food. the food was really good. We had a speaker with an ipod hookup for music and had a mic for speeches. My mother in law brought a bunch of decorations and Landy set them up no problem. She even brought cookies with our dogs faces on them, cookies with Cubs theme and dog bone cookies, very cute touch. We had a bonfire next to the seaside grill after dinner next to the wedding set up. My mother in law surprised us with camp songs with the words switched to be about us. It was pretty cheesy but it was funny. We had a great time, no issues.
We chose not to have an actual rehearsal. I always feel like they're a waste of time. People never remember what they're supposed to do anyway. It worked out fine on wedding day. We went through the timeline with Landy during our meeting, it worked out.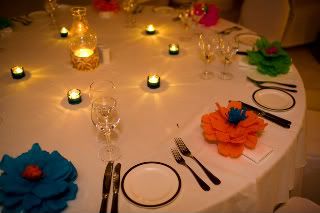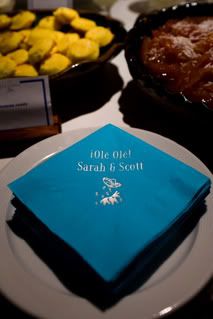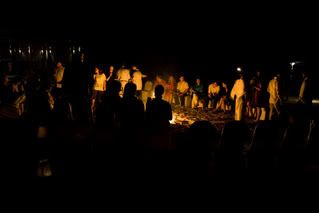 Ceremony: A
We had our ceremony next to the seaside grill at 3:00 in january, about an 1 1/2 hours before sunset. We had chair bows in alternating colors of orange and pink. We also had starfish in the last row. My husband is Jewish, so we had a chupa(aka wedding gazebo). We got married under a cloth that his sister's were married under. We also used white tulle. Landy made it work. We had the aisle lined with pink and orange flowers, no aisle runner. We used a guitarist for aisle music and during the signing of the wedding contract. It was nice but I really didn't pay attention to it, I was a bit busy. We had a legal ceremony with a spanish speaking judge and a translator. It was the strangest ceremony. We could not understand what she was saying. We had discussed during the planning meeting that we did not have special vows. However, during the ceremony they put us on the spot asking us if we had anything special to say. Uh, no. Very awkward but we all laughed. We had to have witnesses who came up and signed the wedding contract during the ceremony. This was time consuming and interesting. We had many comments from people that they would never forget the ceremony. It was not a tear jerker. I highly recommend that you have your own vows if you chose to have a legal ceremony. I wanted to have the legal ceremony because I wanted it to be real and a one time thing. i dont' regret that but I should have used special vows even if they were out of a book or off the internet. Lesson learned. I guess we'll have to renew our vows in ten years with special vows, let the planning begin!
Cocktail hour: B+
We had the cocktail hour from 5:30-6:30 at the end of the relax pool next to the massage hut. They set up high tables and regular chairs. We had sex on the beach and corona as our signature drinks that were ready to go as people arrived. People could order other drinks if they preferred. We had passed appetizers. We chose the melon ball and proscutto, stuffed mushrooms and salmon on melba bread. They were ok, nothing to write home about. I would stay away from the melon ball, it was the only one left over. We had the Mexican Trio at Landy's suggestion. They're a smaller version of a mariachi band and much less expensive. They were great.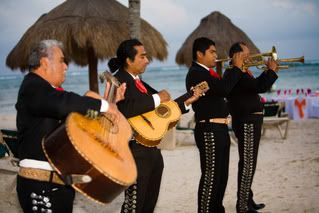 Reception: A+
We had the reception on the beach behind the massage hut from 6:30-11:00. It was fantastic!!!!!! I'm so glad we switched from El Patio! Landy once again went above and beyond. We brought paper lanterns with led lights from home. We had ten small white, 5 large pink and 5 large orange. She set them up over the dance floor, it was perfect. We chose to have a sweet heart table, highly recommended. This gave us a chance to actually talk to each other and stop entertaining. We had seven tables set up around the dance floor with the band set up in the massage hut. It worked perfectly. We chose to have a dance floor which I think you need if you have a partying type group.
It took about 1 hr 15min to serve dinner. We chose the bruschetta, I would not choose this option. It was just different, not very good. We chose shrimp bisque, very good! Then followed with a caribbean shrimp salad, pretty good. For the main course, we had surf and turf. It was pretty good for wedding food. For dessert, we had the tiramisu. I didn't get a chance to eat it but I hear it was fantastic.
Cake A-
We chose the three milks cake,very tasty. The cake was huge!!!!!! We had well over half of the cake left over which they delivered to our room the next morning. The only thing that I didn't like about the cake was the pink ribbon color. it darkened when put on the cake. Other than that, it was exactly what I had asked for.
Ruins: B
They were cool, I suggest going. However, I'm not into touristy stuff. I like doing things instead of looking at things. It was cool though!
Vendors: A+++++++
Band: A+ We had Kiko and Carlos band. They were fantastic!! They'll learn songs for you as long as you provide the sheet music. They have a huge song list that goes beyond the songs they have on their website. The music they have on their website doesn't do them justice. They need to revamp it to show just how good they are! They cost $950 per 45 min set with 15 min breaks. They only took one break in the 3 1/2 hours they played. They knew how to keep people dancing. They even knew the jewish dance The Hora that went on forever, they really worked it! check our their website at www. kikocarlosband.com.
Photographer: A++++ Craig Wolfrom was absolutely fantastic. He went above and beyond. We paid his normal wedding fee and then his hotel nights. He flew in thursday evening and started shooting within 15min of arrival. He followed us every where. From 9am to 1am, he was there. We gave him a list of people that were important to us to make sure they were included in a bunch of photos. he fit in perfect with all our guests and with us. he ended up being a buddy by the end of the trip, he was one of the guys. He did his homework for pre wedding and wedding posed shots. He had a list of artistic places for us to pose and was quick and to the point so we could get back to our guests. Check out his work, it speaks for itself!