Quote:
Originally Posted by MERRYME

If you wanted you could make something very easily out of PVC and just spray paint it. That is what we did - only we misscalculated that it had to be burried in the sand and it was too short... pretty but short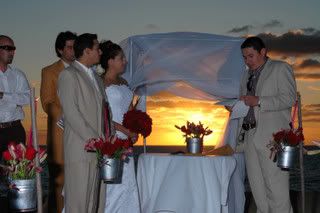 I actually wish I had used 2" pvc instead of 1" and made it slightly larger & taller. We got everything at a local plumbing store and the whole thing cost less than $80 dls.
Fabric: we bought 20 yards of white tulle and cut and placed onsite ... no sewing just cut to fit and tied to poles with ribbon.
This looks awesome! I would have never considered burring it in the sand. How tall was yours before you burried it?