Where to start?!! I can't believe that it has come and gone so quickly! Our DW was everything we could have wished it would be... and more! And I'm so excited to finally be sharing this with you all - future Grand Palladium brides, you are going to have a wonderful, wonderful time!
I will try to keep it brief and give *my own* personal opinions and thoughts on our experiences with our DW in Lucea, Jamaica. OneLove, I am using your review as a guideline - I hope you don't mind! Here goes...
RESORT: Grand Palladium Lady Hamilton, in Lucea, Jamaica.
DATE OF WEDDING: December 15th, 2008
# GUESTS: 24 adults, 2 children
PHOTOGRAPHER: Josh Brown (THE best!!!)
Josh Brown Photography - Montreal - Destination Wedding Photographer
TRAVEL TO JAMAICA:
We flew with Delta Airlines, via Atlanta, GA. The fact that Delta allowed us to check 2 bags each was a God-send!! I actually ended up shoving my gown into our checked luggage (!) which I really wasn't too worried about, as the resort did complimentary steaming of the Bride & Grooms attire (with 2 days notice)
Upon arrival in Montego Bay, Jamaica - we were immediately sought out by an Apple Vacations specialist... where we then waited (for what seemed like forever) to get on a bus and head for the resort. It was well after 4pm by the time we arrived - and let's just say I was not exactly a happy camper. The bus pulled up at the GP - had everyone get off the bus... determine who was staying at that side of the resort (there were TWO!) and then have everyone pile BACK ON the bus, to be transported over to the Lady Hamilton side. Didn't make a lot of sense, but whatever...
GRAND PALLADIUM LADY HAMILTON:
Grand Palladium Jamaica – Palladium Jamaica Resorts & Spa – Grand Palladium
We were greeted at the resort with rum punch and check-in was fairly easy.
The resort is ABSOLUTELY beautiful! Fresh and new... and HUGE. A down side for some might be the prospect of walking here there and everywhere, but a simple call to the Bellman, and they will gladly pick you up in their 'golf-cart-like-mobile' and transport you to wherever it is you want to go! (Having said that, it didn't show up for my groom and I, for transportation to our reception meal! We walked the full length from the Romance Suites to the Blue Lagoon Restaurant in full garb. We weren't too happy to say the least! But I digress...)
Our driver while at GPLH was Jimmy - and Jimmy is the best!
OUR ACCOMODATION:
We stayed in Romance Suite #3074 and it was wonderful! The view was spectacular and we were greeted with champagne and a decorated bed!
The jacuzzi tub was HUGE and great fun was had by all...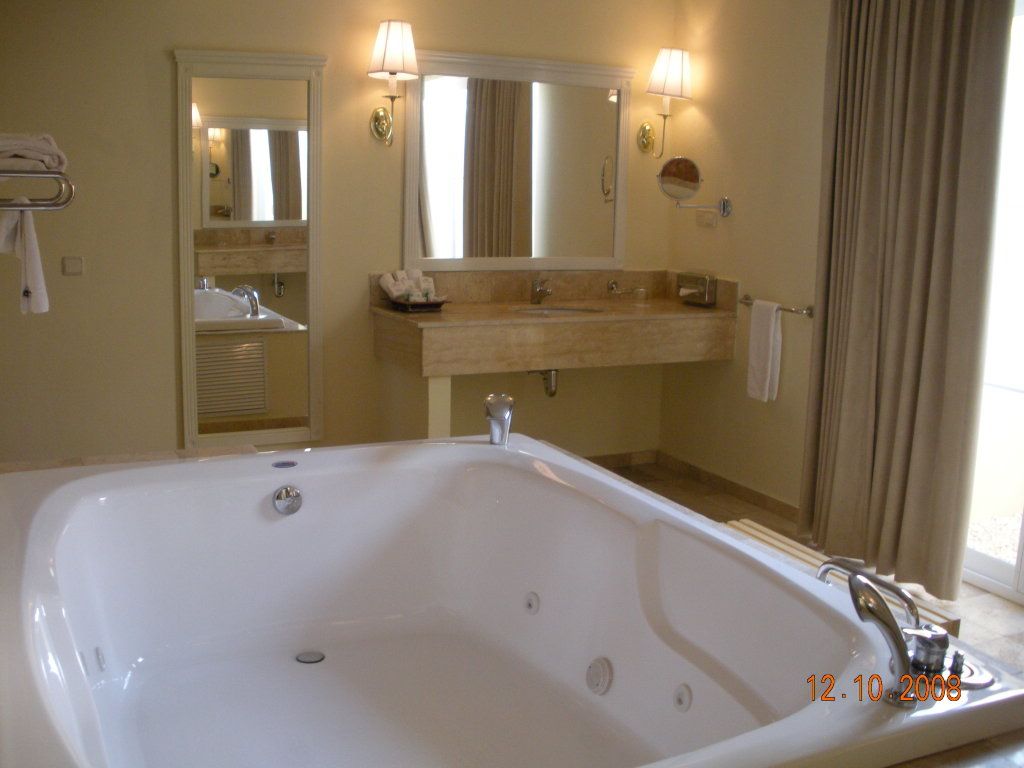 And though Matt used the outdoor shower on a few occasions, I passed as it didn't have hot water (though others did)
Our accomodations were excellent overall. I'm embarassed to say that Matthew and I "kept house" like pigs! But everyday, the room was cleaned up and sorted out some how...
WELCOME DINNER:
We had our (unplanned) "Welcome Dinner" at the Jamaican Restaurant. The food was rather mediocre, in my opinion (I'm REALLY fussy when it comes to food) and the service, extremely slow. I opted for the filet mignon (it wasn't) but those that had the "something-or-other encrusted talapia," said that it was great! A bonus in the dining department is that guest relations allows you to call ahead and reserve seating for the whole group, at any restaurant of your choosing. Our tables were split amongst two... but a good time was had all the same. Because of the slow service, we actually opted to have dinner at the Negril Buffet the next evening... and that worked out grand.
PRE-WEDDING DAY ACTIVITIES:
Okay, so I'll be totally honest and tell you that we had all of these great plans to go here and there and everywhere (!) Zip-lining, YS Falls and whatever else. Our pre-wedding days were basically spent by the pool... and at the pool bar...
Sunbathing and playing beach volleyball (they have a court right beside the main pool) which was an absolute blast! We met (and drank with) some really great people - and Marvin the pool bar-tender, was an absolute hoot!
Ahem, enough about that side of the DW events...
THE SPA:
My MOH, mother and I all had massages at the GPLH Spa on the day of the wedding. Theresa was my masseuse/hair stylist AND make-up artist - and was very good. I would definately recommend the massage and hair styling... but would probably opt out of the make-up if I were to do it over. I'd take care of that myself.
Sorry, no photographs at this time...
The General Manager, David, was kind enough to give Matthew and I complimentary massages during our stay. Unfortunately, we didn't find the time to take advantage of them - though having previously booked for my MOH & myself, we were able to indulge on the day of the wedding. Well worth it, for the destressing component!
The dress... Photo by JOSH BROWN.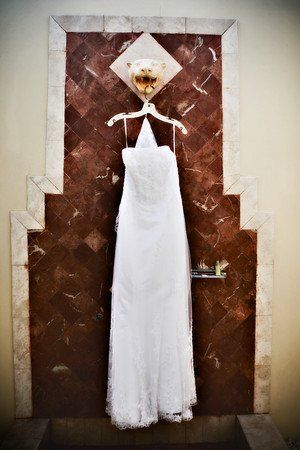 Squeezing into my dress with the help of my girls! Photo by JOSH BROWN.
THE CEREMONY:
Was at the newly positioned gazebo (at Lover's Bluff) Upon our arrival, the gazebo was far from ready. But the GM and WC both promised that it would be finished in time for our nuptuals on the following Monday. And they were true to their word! They had folk out there busting their asses until the sun went down, making sure that it would be ready in time. And it was abslutely beautiful... with a tiled, winding walkway down to an absolutely breath-taking, spectacular view! Truly unbelievable!