I would just like to say a heartfelt thank you to all of you for contributing all these amazing ideas to the forum. There are very few things posted on my planning thread that I came up with on my own. Most of the ideas have been done by so many different brides in so many different ways, so if it looks like yours, it probably is! Here we go!
For those of you who are interested, I created a "Wedding Details Document" for my wedding coordinators and myself (mainly for myself) which indicates the time and services of each vendor, a schedule of each event, details who is responsible for what, and also includes all my "inspiration photos" so that I would have everything in one place. It is attached as a PDF.
His Ring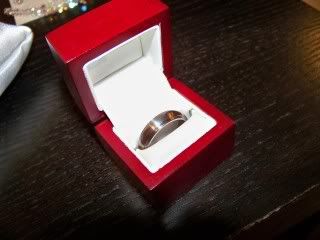 Her Rings
I decided not to go with a wedding band, my grandma is having a fit so I think I will use a fake ring during the ceremony!
Website
:
www.melissaandkendall.com