I was trying to be Miss DIY but that didn't work for me too well so I contacted a bunch of invite places for quotes.
The invites I was finding were going to cost me a fortune and I didn't have a budget for that and then I couldn't customize anything either!
I saw a post of another BDW member that got their invites done by Gwen @ Hitched Invites (
.:Hitched Invites-Custom & Pre-Made Wedding Invitations. Invitations. Inspired:.
) and she was the most responsive, nicest, easiest to work with and most reasonably priced out there.
Gwen worked with me for quite some time so I could make my mind up on colors, fonts and wording, etc. She sent me samples and color chips so I could make sure I picked the right colors, how awesome is that!? She was so patient and I know I was a pain in the butt!
I am so happy the way my invites came out. I only ordered like 125 invites and she sent me about 200!! Gwen is AWESOME!! Here are some pictures! I heart them!
If you need invites and don't want to DIY and want to work with a professional designer one on one, I would recommend emailing GWEN!!
hitchedinvites@hotmail.com
The invite: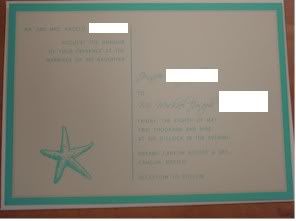 Booking info:
RSVP front: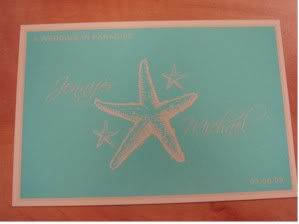 RSVP back:
I got Thank You notes too, I forgot to take a picture of those but they look similar to the RSVP front!
What do you girls think? PM me with any questions!