So I doubt I will be able to wear these long, but I can stand them long enough for my BD photo shoot and for my wedding pictures...that is all that matters right?
I wanted to have blue shoes ever since I saw a friend of mine who wore fun blue heels under her fancy dress. So I was shopping with my Sister/MOH this past weekend and found these in the window of Charlotte Russe. They were only $24.99, and my Sister thought they would be hott for my BD session
I absolutely love them!!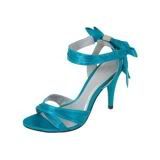 Here is the store for anyone looking for sexy, inexpensive shoes...although it looks like they are out of the blue ones now:
Girls', Juniors' Clothing & Fashion Accessories at Charlotte Russe