This was my first DIY project and I'm really happy with how they turned out. Thanks goodness I only had to make 22 or I would've gone crazy!
The envelopes in gamma green were from envelopesexpress.com
The silver metallic pocket was from Michaels as well the Xacto knife used for the little nooks and crannies
The 110 lb. cardstock was from Wal-Mart. I will also be using this cardstock for my program fans.
The corner punch, paper cutter (Cutterpede) with additional scoring and perferating blades were from Jo-Ann Fabric's website.
The logo was from our very own Sarah. (Thank you!)
The template was from this forum, but I played with it to make the boarding passes a little taller.
We printed these at FI's work (shhh!)
Total cost with postage (.59 for the invitation, .27 for the RSVP postcard) was just under $100! I'm very happy about that and now I have almost everything I need for my program fans!
Happy viewing!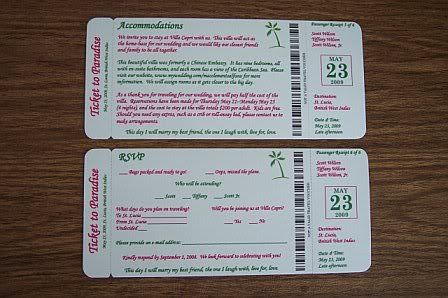 This is the back of the RSVP card. I perferatored the sides so guests could rip them off and mail the postcard back. They are like 1/16 of an inch above the minimum postal regulation. Hopefully I cut them all acurately!