I have no idea where to start! We had an amazing time and I only regret not taking the time to do this earlier so I hope this is going to be thorough enough.
My pics are taking too long to upload so I will update the thread later.
Planning thread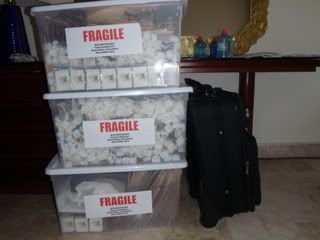 Melia Puerto Vallarta (C-)
DO NOT STAY HERE! This is very hard to judge since we knew that the hotel was not going to be that great. We were limited with choices for hotels for our group. We needed an affordable AI close to the Mayan and there are only 2 within walking distance. Melia was literally a group decision (my bro made an excel sheet and passed it around to our guests in sometime last year and we added a poll on our website). We did not get a group rate, guests paid between $55-$125 per night depending on when they booked. Our TA (a family member) would contact us when Melia was offering deals so we could send out mass emails. We had about 80 guests at this hotel.

I'm giving the negative review because so many of our guests got sick. One was even diagnosed with salmonella (she lives in GDL so she IS used to the food) and another guest fainted twice and was picked up by an ambulance. My dad was bit my something and his foot was so swollen I freaked and made him go to the doctor on call. My cousin had bed bugs in her bed, yuck!

The service was okay. They were a little rude to my guests and refused to serve them beer. I know we had a rowdy group, but it is an AI! No upgrade for us even though they kept calling us "Los Novios". No big deal for us, but they did screw up some of our guests rooms who paid for ocean view. They tried to comp them and provided them with massages, but you all know what a hassle it is to switch rooms.

Positives- Lots of activities for kids, huge pool, a variety of restaurants. With in walking distance of the Mayan (where our reception was held).

Personal plus- We arrived to Melia and walked through a theater. I looked up to a sign which read "Julio Cesar Teatro". I have mentioned before, however, my brother passed away 12 years ago and his full name is Julio Cesar. I got chills and so many people commented that they knew he was with us all!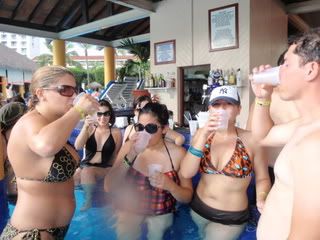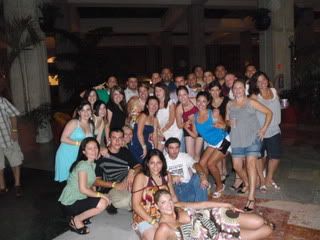 Mayan Palace (Reception Location)
I'm not sure how to grade this since we only stayed there one night and I was a bit intoxicated, lol. It is a beautiful resort. Great food. The pool is not that nice and I actually preferred the pool at Melia. But it was a great place for our reception.

Grand Velas Vallarta (Honeymoon) A++++ (service)/ A+++++ (spa)/ F (rain)
This resort has amazing service. From the moment we arrived it was like "Mr. and Mrs. Santiago, can I offer you a drink…" I noticed more staff than guests (not sure if it has to do with how expensive the resort is). The rooms are very spacious and comfortable.



Food is AMAZING! They have one restaurant with buffets for every meal, a snack food restaurant and three others you need to make reservations for and follow the dress code. There was even an "ice-cream man" making rounds in the pool area! The rain totally ruined our honeymoon.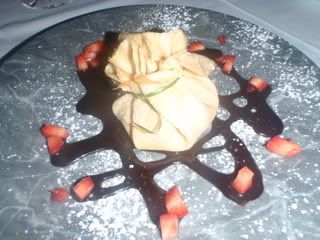 It rained three days straight. Hans and I spent our days ordering room service for breakfast and lunch and watched Law and Order reruns. There was not much to do in terms of activities so I was a little disappointed.

The Spa is a MUST!!! We splurged and had a couples massage. I have never been to a spa so I have not way to compare it, however we were told that it is one of the best in the world. So if you do not stay at this resort, at least try their spa! Hans and I had a couples massage and it was amazing. The moment you walk in, some one is there to guide you to the "rituals" (sauna, orange-menthol steam, cold pressure shower, Jacuzzi, Hot-Cold plunge pools, foot massage, etc.)