Not sure if this part is more of a planning type review, but this is stuff relating to the wedding day, so I figured I'd continue with this as it is relevant to my experience. Maybe I'll post a more detailed post about the individual aspects of some of these things (like the stuff I made) in other sections of the forum eventually, but I figured this is a good start.
ATTIRE FOR WEDDING DAY:
Wedding Dress
- Cymbeline Paris "Akio" design
Purchased from The Montclair Collection (Santa Monica, CA)
I had a love-hate relationship with the dress after I picked it, as I loved it for its uniqueness and amazing design and quality, but it wasn't what I had pictured getting in my mind (and I felt pressured to buy it due to having less than 6 mo. till my wedding) Well, when it finally arrived, and I had the under-layer A-line tailored (by the in-store tailor) to be more fitted against me, I love love loved it, and I got a zillion compliments at the wedding. People kept asking how I managed to find a couture dress, was it really a wedding dress, did I get it at a bridal store, etc., and told me I looked like I belonged at a magazine shoot (which is probably an exaggeration, but nice to hear). They also expected a lot from me (since I used to be more daring fashion wise) and they felt I found something that reflected me well. You'll see more photos of me in the dress when I get my professional photos I'm sure. Sorry to be so gleeful about it, but after feeling so ambivalent, I was happy with my change of heart and guest response. Best of all, my hubby, who is so not into dresses and lace and fashion and all that (he likes me in jeans best) liked the dress and thought I looked beautiful in it, which for him is saying a lot (in terms of the dress part – he claims I always look beautiful even when I'm in glasses and nasty sweats haha, the liar).
Note to Mexicana Air passengers: I had to stuff it in the overhead baggage compartment b/c Mexicana Air claimed they don't have anywhere to hang anything, and I never got around to getting it steamed or pressed, but it seemed fine as it was!
Note to Brides wearing wedges the sand: I had my dress hemmed on the bottom while wearing my wedges, and I still was tripping over it because the wedges sank in the soft fluffy sand – so if you are going with wedges, get your dress trimmed a bit shorter than usual.
Shoes
- Wedges from Steve Madden, which were uncharacteristically comfortable!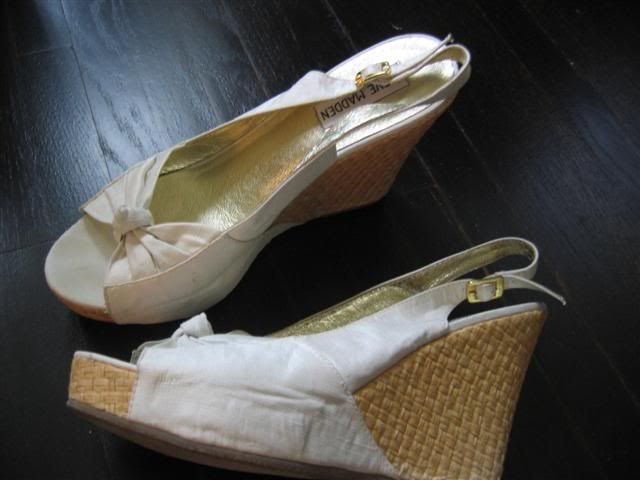 Jewelry
- Bought my mini-sea-pearl drop cluster earrings from an amazing and sweet jewelery designer next door to Montclair Bridal. If you live in the area, go check his stuff out! (the earrings look better on – you can't really see the gold, it just makes the pearls pop a little)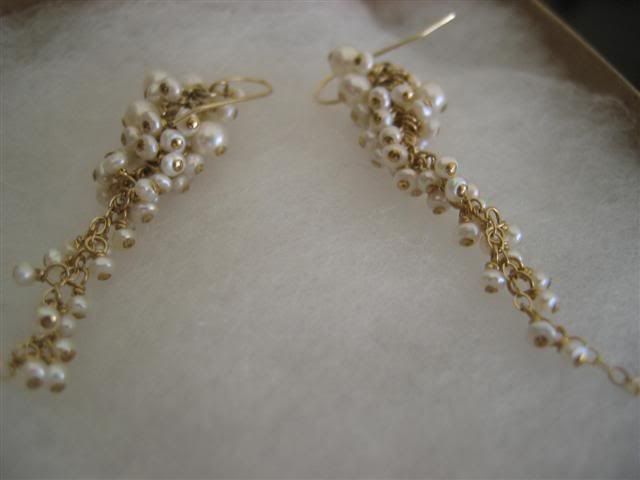 Wedding Ring
- Well I had a hard time finding something to go with the engagement ring we had designed for me based on an art deco design: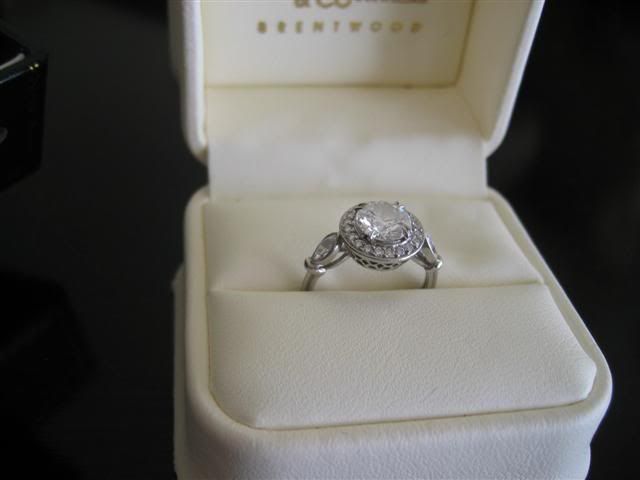 So 1 week before the wedding, I was in for a last minute wedding dress fitting, and walked down Montana Ave. to yet another jewelery store and found these really cool modern-organic hammered white gold stackable rings with champagne diamonds and decided I should wear rings that I like for the rest of my life. Maybe it doesn't quite go with the platinum engagement ring, but oh well, that's why I have 2 hands! Anyhow, here they are: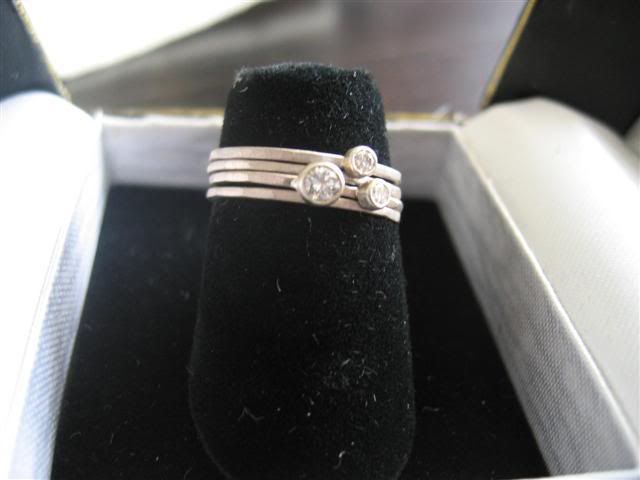 We used just one of the plain ones for the ceremony, per Jewish tradition.
bra
– I'd like to recommend NuBra, my new favorite undergarment!
Groom's Suit
– My hubby splurged on a designer suit and shirt since he is so freaking tall and the nice employees of Barney's were so helpful…
A glimpse of the bride and groom outfits: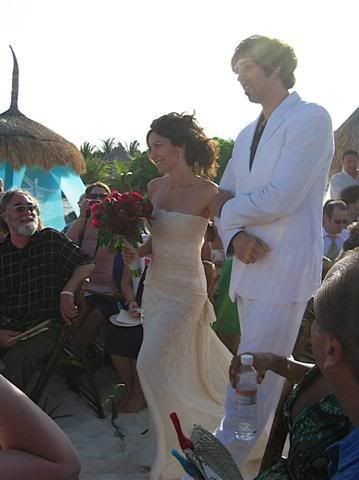 Ok, but I'm skipping ahead. Back on track –
MOH dress
- I fell in love with this BCBG dress - that apparently Sarah Jessica Parker will be wearing in the Sex in the City movie while running around town- when looking for bridesmaids dresses back in January. At the time it was $350 and since we planned on buying the bridesmaids dresses for them, it seemed kind of steep. Additionally, all the bridesmaids have large breasts except one and complained that they wouldn't be able to wear a bra with it. So a month before the wedding I found it on sale for $150 and wanted it for my rehearsal dinner but my breasts aren't big enough to look good in it (I didn't know about NuBra yet!). Then I figured, since it is stretchy jersey it would be perfect for my sister (MOH), who at the time of the wedding was 6 months pregnant with her 2nd child (. She hemmed it shorter to kind of go with the bridesmaids, though we agree maybe that was a mistake. Still, it looks good, and she didn't complain about the bra issue (she wore an NuBra type thing too).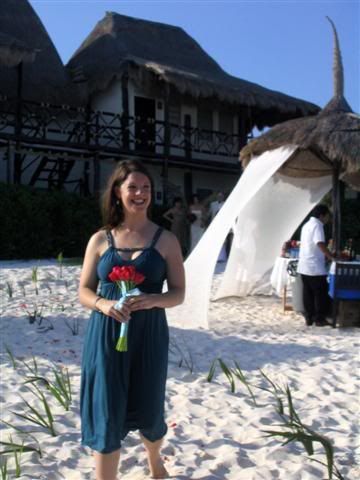 Bridesmaids' Dresses
- JCREW Sophia Silk Chiffon in Espresso – I gave the gals a choice of any dress in that fabric and color and they all picked the same one b/c it was the most flattering. I told them to wear brown sandals but they all went barefoot.
Bridesmaids' Necklaces
– In addition to the dresses, my gift to the - appetite stone, matches the MOH dress.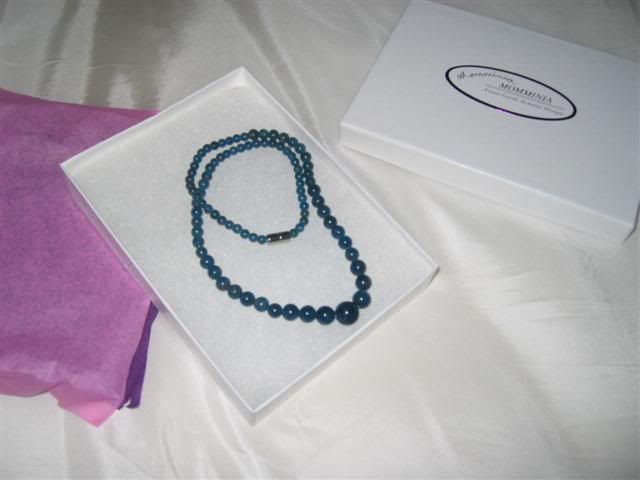 Groomsmen's Outfits
– As our gift to them, we got them white linen Banana Republic shirts, and wheat/beige (not tan) colored Nautica linen button front pants. We told them to wear brown sandals, which they did.
I don't have any great group shots of the bridesmaids and groomsmen – I'm sure there will be some in the professional photos though, when they are ready, or I'll add some later.
Flowergirl accessory
– My close friend/cousin-in-law-by-marriage's daughter was my flower girl. I got this little gift wrap pin flower to pin on her dress to match the color scheme.