Doug and I went on Date Night a couple nights ago, we only have 1 night a week where we're not running around after the kids or whatever, so we try to do something just for us every tuesday, sometimes just movie and pizza ordered in, or like this week, a fancy dinner!
This is what we shared for dessert!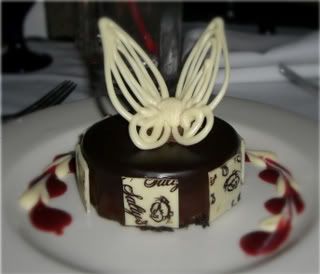 OH FREAKIN YUM!
White chocolate Grand Marnier cheesecake covered in chocolate, with a white chocolate butterfly on top, and raspberry and white choc sauce drizzled on the plate. SO YUMMY! And we shared it so I don't even feel bad about eating it!
PS, how do you like my photobucket editing skills! fancy, huh?