I have a little dilemma. I REALLY want a bamboo arch, decorated like LC_Rachel's for my wedding. Well, the coordinator from the resort hasn't gotten back to me recently on this, so I went straight to the source, the florist the hotel uses.
Here is the standard site:
I sent these inspiration pics: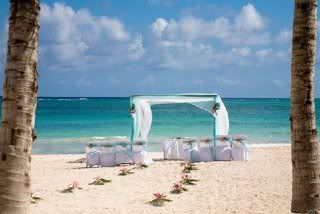 Guess what the cost is...$800! So much for my free wedding! I really want the arch but I don't know how I can justify it! That is without the chair covers & sashes too!
**If I have stolen your images, let me know so I can give you credit. My computer is full of wedding and ferret pics and I don't remember where they all came from!