Posted 16 September 2006 - 12:57 AM
here is the flyer that tara sent Janet...
Mexsun Plaza Garufi Loc. 21-22
San Jos© del Cabo
142 6801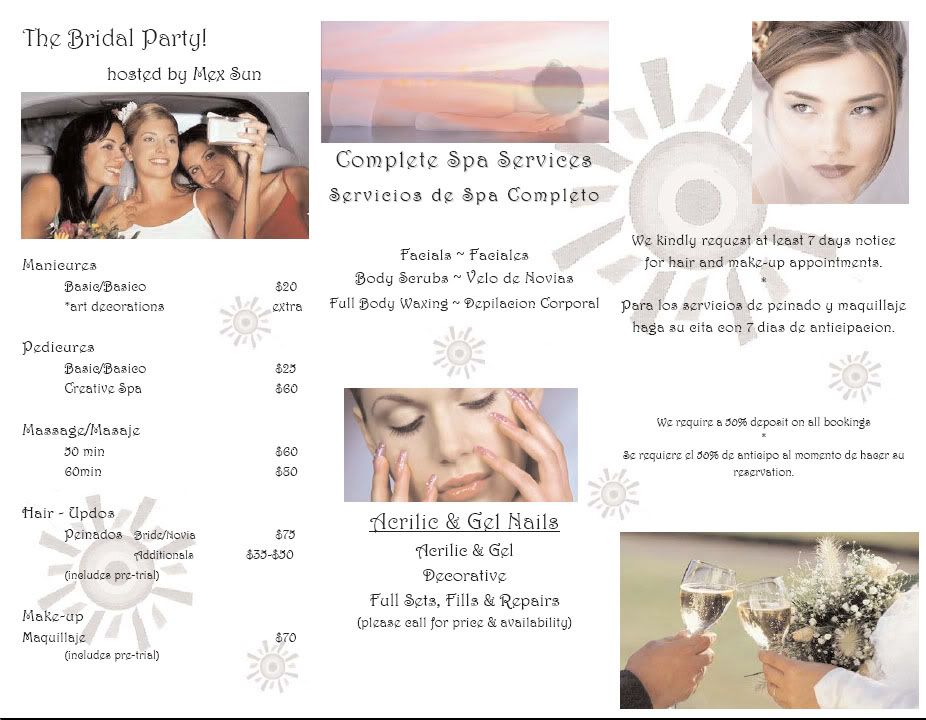 Founder and Owner of BestDestinationWedding.com / Bride & Groom Fly FREE Promotion

Looking for a travel agency that specializes in Destination Weddings-CLICK HERE? We are an award winning travel agency and you can read our reviews here.

Awards and recognition:
Palace Resorts Winner "Top Travel Agent", "Top Homebased Travel Agency" PRO Platinum Agency (Top Award) | AMResorts Master Agent & Top Agency
Karisma Hotels Diamond Level 5 (highest production), Top 10 Azul Weddings, Top Wedding Coordinator | Wright Travel & Karisma GIVC Benefits
Travel Impressions Best of the Best Globe Winner | Apple Vacations Golden Apple Winner


Vendor rules are HERE! Please read! If you are a vendor and looking to advertise your business, please email ads@bestdestinationwedding.com.
---
Posted 22 January 2007 - 01:05 AM
Does anyone have the email address for them??

---
Posted 22 January 2007 - 01:07 AM
---
Posted 22 January 2007 - 01:14 AM
Kate - she's american right? are you looking into using her? can u send me the brochure or is the same thing that Tammy posted above? sry 4 all the questions

---
Posted 22 January 2007 - 01:15 AM
PM me your email and I'll forward you what she sent me. Meagan used her and loved her so I was considering it.

---
Posted 23 January 2007 - 11:56 PM
Do you know how much to have them come to the resort? (Dreams)

Angela

---
Posted 24 January 2007 - 12:13 AM
Does anyone know if they are better than the spa at the Hilton? I am willing to pay a lot for make-up. I think it is def worth it to pay a lot of money to look good!

-Glenda

---
Posted 24 January 2007 - 12:26 AM
Quote:
Originally Posted by cheese_diva

Do you know how much to have them come to the resort? (Dreams)

Angela
I sent them an email 3 days ago so I 'm just waiting for a response and will let u know
---
---
0 user(s) are reading this topic
0 members, 0 guests, 0 anonymous users