I wanted to try to do this review as quickly as possible since we are leaving in a few days for the honeymoon and will be gone for almost 3 weeks- so I am writing the review and hopefully when I get back I will have more and better pictures to post to go along with it, right now I only have some pictures my sister-in-law took. This is ridiculously long- I wrote it in Word Before I put it in. I hope it helps someone and that you can make it through. Enjoy!
Vital Info:
Location: Now Sapphire Riviera Cancun (formerly Paradisus Riviera Cancun)
Date: Saturday June 12, 2010
Guests: 43 + bride and groom
Wedding Package: Divine
Type of Ceremony: Legal
Airport:
I have to say this board scared me a little bit about the Cancun Airport. I thought I was going into a madhouse, but had no problems. We had 5 suitcases (where did I get so much stuff?) and I was worried about being searched. We had a bunch of receipts on hand (definitely not all of them, I couldn't find half of them), but got a green light at the checkpoint and no one asked about anything. Customs and immigration took us a while (about 2 hours to get out of the airport and on the road) but for most of our guests it only took about an hour. My brother did get a red light and they searched his bags and he said that they seemed to want to search the bag as little as he wanted them to search it so they just opened it looked at the stuff and closed it and let him go. No one bothered us for van rides or anything. The hotel was supposed to send an airport transfer for us, but since we picked the package so last minute we never heard from them who would be coming or who to look for so we didn't know where they were. We already had a transfer from American Express from before the hotel changed over so we took that instead and that was fine. The hotel is only about 20 minutes from the airport so we were the first drop off and it was no problem at all. There is a weird crocodile farm on the corner as you turn into the road to get to the resort which gave most of our guests a good chuckle about where they were going (but don't worry- the resort is actually pretty far from the farm).
Resort:
The resort is really nice. The lobby areas are very pretty with water features all over the place. If you are used to extremely extravagant hotels you may not be entirely impressed, but it was the nicest hotel I've been to and every single one of my guests were impressed. It is very well maintained, clean, and safe feeling. The gardens are lush and very pretty. We had never visited the property before and to me- it really looks just like the pictures. I was very happy with our choice. There were some conventions there when we first got there, but the resort never really felt crowded. We were always able to get lounge chairs near the beach or the pool. The bed things (the name is failing me- Bali Beds?) near the pool were hard to come by and you had to get there early to get one of those. There were quite a few available near the adults only pool (which I think was previously the Royal Service pool- and I was confused about who could go to this pool- not sure if you still had to be a part of the Royal Service- Now called Preferred club or just be an adult.) Almost no one was ever in the adult's only pool. We mostly went to the main pool. They had kayaks, catamarans, and wind surfers available for free at the beach and some of our friends and family used them and enjoyed them. I did not see any motorized sports available. I am not sure where you would have to go for that- there weren't any venders or anything near the hotel property that I saw.
I really loved the resort, but if I had to complain this is what I would complain about: 1.The beds. They are hard as rocks!!! Many of our guests did not like them either. If they change anything about this resort it would have to be this. We asked for something to soften the bed and by the second request they put on an egg crate and it was fine from then on. I would recommend doing this the day you check in. After the first night I had the worst crick in my neck from the bed. It's really rather shocking how hard the beds are. 2. The only other complaint would be the front desk staff. They were not the most accommodating- if you had a problem they were more apt to simply say sorry than try to find a solution for you. My brother was unhappy with his room location and got the run around for 2 days about trying to change it. Be persistent and you will likely get what you want. When we went to check out they tried to charge us for the couples massage that was included in the wedding package, and the steaming of the dress and suit, which was also included in the wedding package. Luckily we had a copy of the invoice from the wedding that said that these things were free. Then they tried to charge us for the taxes and service fees on these. We were already running late to get to the airport and it was $20 so we were just going to pay it so we could leave, but I gave them an attitude about having to pay it and they didn't wind up charging us. I was pretty shocked because I am usually very mild-mannered, but they were being kind of ridiculous. I have to add the rest of the staff was wonderful, always accommodating and friendly. Tipping gets you better service (like a waiter or waitress coming over and brining you drinks and refills rather than having to go up to the bar), but I didn't find that the staff only worked for tips or expected tips.
Resort Photos: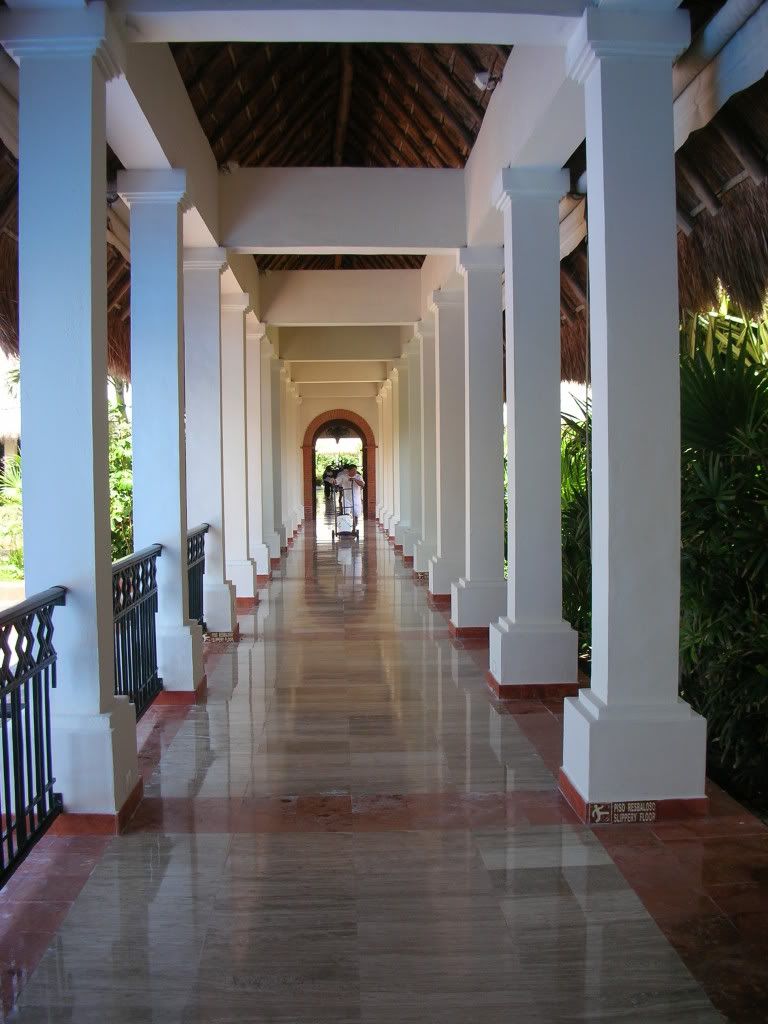 Restaurants:
We did not go to all of the restaurants (even being there a week we missed some).We loved everything we ate. The selection of food was great and we really enjoyed everything. Only downside was getting sick of eating too much and eating at the buffet so much (buffet is the only thing open for breakfast, and buffet and grill are the only things open for lunch). We went to L'Hermitage (French) and I loved it. It was the fanciest of the restaurants (strictest dress code) but the food was really delicious. I would definitely recommend you hit this one at some point. I also ate at Capri (Mediterranean) and really liked everything I got there. We went to the Japanese restaurant too and it was a fun show (like Benihanas) and the food was good, but I didn't like it as much as the other restaurants. We didn't get to the Tequilla Grill, but someone else said it was good. The only downside to the restaurants were that they were not all open every night. It may have been due to low occupancy, but the newsletter that they put in your room each night tells you which restaurants will be open the next day. I kind of wish they let you know in advance so you could try to plan. One night only two restaurants were open and they were both ones that I had been to already so we wound up ordering room service which worked out perfectly anyway.
Japanese Restaurant: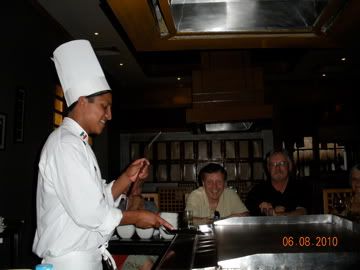 Beach:
Some people complain about the seaweed and there is quite a bit of seaweed, but it did not bother me. The seaweed is kind of like long pine needles (but they don't hurt if you touch them) instead of the seaweed I am used to that you get wrapped in. You are still able to comfortably swim in the ocean and they clear the seaweed from the beach as often as they can. There is likely to be some seaweed in your wedding pictures if you are getting married on the beach, but I didn't find that it really made things look ugly by any means and it was really pretty well cleared that day for the wedding. The sand is so soft and lovely- I liked walking on it. They have plenty of beach chairs and palpas for shade (which you will need- I got burnt on my first day there and was desperately trying to avoid tan lines, but was unsuccessful). The beach was not at all rocky.
Beach with some seaweed:
CONTINUED...